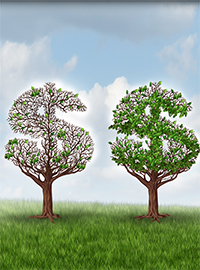 By the numbers, Obama's assertions simply don't square with economic fact, and a return to his brand of economic policies would return us to the ugly realities of his economic record.
For sheer cognitive dissonance, denial and historical amnesia, today's leftists and Never-Trumpers provide enough subject material to merit a new research wing within the American Psychological Association.
This week brought another vivid manifestation when Barack Obama reentered the political fray by falsely claiming credit for today's soaring economy.
Obama initiated the exchange on Monday, when he inserted himself into an already-charged political atmosphere by tweeting, "Eleven years ago today, near the bottom of the worst recession in generations, I signed the Recovery Act, paving the way for more than a decade of economic growth and the longest streak of job creation in American history."
Actually, Mr. Obama signed his wasteful trillion-dollar spending "stimulus" after the last recession had already bottomed out, and it only paved the way for the worst deficits in American history and the most anemic cyclical "recovery" ever recorded.
Accordingly, President Trump responded shortly thereafter:
Did you hear the latest con job? President Obama is trying to take credit for the Economic Boom taking place under the Trump Administration. He had the WEAKEST recovery since the Great Depression, despite Zero Fed Rate & MASSIVE quantitative easing.
It's easy to dismiss that exchange as mere partisanship, but it's not mere rhetorical tit-for-tat.
Rather, it has important implications going forward, as Americans must decide this year whether to pursue President Trump's course of greater market freedom that has brought us this unprecedented economic prosperity, or return to an economic agenda of higher taxation, more regulation and top-down bureaucratic sclerosis.
Because the fact is that President Trump is right, and Obama is wrong. By the numbers, Obama's assertions simply don't square with economic fact, and a return to his brand of economic policies would return us to the ugly realities of his economic record.
First, the U.S. economy was rebounding before Obama even took office, and certainly well before his "stimulus" was signed or took effect. The recession began in the third quarter of 2008, when our economy contracted by 1.9%, and bottomed out in the fourth quarter of 2008 with an 8.2% contraction. But by the quarter beginning in January 2009, the trajectory had turned upward to 5.4% contraction, and by the second quarter of 2009 the contraction was just 0.5%. And by June 2009, less than six months into Obama's term, the recession had officially ended with 1.3% growth.
Accordingly, Obama and his apologists simultaneously claim that he was responsible for ending a recession when he hadn't been in office for half a year, but also claim credit for an economy flourishing over three years into President Trump's term. That's textbook cognitive dissonance.
In Obama's ensuing eight years, moreover, his policies caused the most anemic cyclical "recovery" in U.S. history.
Whereas Obama promised that unemployment wouldn't exceed 8% under his "stimulus," instead we suffered unemployment above 8% for the longest stretch since recordkeeping began. Additionally, we never reached even 3% annual economic growth in his eight years as president, compared to the 3.3% annual growth average since World War II. Compounding matters, Obama added as much debt as all presidents preceding him combined. Before 2009 the largest deficit in U.S. history was $450 billion, but Obama brought us four consecutive years over $1 trillion.
And all it brought us was the worst "recovery" in U.S. history. That's Obama's eight-year economic legacy.
Fast-forward three years, and Americans now enjoy what is in many ways the healthiest economy in human history. Black and Hispanic unemployment have plummeted to record lows. People who dropped out of the workforce under Obama have returned. There are now one million more available jobs in America than there are unemployed people to fill them. Wages are finally rising at a more substantial rate.
We've gone from malaise in 2016 to record prosperity in 2020, and all because President Trump immediately reversed Obama's economic policies in January 2017 by deregulating and cutting taxes.
Fortunately, polls show that Americans rightfully credit Trump, not Obama, for current economic conditions.
According to a Gallup survey released last week, Americans credit Trump with recent years' improvement by an 11% margin. And according to a Fox News poll released in January, respondents by a 42% to 9% margin state that Trump is responsible for current economic conditions, not Obama. Similarly, a survey conducted by The Hill "found that 49 percent of respondents attributed today's economy to Trump, while 24 percent of respondents credited Obama."
That's got to hurt if you're Barack Obama or one of his apologists, and it explains why Obama couldn't resist attempting to reclaim credit this week in his tweet.
But Americans appear to know better, which offers encouraging news about their assessment of the two competing economic agendas going forward.