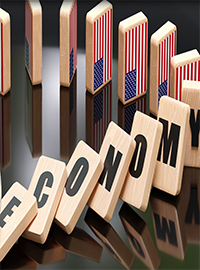 The numbers speak for themselves. Inflation more than quintupled from 1.4% to 7.9% in just one year between January 2021 and February 2022, before Putin's invasion began.
"Putin Price Hike."
If Joe Biden and his enablers lie regarding a subject as amenable to precise mathematical refutation as inflation, one wonders what other lies roam beneath the murk of mainstream media guile and bureaucratic obfuscation.
The simple fact is that inflation commenced its sharp upward trend in January 2021, the moment that Biden entered the White House with Nancy Pelosi and Chuck Schumer controlling Congress.
Using the federal government's own official numbers, inflation stood at just 1.4% in January 2021. Two short months later in March, inflation had already doubled to 2.7%, and by April 2021 it had tripled to 4.2%. Inflation continued its steep ascent in May 2021, just four months into Biden's tenure, to 4.9%. It then then hit 5.3% in June, and by November of last year had quadrupled to 6.8%. In December 2021 it ascended further to 7.1%, and in January it hit 7.5%. On the eve of Putin's invasion of Ukraine in February of this year, it had already reached 7.9%.
"Putin Price Hike?"
The numbers speak for themselves. Inflation more than quintupled from 1.4% to 7.9% in just one year between January 2021 and February 2022, before Putin's invasion began.
And Biden, Pelosi and Schumer have themselves to blame. Instead of pumping the brakes on their agenda, however, they're attempting to floor it.
This week, Biden crossed the nation promoting more of his "Build Back Better" agenda of higher taxes, higher spending and increased government regulation. But that agenda created our current situation.
Consider that the federal government spent $4.4 trillion in 2019. In 2020, spending reached $6.6 trillion, which increased to $7.2 trillion last year, even with the Covid recession in the rearview mirror and millions of jobs going unfilled. One of Biden's first acts was to inject an additional $2 trillion into the economy via his "American Rescue Plan" in March 2021, his Federal Reserve has maintained its dangerously easy money policy and he just extended the pause in student loan repayments through August 31 of this year. With total outstanding student loan debt reaching $1.6 trillion last year, and the unemployment rate for college graduates at an astonishingly low 2.2%, that adds inflationary pressure on behalf of a class least in need of relief. Biden-Pelosi-Schumer policies encouraged supply chain problems by continuing to reward not working, long after the economy had begun to return to normal and vaccines were widely available.
And that's hardly a comprehensive recitation of the Biden-Pelosi-Schumer inflationary record. On Tuesday of this week, the Biden Administration announced that it's imposing rigorous environmental standards for approving any new infrastructure projects, including highways, power plants, oil drilling rigs, pipelines and other construction projects. Biden also signed an executive order requiring pro-union project labor agreements on federal construction projects, which slow completion timetables and raise costs. That will exacerbate supply chain problems, not mitigate them.
This is the same Biden Administration that once tried to scapegoat supply chain limitations for rising inflation, before "Putin Price Hikes" became its rationalization du jour. Before that, inflation was supposedly nonexistent, then "transitory," then it was Saudi Arabia's fault and then it was a "high-class problem."
Now, we've reached a point at which it may be too late to control inflation without triggering an economic recession, as an alarming front-page report this week from The Wall Street Journal noted:
The Federal Reserve is setting out to do something it has never accomplished before: reduce inflation a lot without significantly raising unemployment… During the past 80 years, the Fed has never lowered inflation as much as it is setting out to do now – by 4 percentage points – without causing recession.
Americans understandably rate inflation as their most alarming concern, which deepens Biden's record popularity collapse and Democrats' increasingly grim November electoral prospects. It's therefore understandable that they grasp at even the most preposterous rationalizations to sustain themselves and their radical agenda.
The American electorate, however, mustn't fall for it. Nor should they countenance elected officials who strangely remain all too ready to extend that inflationary Biden "Build Back Better" agenda of higher taxes, higher spending and even more government regulation.
It wasn't coincidence that inflation shot upward in January 2021, and it certainly wasn't due to Putin's invasion of Ukraine that was over a year into the future. Rather, that results from policies deliberately pursued by the Biden Administration and Pelosi-Schumer Congress, policies that they inexplicably continue to promote. Unless they're stopped, our problems will only get worse.