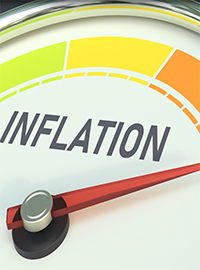 To put a number on it, Heritage Foundation economic analyst EJ Antoni reports that American families have lost $7,100 in annual income under Joe Biden's presidency.
In what has become a miserable new normal, the U.S. Labor Department this week reported a November annualized inflation rate of 7.1%.
So how did Joe Biden react? By spinning the number as some sort of triumph and spiking the ball, naturally.
We're now two years into the Biden presidency, and the best they can say is that at least inflation isn't as bad as it was in June at 9.1%.
For proper perspective, recall that when Biden entered the White House in January 2021, inflation stood at 1.4%.
During the preceding four-year period from January 2017 through December 2020, moreover, inflation averaged just 1.9%, and never exceeded 2.9% (July 2018) during that span.
For additional perspective, the Federal Reserve maintains a target inflation rate of 2%, which we haven't hit in almost two years. So while the Biden Administration and its media apologists spin the latest inflation report as positive news, we're still over three-and-one-half times the "normal" rate.
As Biden walked out of his impromptu celebration, a reporter asked him when Americans can expect inflation to return to a more normal rate. "I hope by the end of next year," Biden responded. "We're much closer, but I can't make that prediction."
We've thus come a long way from when Biden and his administration denied that inflation was a problem, then insisted that it was "transitory," then spinning it as "Putin's Price Hike" even though inflation had already increased more than sixfold from 1.4% in January 2021 to 7.9% in February 2022 before Russia invaded Ukraine. And now we're told that elevated inflation might persist another calendar year – three long years into Biden's term – if we're lucky.
To put a number on it, Heritage Foundation economic analyst EJ Antoni reports that American families have lost $7,100 in annual income under Joe Biden's presidency:
The latest data illustrate why families cannot afford to live in Biden's America. Under Biden, prices have risen so much faster than wages that the average family has lost $5,800 in real annual income. That loss is thanks to the "hidden" tax of inflation, caused by the Biden Administration and Congressional Democrats' policies. Higher interest rates are now costing the typical family another $1,300 annually. Combined with a lower real income, this effectively cost families a total of $7,100 in annual income under Biden. But some families are even worse off, especially if they're trying to buy a home.
In the latest report, food prices jumped another 0.5% in just the past month, and gas prices only declined due to a deepening global economic slowdown and people driving fewer miles.
Meanwhile, note one area that witnessed a continuing price decline according to the report – prescription drug prices:
In contrast, the medical care index fell 0.5 percent in November, as it did in October. The index for hospital and related services decreased 0.3 percent over the month, and the index for prescription drugs declined 0.2 percent.
Nevertheless, Biden continues exploit false claims of skyrocketing drug costs to impose destructive price controls that will only suffocate innovation while doing nothing to control consumer costs.
In addition to ongoing price spikes, American consumers now face an additional threat from higher interest rates. The Federal Reserve continued its rate increases this week in the wake of the Labor Department's inflation report, hiking interest rates to their highest levels in 15 years. Those increases in turn make consumer lending and servicing our national debt more costly.
To illustrate what the Fed's interest rate hikes mean for consumers, CNBC explained that homebuyers must pay an extra $580 per month on a $300,000 loan, which translates to an extra $280,000 over the lifetime of the loan, than they would under rates one year ago. Consumers also face an increase of $3.2 billion in credit card debt costs in the next year alone, as well as $5,731 in additional interest on a 72-month $40,000 auto loan.
With the Fed signaling more rate increases in the upcoming year and even Biden acknowledging no respite on inflation anytime soon, a display of contrition rather than celebration would've been more appropriate during this week's presidential statement.
The Federal Reserve shouldn't have to deliberately drive the economy into recession to correct runaway inflation resulting from poor policy and monetary choices. Going forward, we must instead recognize that greater fiscal discipline and sound monetary policy offer the better course to prevent current conditions from worsening and recurring in future years and administrations.