By Ashton Ellis
Thursday, June 17 2010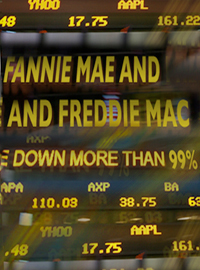 Stretching all the way back to the New Deal, Congress declared its intent to put as many Americans as possible into their own stand-alone homes. In effect, Congress planted the seed for home purchasing to blossom into a government-sponsored entitlement.
The ongoing home mortgage disaster that continues to transfer billions of taxpayer dollars into the black hole coffers of Fannie Mae and Freddie Mac is serving at least one useful purpose: providing a case study on the limits of government's ability to run any of its functions like a business.
One of the most critical dividing lines in the conservative movement is whether government should operate more like a business, or refrain from acting at all. Usually, the debate takes place in the abstract, pitting advocates for lean yet effective administration against strictly limited government types. The difference boils down to how much faith each side puts in the public sector's ability to operate a non-profit enterprise under for-profit rules.
In the case of Fannie Mae and Freddie Mac, the verdict is in. The government-as-business model doesn't work.
To be sure, government-as-business proponents have certainly tried to use the language of the private sector to make their case. After creating the Federal National Mortgage Association (Fannie Mae) in 1938 to expand home ownership by buying, bundling and selling mortgages, Congress chartered the Federal Home Loan Mortgage Corporation (Freddie Mac) in 1970 to "compete" with Fannie. Both agencies are considered Government Sponsored Enterprises (GSEs), meaning that while they have the appearance of private businesses with boards of directors, shareholders and dividend disbursements, they benefit from the widely-held assumption that their assets are protected by an implicit government bailout guarantee.
That assumption proved accurate when the subprime mortgage crisis threatened to bankrupt both Fannie and Freddie because of the hundreds of billions of bad investments they hold. Recently, Business Week reported that the ongoing federal bailout of Fannie and Freddie exceeds $145 billion, with no end in sight and projections totaling a $1 trillion credit extension by the end of this decade. To put that in perspective, $145 billion is more than Congress spent bailing out American International Group, General Motors or Citigroup, all of which are now paying down their debts to taxpayers.
Even establishing a simple debtor-creditor relationship runs afoul of government's business-as-usual approach to management. Unlike British Petroleum which announced it was suspending shareholder dividends so the company can finance the Gulf Oil Spill recovery, Fannie and Freddie are required by the terms of their 2008 bailout to disburse a 10% dividend yearly to federal taxpayers (kept in trust by the Treasury Department, of course). Already, the entities are $14.5 billion behind in their dividend payments, a sum greater than the profits either of them enjoyed in their most successful years. Thus, binding Fannie and Freddie into this fiscal straightjacket sounds like a business strategy while in reality it's just one more unfunded government mandate.
Which brings us to the most glaring failure of the government-as-business argument: government policies are indifferent to balanced budgets. After all, the point of a government program is to spend taxpayer money, not save it.
Consider the housing crisis. Stretching all the way back to the New Deal, Congress declared its intent to put as many Americans as possible into their own stand-alone homes. In effect, Congress planted the seed for home purchasing to blossom into a government-sponsored entitlement. Over time, that goal was subsumed into the larger national project of credit-fueled economic growth, propelled by low interest rates and ever-increasing subsidies to entice more people to become homeowners instead of renters.
The tipping point came in the 1990s when Congress tongue-lashed the banking industry into lending to people who otherwise never would have qualified for a home loan. Since the risk of default remained despite the government's decree, the wizards of Wall Street concocted exotic derivatives to hide the bad debt. Few people stopped to think who would be left holding the bag of worthless loans when financial reality reappeared.
Now we know.
If anything, government management of Fannie and Freddie makes it impossible for these entities to be fiscally responsible while meeting all of Congress's demands.
Just this week, Fannie and Freddie announced they would be removing themselves from being listed on the New York Stock Exchange because their stocks are unable to reach the $1 threshold for inclusion. At this point, any other business would declare bankruptcy and sell itself off in parts to pay creditors. But since these are government-managed entities, don't expect that kind of prudential action anytime soon. Instead, say hello to yet another government entitlement program masquerading as a business option in the free market.