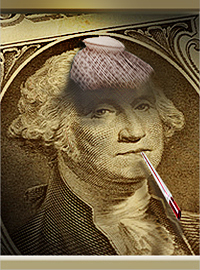 The simple lesson: Lower taxes and less regulation brought economic and employment growth, while higher spending and more regulation have stifled economic growth and caused higher unemployment.
"Obama, Biden Declare 'Recovery Summer'"
That was a Politico headline on June 17, 2010.
The previous month, President Obama prematurely declared a tepid 3.2% economic growth rate for the first quarter of 2010 "an important milepost on the road to recovery."
One year later, we're still waiting. In fact, things actually appear to be getting worse, not better.
Obama Recovery, we hardly knew ye.
Economic axiom holds that the steeper the recession, the steeper the rebound. But instead of a robust recovery that should now be well underway, this week brought the following disturbing headline from CNBC: "Economic Growth Slows as Inflation Measure Spikes Up." On the same day, this was The Wall Street Journal: "Dollar Loses More Ground." And this was the Associated Press: "More People Applied for Unemployment Benefits."
The Commerce Department reported that U.S. gross domestic product (GDP), the broad measure of economic activity, slowed to 1.8% for the first quarter of 2011. That was down from 3.1% growth for the final quarter of 2010, and below the 2% growth rate that economists expected. Also this week, the Federal Reserve downgraded 2011 growth expectations to between 3.1% and 3.3%. That is down from its previous estimate of 3.4% to 3.9% growth.
Unfortunately, the bad news didn't end there.
The Labor Department also announced that new unemployment claims jumped by 25,000 for the week ending April 23, to an alarming 429,000. That's the highest number since January, and the second increase in three weeks. New data released by the Labor Department also indicated that approximately one million Americans exhausted their unemployment benefits last year without locating new jobs.
Compounding the misery, the government also announced that inflation rose 3.8%, its highest rate since the third quarter of 2008. Its "core inflation" measure, which excludes food and gasoline prices, also rose 1.5%, its highest rate since the fourth quarter of 2009.
So growth is down, our S&P's debt outlook is down, unemployment claims are up, gas prices are up, the deficit is up, Moammar Gadhafi is up and inflation is up. Other than that, how was the play, Mr. Obama?
The obvious problem is Obama's discredited economic agenda of higher spending, higher taxes and higher regulation.
The facts speak for themselves. Compare the results of Obama's economic program against its counterpart of lower taxes and less government. In the seven quarters since the most recent recession ended in June 2009, we have witnessed mediocre quarterly growth rates of 1.6%, 5.0%, 3.7%, 1.7%, 2.6%, 3.1% and now 1.8%. That's an average over seven quarters of just 2.79%. Now compare Obama's record to the same seven-quarter recovery period following the effective date of President Reagan's tax cuts. From January 1983 onward, we experienced explosive consecutive growth rates of 5.1%, 9.3%, 8.1%, 8.5%, 8.0%, 7.1% and 3.9%. That's an average over seven quarters of 7.14%.
Unemployment rates contrast even more sharply. In the twenty-five months since Obama signed his unprecedented government spending "stimulus" in February 2009, unemployment has increased from 8.2% to today's 8.8%, after remaining at or above 9% for a post-World War II record 19 consecutive months. In comparison, unemployment plummeted from 10.4% to 7.2% in the same twenty-five month period immediately following Reagan's tax cuts.
Liberals and Obama apologists will typically respond to that straightforward data by claiming that Obama has faced more difficult economic circumstances than Reagan. But that's flatly false. Unemployment peaked at 10.8% during the recession in Reagan's first two years in office, versus a high of 10.1% during Obama's first two years. Moreover, today's near-zero interest rates and single-digit inflation don't begin to compare to the stratospheric 11% inflation and 21.5% interest rates Reagan had to battle.
The simple lesson: Lower taxes and less regulation brought economic and employment growth, while higher spending and more regulation have stifled economic growth and caused higher unemployment.
As CFIF's Troy Senik observed on these pages this week, the Obama Administration's decision to sue Boeing simply because it elected to open a plant in South Carolina is just the latest manifestation of the problem. When a business simply applies the fundamental business principle of reducing manufacturing costs only to find itself on the receiving end of a lawsuit by Obama's National Labor Relations Board portraying the decision as "anti-union retaliation," the leader of the free world isn't getting it.
The question now becomes whether Obama will internalize these simple economic lessons before his agenda brings even more misery to the American economy, or voters take matters into their own hands by terminating his own employment.