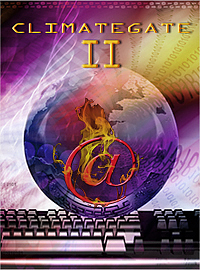 Instead of offering facts, global warming hysterics sought to manipulate evidence and attack opponents.
"Climategate, Part II" has arrived.
Back in 2009, "Climategate" dealt a crippling blow to the global warming syndicate's credibility.
And now, just in time for the latest annual climate charade in Durban, South Africa, environmental alarmists face a new round of embarrassing emails leaked anonymously over the Internet.
The term "Climategate" gained popular currency in November 2009, when sources leaked over 3,000 emails and documents from the Climate Research Unit (CRU) at East Anglia University in Britain. The exchanges among global-warming advocates betrayed a long-term, explicit campaign to hide evidence, to shamelessly blacklist "denier" scientists who dared question climate orthodoxy and even to "redefine what the peer-review literature is" to squelch opposition. Here is a sampling of some of the messages leaked:
"The fact is we can't account for the lack of warming at the moment and it is a travesty we can't."
"I've just completed Mike's Nature trick of adding in the real temps to each series for the last 20 years (ie from 1981 onwards) and from 1961 for Keith's to hide the decline."
"If they ever hear there is a Freedom of Information Act now in the U.K., I think I'll delete the file rather than send to anyone… We also have a data protection act, which I will hide behind."
"Try and change the received date! Don't give those skeptics something to amuse themselves with."
"I can't see either of these papers being in the next IPCC report. Kevin and I will keep them out somehow – even if we have to redefine what the peer-review literature is!"
Since those disclosures, public skepticism toward global warming doctrine has increased significantly in America as well as Europe. Even within the subcategory of environmental concerns, a March 2011 survey reveals that Americans rank global warming lowest among their worries, far below such real or hypothetical threats as drinking water, soil contamination, species extinction and even urban sprawl (what housing bust?).
Of course, the Climategate disclosures aren't the only basis for increased skepticism toward global warming alarmism. Accumulated atmospheric data shows that temperatures actually declined after 1998, even though economic growth and energy use exploded around that time in developing countries like China and India, as well as in Europe and the United States. That hardly squares with anthropomorphic global warming dogma.
Additionally, as Bret Stephens of The Wall Street Journal observed this week, "On Sunday, 2,232 days will have passed since a category 3 hurricane made landfall in the U.S., the longest period in more than a century that the U.S. has been spared a devastating storm." Recall that global warming zealots claimed in 2005 that Hurricane Katrina portended a new era of increased hurricane catastrophe.
Global warming activists dismissed the Climategate leaks as trivial distractions that did nothing to negate global warming theory generally. The broader public, however, wasn't buying it. If scientific fact squarely showed man-made global warming, after all, why the furious campaign to lie about it?
Now, we have yet another round of Climategate releases.
Instead of the 3,000 documents released in 2009, a person using the name "FOIA" has now released 5,000 more communications between climate change alarmists. The latest round involves many of the same players, including the infamous Phil Jones of the University of East Anglia and Michael Mann of Penn State University. It also involves the same type of efforts to distort climate data, intimidate scientists offering contrary opinions and malign them publicly.
Mr. Mann, for example, describes in one email his efforts to slur global warming skeptics Steve McIntyre and Doug Keenan:
"I have been talking w/ folks in the states about finding an investigative journalist to investigate and expose McIntyre, and his thus far unexplored connections with fossil fuel interests. Perhaps the same needs to be done w/ this Keenan guy."
So instead of offering facts, global warming hysterics sought to manipulate evidence and attack opponents.
And just as the original Climategate occurred on the eve of the failed 2009 climate summit in Copenhagen, Denmark, the latest disclosures come as representatives of 192 nations congregate in Durban to consider a replacement for the failed Kyoto Protocol that expires next year. Despite fiscal crises in Europe and the U.S., negotiators seek to wring $100 billion in pledges, as well as mandatory energy restrictions.
Thankfully, real-world climate data and the latest round of Climategate revelations make such destructive actions unlikely. As the anonymous "FOIA" stated in his latest release, "Today's decisions should be based on all the information we can get, not on hiding the decline."
Now it's just a matter of political leaders waking up to that same reality.