By Troy Senik
Thursday, March 01 2012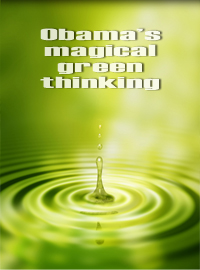 Despite the administration's push for higher fuel economy standards and its relentless promotion of alternative vehicles like the Chevy Volt, the nation's average gas price at the end of February was $3.73 a gallon, the highest ever recorded for this time of year.
In 1989, two scientists named Martin Fleischmann and Stanley Pons turned the world on its ear with the announcement that they had pioneered "cold fusion," a process by which it was hoped that mankind would usher in a new era of clean, cheap and abundant energy. There was only one problem: It didn't work. Scientific researchers were never able to replicate Fleischmann's and Pons' experiment. Cold fusion, after a dramatic and widely hyped rollout, was written off as junk science. And the two previously estimable scientists saw their reputations permanently tarnished.
Today, nearly 25 years later, the Obama Administration's energy policies represent the same kind of magical thinking that led Fleischmann and Pons astray, only applied on an industrial scale. The only difference between the White House's predictions of a future of limitless, affordable green energy and the "Cold Fusion" debacle is that Fleischmann and Pons actually had the scientific credentials to make their claims seem momentarily plausible. That Washington makes its projections solely on the basis of the fantasies of politicians – a class that generally understands neither the science nor the economics involved in genuine energy innovation – only makes its efforts that much more risible.
The reductio ad absurdum of this trend came during a speech delivered by President Obama at the University of Miami last week. There, after proclaiming his relative powerlessness in the face of rising gas prices, Obama proposed algae as an alternative fuel source. "If we can figure out how to make energy out of that," he said, "we'll be doing alright." Got that? Algae … Algae … could be a terrific new fuel source … as soon as we can figure out how to extract energy from it.
That, in a nutshell, is the one minor inconvenience attending the administration's dreams of a clean energy future: No one can figure out how to make any of this stuff work. Yet that doesn't stop the romantic predictions of a future fueled by alternative energy sources like wind, solar power, ethanol, geothermal electricity or biomass. And it certainly doesn't stop the federal spigot. In 2010, the federal government spent over $14.6 billion dollars subsidizing renewable energy. And what do we have to show for it? As of last summer, nearly 90 percent of American electricity was still produced by conventional fuels.
The greening of the roads isn't going much better. Despite the administration's push for higher fuel economy standards and its relentless promotion of alternative vehicles like the Chevy Volt, the nation's average gas price at the end of February was $3.73 a gallon, the highest ever recorded for this time of year. And this is not merely an inconvenience at the pump; it's a millstone around the entire economy. Every one-cent increase to the price of gasoline costs the broader economy approximately $1.4 billion. You would think that an administration supposedly focused on midwifing an economic recovery and turning around a dire unemployment situation would welcome any opportunity to arrest those costs. But for Obama and his ideological fellow travelers, this pain is not only tolerable – it's welcome.
Testifying before the House Appropriations energy and water subcommittee earlier this week, Secretary of Energy Steven Chu was asked by Republican Congressman Alan Nunnellee of Mississippi whether the administration's goal was to lower the price of gasoline. "No," he responded, "the overall goal is to decrease our dependency on oil, to build and strengthen our economy. We think that if you consider all these energy policies, including energy efficiency, we think that we can go a long way to becoming less dependent on oil and [diversifying] our supply and we'll help the American economy and the American consumers." This was consistent with what Chu told the Wall Street Journal in 2008, when, lamenting the fact that alternatives were still too expensive to succeed at market, he said, "Somehow we have to figure out how to boost the price of gasoline to the levels in Europe."
That is the attitude animating America's current energy travails. The left is not interested in accommodating reality through the greater cultivation of existing fuel resources. They are far too invested in the emotionally edifying pursuit of a clean tech Shangri-La, even if it's not scalable, affordable or technologically feasible at present. And they'll be delighted to watch conventional fuel prices soar if that's what it takes to get there.
Thus did the Keystone XL Pipeline get refused approval at the same time that the administration proposed increasing subsidies for clean-tech vehicles that no one is buying. Thus were American oilrigs in the Gulf of Mexico forced idle by the feds at the same time that the Department of Energy was plowing over half a billion dollars into a soon-to-be-bankrupt solar company. What's a little economic suffering for oil workers and consumers, after all, if it paves the way for a world in which every American lives in a post-consumerist society of urban studio apartments, bike paths and Smart Cars? The Green Revolution shall have its martyrs – even if their sacrifice is involuntary.
Like the peddlers of cold fusion, Obama is promising an energy utopia with no factual underpinnings. Unfortunately for the American people, however, the implications of the president's quixotic aspirations are much graver. His delusions are directing an entire economy.