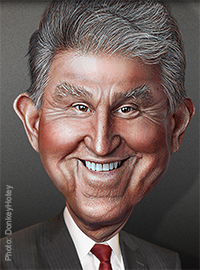 Manchin nevertheless marched in lockstep for Biden instead of matching pro-energy word with deed when put to the test.
With the 2024 reelection layout looking much more grim for Senate Democrats than 2022, new threats from Joe Biden against the U.S. energy sector have Joe Manchin sweating.
For all of the post-election punditry this week that Democrats exceeded expectations, keep in mind that only one Senate incumbent will suffer defeat if current trends continue: Nevada Democrat Catherine Cortez Masto. If challenger Herschel Walker wins Georgia's December 6 runoff, Raphael Warnock will make that two Democratic incumbents down.
And for all of the pre-election speculation of a potential "red wave" this year, 2024, not 2022, always loomed as particularly treacherous for Democrats based on numbers alone.
Consider that this year, Republicans had to defend 21 seats, whereas Democrats only had to defend 14. Exacerbating Republican headwinds, two of those seats they defended were in states won by Joe Biden in 2020: Ron Johnson in Wisconsin and the retiring Pat Toomey in Pennsylvania. In contrast, none of the Senate seats that Democrats defended this year were in states won by Donald Trump.
Despite that advantage, they still may lose the Senate to Republicans.
Whatever the result, however, the 2024 Senate landscape looms far more challenging.
Two years from now, Democrats must defend 23 seats, whereas the Republicans only defend 10. That includes three seats in states won by Donald Trump in 2020: Sherrod Brown in Ohio, Jon Tester in Montana and Joe Manchin in West Virginia, which Trump won by 39%.
Biden just deepened Manchin's difficulty by promising to shut down America's coal industry while speaking at a California fundraiser:
No one is building new coal plants, because they can't rely on it, even if they have all the coal guaranteed for the rest of their existence of the plant. So it's going to become a wind generation. We're going to be shutting these plants down all across America and having wind and solar, also providing tax credit to help families buy energy-efficient appliances.
Exacerbating Manchin's headache this week, Biden promised "no more drilling" for gas during a petulant exchange with an environmental activist interrupting his speech with a sign reading "5 more years of drilling is a lose lose!":
No more drilling! There is no more drilling! I haven't formed any more drilling! That was before I was president! We're trying to work on that to get that done!
Manchin responded by labeling Biden's remarks "offensive and disgusting," and demanded "an immediate and public apology."
Instead, in a shockingly tone-deaf moment during a press conference following Tuesday's elections, Biden was asked how he planned to correct course considering that approximately 70% of Americans believe the country is on the wrong track under his leadership. Biden's defiantly answered "Nothing":
REPORTER: What in the next two years do you intend to do differently to change people's opinion of the direction of the country, particularly as you contemplate a run in 2024?
BIDEN: Nothing. Because they're just finding out what we're doing. The more they know about what we're doing, the more support there is. I'm not going to change the direction, I'm going to continue to stay where I am. I fully understand the legitimate concern that what I'm saying is wrong, okay? So, I'm not going to change anything in any fundamental way.
Biden's stubbornness obviously includes his war on the U.S. energy sector, as demonstrated by his attacks in recent days on gas and coal.
It all reconfirms Manchin's foolishness in providing the final vote for Biden's "Inflation Reduction Act" last summer, which actually increases inflation through next year and contains numerous "Green New Deal" mandates undermining the U.S. energy sector.
Manchin either knew or should have known that Biden would betray him, considering how Biden symbolically began his administration by canceling the Keystone XL pipeline, and subsequently doubled down on his anti-energy policy, heedless of increasing gas prices, diminished U.S. energy independence, depletion of our strategic petroleum reserve at a time of increasing international instability and sacrificed energy sector jobs.
Yet Manchin nevertheless marched in lockstep for Biden instead of matching pro-energy word with deed when put to the test. If Manchin foresaw Biden's double-cross, then his dishonesty betrayed West Virginia voters, and if he didn't foresee it, then he's almost criminally naïve. Accordingly, Manchin is either dishonest or a blunderbuss.
West Virginia voters will have their chance to register their disapproval in two years in an election cycle that appears certain to be even more challenging for his party than this year's.
In the meantime, if current trends hold, Democrats will lose the House of Representatives and possibly the Senate as well. The question between now and Democrats' challenging 2024 campaign is to what degree the new Congress will interrupt Biden's needlessly self-destructive war on U.S. energy production and independence before further damage is done.