By Quin Hillyer
Tuesday, April 19 2011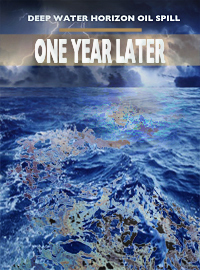 While it may take years to understand the full environmental consequences of the spill and the administration's incompetence, it already is apparent how economically deleterious Mr. Obama's policy choices have been.
One year to the day after the dreadful BP oil spill in the Gulf of Mexico, the Obama administration's responses to the crisis continue blowing holes in the regional and national economies. President Obama's choices make George W. Bush's responses to Hurricane Katrina seem like the epitome of competence and wisdom.
Gulf Coast residents remember well that it took President Obama days to publicly awake from his torpor and say anything substantive about the spill. They remember the administration's early defense of BP's reactions; they remember its failure to stop the use of chemical dispersants that arguably did more environmental damage than the oil would have done if it floated to the top to be skimmed.
They remember that the president declined several offers of assistance from foreign outfits expert in such situations, and remember that he refused to approve Louisiana Gov. Bobby Jindal's plan to use dredge material to create berms to block the oil from reaching fragile wetlands. On issue after issue and decision after decision, helpful action was late, if it came at all.
While it may take years to understand the full environmental consequences of the spill and the administration's incompetence, it already is apparent how economically deleterious Mr. Obama's policy choices have been. In particular, the drilling moratorium and subsequent permitting slowdown (or "permitorium") – which earned the administration a "civil contempt" penalty from U.S. District Judge Martin L.C. Feldman – have had near-disastrous effects.
It's been fairly well-publicized by now that LSU Professor Joseph Mason reported that the permitorium cost 13,000 jobs in the Gulf region alone. "The lost output will not be regained," he said in congressional testimony March 17, "and the lost wages cannot be spent."
Michael Watley, executive vice president of the Consumer Energy Alliance (CEA) – representing shippers, trucking companies, airlines, small businesses and senior group – cites a drop in production of 240,000 barrels per day just since 2010. "For all existing wells, there is a depletion rate as the wells get used," he said. "In order to keep your production constant, you've got to bring new wells online. We believe there is a direct correlation between decreased offshore production and increased prices."
Ah, yes, increased prices. With gasoline prices at the pump rising to an average of $3.83 per gallon, the economy again is slowing down. Watley warned that the resulting problems could soon approach the levels of 2008, when a CEA report showed a loss of 38,500 jobs in the airline industry and of more than 3,000 trucking companies (with at least five trucks each) which went belly-up due to prices that reached an average of $4.11 per gallon.
The President's own National Commission in the BP Deepwater Horizon Oil Spill and Offshore Drilling reported last fall that it was "not necessary to put offshore drilling on hold," and co-chair William Reilly said in early March that the overall industry's response to the accident was "remarkable and reassuring" so that "the major obstacles to drilling have been removed." Yet the administration barely moves. "It's just dribbling out these permits," said Dan Kish, vice president of the Institute for Energy Research (IER). "Even those permits aren't new construction; it's just re-drilling wells already begun before the blow-out."
IER notes that 97.6 percent of all U.S. offshore energy resources remain unleased. Talk to anybody involved with the industry in and around New Orleans and they'll tell you of a whole infrastructure of industries hobbled, from seagoing support by vessels and helicopters to catering services and manufacturers of products specially targeted to – and only to – deepwater rigs. This comports with IER's report that "small businesses typically employing 10 full-time and 3 part-time employees drill 85 percent of the United States' wells, produce 65 percent of the natural gas, and nearly 40 percent of the oil consumed by Americans."
Yet government incompetence continues. "One year later I still cannot tell you who is in charge – BP, the Coast Guard, or the federal government," said Billy Nungesser, president of Louisiana's Plaquemines Parish.
"The President still has not laid out a clear path for people to get back to work while drilling safely," Rep. Steve Scalise (R-LA) told me on Tuesday.
This is all in keeping with a deliberate strategy by the Obama team to push up energy prices overall. "Somehow we have to figure out how to boost the price of gasoline to the levels in Europe," said Secretary of Energy Steven Chu in September of 2008. "Under my plan of a cap and trade system, electricity rates would necessarily skyrocket," said Obama in January of that year.
The Obamites dream of a world without fossil fuels. They have used the BP oil spill as an excuse to help realize that dream. The result is an American economy that itself soon could be fossilized.