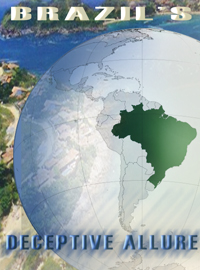 While free and open trade with Brazil is to be encouraged, that cannot come at the expense of American interests and well-being.
"Brazil is the country of the future – and it always will be."
That witticism captures perfectly Brazil's perennial underachievement. Consider this pre-Internet lamentation from The New York Times in July 1995:
"Brazil once captured the fancy of outsiders as an impossibly alluring place of unspoiled and exquisitely beautiful scenery, leafy indolence, sensuality, humor, cordiality, equatorial legend and racial harmony. In recent years that image has been shattered by a growing awareness of urban violence, environmental pillage, shocking levels of abandonment and abuse of children and a pattern of income distribution that puts most of the country's wealth in the hands of 10 percent of the population while labeling more than half of the inhabitants with the dismissive word 'marginal.'"
Ignoring history, however, American political leaders somehow continue to succumb to Brazil's deceptive allure. Mesmerized by that nation's abundant resources, growing population and eternal promise, the Obama Administration prostrates itself in its attempt to curry favor.
As just one example, Obama inexplicably praised Brazilian offshore oil exploration and the outsourcing of American production and jobs when he told an audience there last year, "And when you're ready to start selling, we want to be one of your best customers." Meanwhile, his administration opposes the Keystone XL pipeline from Canada, prevents domestic energy exploration, seeks to "crucify" American energy entrepreneurs and desires European-level gas prices here in the United States.
While free and open trade with Brazil is to be encouraged, that cannot come at the expense of American interests and well-being.
Unfortunately, Brazil isn't just the world's preeminent slacker anymore. Disturbingly, it is also an increasingly antagonistic rival toward the United States. Worse, our own federal government worked to facilitate Brazilian defense interests at the expense of American businesses and foreign policy goals.
Just last year, the Pentagon awarded Embraer, a Brazilian-owned company, a contract to manufacture U.S. Light Air Support (LAS) fighter aircraft as a key instrument of U.S. national security – a step that rightly received criticism back home. Hawker Beechcraft, a Wichita, Kansas-based American competitor to Embraer, was excluded at the eleventh hour from the contract for still undisclosed reasons.
Last month, the Air Force released a new draft Request for Proposal (RfP) for the LAS, and it has undertaken a review of the questionable process that led to the now-rescinded award to Embraer. Nevertheless, this comes at a time when, as The Wall Street Journal observes, "uncertainty surrounding looming Pentagon budget cuts" means that, "contractors that dominate the defense sector are already wrestling with shrinking domestic business."
Embraer receives subsidies from the Brazilian government, which publicly opposed the War on Terror and American efforts against Iran and Venezuela, yet hypocritically seeks to profit from that same U.S. foreign policy. Moreover, a provision within Embraer's bylaws known as the "Golden Share" clause would allow the Brazilian government to halt manufacturing at any time during the production or maintenance of the warplane. Alarmingly, the United States would possess no recourse in the matter.
In contrast to Brazilian Embraer, American Hawker Beechcraft would sustain an estimated 1,400 domestic jobs, whereas Embraer would account for just 50 final domestic assembly positions. Moreover, Hawker Beechcraft's AT-6 design is based upon an aircraft already in wide use by the U.S. Air Force, the U.S. Navy, the North American Treaty Organization (NATO) and other American allies. Accordingly, that existing familiarity and logistical infrastructure advantage would mean substantial cost savings over the warplane's life cycle. That consideration is particularly important at a time when the Defense Department seeks cost control measures.
Meanwhile, Brazil maintains the dishonorable distinction of being one of the few nations that continues building a working economic relationship with the Iranian regime, helping that rogue state broker deals that may advance its nuclear capabilities. Brazil even elected to work with Turkey to devise a watered-down solution to the Iranian nuclear crisis, a ploy that faced united criticism from not just the United States, but even China and Russia (countries that rarely agree). Brazil continues to trade freely with Iran, undermining U.N.-supported economic sanctions that the rest of the world has rallied behind.
And as for Embraer? It continues to sell weapons to the Iranian regime.
It's increasingly evident that Brazil will opt for competition, not partnership, with the United States. American foreign policy needs to start recognizing that fact, and we can start with our government's relationship with Embraer. The Obama Administration must understand that we cannot outsource vital American national security projects to a company controlled by a government that is actively opposed to U.S. economic and foreign interests.
That's particularly true at a time when American manufacturers like Hawker Beechcraft can do a better job here at home.
Expanded trade with Brazil? Perhaps. But not at the expense of America's national security interests.