By Ashton Ellis
Tuesday, February 22 2011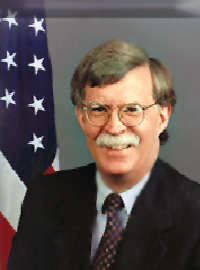 With his blunt speaking style and quick wit, Bolton could become a conservative favorite if the party compromises on a presidential candidate.
John Bolton is making the rounds at presidential campaign venues like the Conservative Political Action Conference (CPAC), but he won't be the 2012 Republican nominee. With his speeches and media appearances it looks like the former ambassador to the United Nations is angling to star in a different role: Vice President.
Of course, Bolton isn't saying this publicly. So far he's been coy in his answers about running for president as the GOP foreign policy candidate. Instead of crisscrossing the country raising money and building a campaign network, the author of Surrender is Not an Option is filling opinion pages and Fox News feeds with a steady diet of tough-minded reminders about putting America's national interest first.
He has been one of the few conservative voices arguing for caution during the Arab unrest that toppled Hosni Mubarak's regime in Egypt. At CPAC, Bolton recalled Theodore Roosevelt's response to Woodrow Wilson's plea to make the world "safe for democracy."
"First and foremost," said Roosevelt, "(Americans) need to make the world safe for ourselves and our interests."
Bolton's stance puts him at odds with many neoconservatives who favor democracy as the means of achieving peace and freedom. Bolton's focus is on outcomes, not process. While many democracy advocates trumpet free and fair elections, he points to the old adage of "one man, one vote, one time." Groups like Hamas in Palestine and the Muslim Brotherhood in Egypt are happy to reap the benefits of open elections, then abolishing them once in power. Unless a country's political system is committed to free, fair and frequent elections, democracy holds little appeal for Bolton as a foreign policy strategy.
Unless the current prevalence of foreign policy issues extends into the fall, it is unlikely that Republican primary voters will pay much attention to Bolton's carefully reasoned positions. The rise of the Tea Party, cuts in entitlement spending and the metastasizing conflict over public employee unions will direct focus to domestic issues. Politicians with expertise (or at least experience) in these areas will get more media attention, further blocking any attempts Bolton makes to rise in the polls.
Surely, Bolton knows this. Like Sarah Palin, he has serious obstacles in his road to the White House, but unlike the former Alaska governor, Bolton can declare victory if selected as the Republican nominee's vice presidential running mate in 2012. Much like Dick Cheney did for George W. Bush, Bolton can bolster the Republican ticket's foreign policy and establishment credentials while not alienating the base. Indeed, with his blunt speaking style and quick wit, Bolton could become a conservative favorite if the party compromises on a presidential candidate.
For now, Bolton is keeping his name in the mix. Recently, he accepted an invitation from Rep. Steve King (R-IA) to speak at a star-studded conservative summit in the earliest presidential nominating state. The event features other potential candidates like Rep. Michele Bachmann (R-MN), Senator Jim DeMint (R-SC) and former Senator Rick Santorum (R-PA). But the trip is pure Bolton: no coffee shop drop-ins; just steady jolts of well-argued policy themes.
Thanks to the ruinous explosion in federal spending under the Obama Administration, the next GOP president must be someone with the knowledge and will power to speak straight to the American people about the need to balance the budget by cutting spending. Most likely, that will require a person with executive-level experience in getting legislative victories. Since there is no one on the campaign horizon who has demonstrated deep personal reflections on both domestic and foreign policy issues, it would be prudent for conservatives to demand a presidential ticket reflecting competencies in both areas.
And if competence is the criterion, there is no better candidate for a foreign-policy Vice President than John R. Bolton.