By Ashton Ellis
Thursday, July 07 2011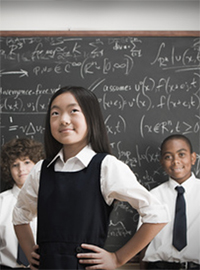 For most minority students, the option to choose better schools comes only with a government-sponsored voucher or a public school district that focuses on skills and knowledge rather than fads and liberal ideology.
The United States Sixth Circuit Court of Appeals' decision to prohibit Michigan's ban on using race as a factor in college admissions highlights liberalism's latest failure to achieve racial equality through education. Instead of promoting policies that match students to schools where they will succeed, liberals prefer to rig a system guaranteed to turn affirmative action into a vehicle of failure for another generation of African American students.
Recently, two of three judges on the Sixth Circuit ruled that the Fourteenth Amendment's Equal Protection Clause made unconstitutional the Michigan Civil Rights Initiative (MCRI). Itself a response to the Supreme Court's 2003 "racial preferences" cases (also from Michigan), MCRI prohibited the state and its agencies from using race as a factor in making decisions about college admissions and government employment. Passed in 2006, MCRI has enjoyed majority support in Michigan ever since.
Then along came the affirmative action lobby. By holding that the MCRI "unconstitutionally alters Michigan's political structure by impermissibly burdening racial minorities," the Sixth Circuit panel twisted the Fourteenth Amendment's equal protection into a standard that requires unequal preferences.
Though this case is surely headed to the Supreme Court, what should most animate conservatives in the meantime is the lie the opinion gives to the idea that liberals want real progress for racial minorities.
The fatal flaw with affirmative action in education is that it attempts to solve a problem too late in the process.
Affirmative action at the college admissions stage is too late to do much good for ill-prepared minority students. The purpose of using affirmative action in college admissions is to tip the scales in favor of applicants who otherwise do not qualify to attend the university as students. No one disputes this. But failure to meet GPA and standardized test score requirements means that an affirmative action-admitted student is demonstrably less able to compete with other non-affirmative action students. No wonder studies show that affirmative action students have a higher incidence of drop-outs than their peers. The system made flunking out almost inevitable.
To the extent government intervention is needed, it should occur much earlier in a minority student's education. Minority students don't need help cutting in line with college admissions; they need help learning how to learn at the primary and secondary levels. In short, minorities need better schools.
Unfortunately, minority students and their families can't get access to better schools because liberal teachers' unions are standing athwart progress. For most minority students, the option to choose better schools comes only with a government-sponsored voucher or a public school district that focuses on skills and knowledge rather than fads and liberal ideology.
To their shame, teachers' unions oppose vouchers because vouchers increase competition while lowering the costs of education. Fearing this, unions actively work to impede the kind of improvements in education – vouchers, charter schools – that would get minority students performing at the level of their non-minority peers. School choice is true "affirmative action" because it gives kids the opportunity to get the kind of education in life and learning necessary to succeed on merit when it comes to college admissions.
And if federal actors like those at the Sixth Circuit and the Democrats who killed D.C.'s school voucher program don't get it, conservatives in state governments across the country certainly do. Indiana, North Carolina and Colorado introduced large-scale school choice programs this year. Florida and Ohio broadened their voucher programs to include special-needs students. Even California now permits parents to "trigger" a change in administration and policy at the local level through a petition drive.
As usual, the most consequential policy innovations are coming from the states. Governments that promote school vouchers are part of a growing trend towards real affirmative action: empowering students of all racial and income types to select the primary and secondary education of their choice.
If states can just get the liberals in the federal government to stop meddling, students may get what every parent wants – a shot at a real education.