By Ashton Ellis
Wednesday, May 02 2012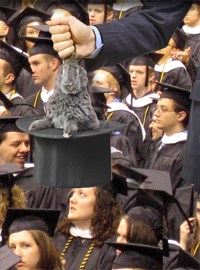 Rather than giving millions of soon-to-be college grads a reason to hope about a better job market, he [Obama] instead proposed to increase the federal deficit by $6 billion.
During performances last week at the flagship state universities of North Carolina, Colorado and Iowa, President Obama executed rhetorical sleights-of-hand that would make David Copperfield blush.
Exuding the confidence of someone standing in the midst of a friendly audience, Obama told University of Iowa students, "I'm always interested in how folks talk about this issue [i.e. federal student loan policy]. You've got one [Republican] member of Congress who compared student loans – I'm not kidding here – to a stage three cancer of socialism."
To raucous cheers, Obama said, "I don't know where to start? What do you mean? What are you talking about? Come on!" "Just when you think you've heard it all in Washington, somebody comes up with a new way to go off the deep end."
Obama was paraphrasing comments made by Rep. Todd Akin (R-MO) at a policy debate the previous weekend. Unlike Obama's clipped parody, Akin's full quote reveals a fundamental difference in philosophy with the Entertainer-in-Chief: "America has got the equivalent of the stage three cancer of socialism because the federal government is tampering in all kinds of stuff it has no business tampering in."
It's reasonable to assume that Akin takes seriously the growing consensus that student loan debt is the next major financial bubble to burst.
At the beginning of the 2011-12 school year, the New York Federal Reserve Bank released data showing that student loan debt has risen 25 percent since the 2008 financial crisis began. Put another way, total student debt grew from $440 billion in 2008 to $550 billion in 2011. As the 2011-12 school year winds down, analysts estimate that America's overall student loan debt is now between $870 billion and $1 trillion.
To put this in context, all other major forms of consumer debt – i.e. mortgage debt, credit card debt, auto and home equity loans – are at lower levels than they were in 2008.
The reason for the disparity is simple.
In the Obama economy everyone not receiving a government paycheck is forced to cut back and look for ways to save money while at the same time making investments to help ascend the socio-economic ladder. For generations, higher education has been the clearest way to move up the rungs.
But with Obama's hostility to wealth creation via tax hikes and regulatory burdens, a consequence of wealth – job creation – is the biggest casualty. By extension, college graduates are coming into a national workforce with persistent unemployment rates of at least 8 percent. And those jobs that are available consistently go to more experienced workers.
Of course, none of this was mentioned during Obama's three campus road show last week. He was too busy trying to defuse a trillion dollar debt bomb with nothing more than smoke and mirrors delivered as non sequiturs.
But like any experienced showman, the President knew he had to convince his audience that common sense need not intrude on a good time. So rather than giving millions of soon-to-be college grads a reason to hope about a better job market, he instead proposed to increase the federal deficit by $6 billion.
With the interest rate on Subsidized Stafford Loans set to increase from 3.4 percent to 6.8 percent on July 1, Obama offered to extend the historically low rate for one year.
What the President deliberately failed to mention is that rate increase – the product of a 2007 law set to expire – will actually return all federal student loan rates to an equal level. Undergraduates who take out Unsubsidized Stafford Loans already pay 6.8 percent, as do all federal loan recipients in graduate and professional schools.
As for all the cheers students showered on Obama, analyses of his extension reveal how little he actually promised them.
For starters, Obama only proposed a one-year extension, so even if passed his proposal only applies to two semesters worth of loans. If Obama's proposal fails, then borrowers will only be on the hook for an additional $22 to $25 a month in extra interest payments over the life of the ten-year repayment period.
At least one liberal group isn't satisfied with Obama's cheap parlor trick. CREDO Action, a student loan advocacy group, is blasting emails to supporters urging them to reject Obama's one-year "compromise" and hold out for a multi-year – or heck, why not eternal – fixed 3.4 percent rate. Like the so-called fairness of the Buffett Rule that won't dent the deficit, for Obama's liberal base it's always about their (stage three socialist cancer?) principles, never about the dollars and sense.
There are two groups of people who like magic acts – children and adults who enjoy willfully suspending disbelief. Kudos to the Obama campaign for identifying college students as the electoral constituency that combines both.