By Ben Boychuk
Thursday, July 16 2015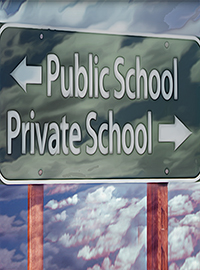 Fact is, Duncan and his boss, President Obama, are zealously anti-choice when it comes to education.
U.S. Education Secretary Arne Duncan will enroll his two children in the top-rated University of Chicago Laboratory Schools this fall, the Washington Post reported last week. Just about every parent wants the best for his kids. So it's hardly surprising that a man of Duncan's station would choose a school widely recognized as among the most innovative in the United States over one of Chicago's struggling and often dangerous public schools.
And Duncan would have reason to know. He was the chief executive officer of the Chicago Public Schools (CPS) from 2001 until 2008.
Who in his right mind would subject his children to schools where just 65 percent of students graduate high school and, of those, more than 90 percent must take remedial courses in math and reading because they are nowhere near prepared for college-level work? Only about one-in-four of Chicago public high school students are ready for college, at least according to ACT standardized test scores.
Chicago's public schools are so bad that even Chicago public school teachers refuse to subject their own offspring to the system's depredations, if they can help it. A 2004 survey by the Thomas B. Fordham Institute found that 39 percent of the Second City's teachers had enrolled their children in a private school.
So Duncan's choice is understandable. It probably helped that he is also an alumnus of Lab, and his wife, Karen, works there.
The Lab Schools, which serve students from pre-kindergarten through the 12th grade, are bastions of progressive learning. The mission of the schools is to "ignite and nurture an enduring spirit of scholarship, curiosity, creativity, and confidence" and "value learning experientially, exhibiting kindness, and honoring diversity."
Igniting and nurturing an enduring spirit of scholarship, curiosity and all of that good stuff isn't cheap. Annual tuition at Lab runs north of $30,000. Oddly, running a third-rate public school system is almost as expensive as attending a first-rate private school. CPS spends about $24,000 per pupil every year.
Imagine what low-income parents could do for their children with that kind of money. Yet Duncan, a lifelong Democrat, would bar parents of lesser financial means from making just the sort of choice he and his wife are free to make without a second thought. "Honoring diversity" is nice as long as it remains confined to the realm of theory.
Fact is, Duncan and his boss, President Obama, are zealously anti-choice when it comes to education. Duncan at least sent his kids to a public school in Northern Virginia. The president's daughters, Sasha and Malia, attended Lab before moving to Washington, D.C. in 2008, when they were enrolled in the exclusive Sidwell Friends School.
One of Duncan and Obama's earliest policy moves was to end the District of Columbia's Opportunity Scholarship Program, which granted low-income parents—primarily black and Hispanic—vouchers worth up to $7,500 a year to attend the private or religious school of their choice. A handful of those parents even managed to send their kids to Sidwell Friends, thanks to additional private scholarship assistance. Only through the machinations of some House Republicans and a few sympathetic Democrats in the Senate did the $11 million voucher program survive.
But Duncan and Obama's opposition to choice doesn't end there. Although it's true that Duncan has supported charter schools throughout his tenure at CPS and the U.S. Department of Education, he is no friend of public school choice.
Last week, when the House of Representatives passed HR 5 to reauthorize No Child Left Behind, Duncan made a point of denouncing the bill's "Title I portability," which would allow a portion of federal dollars to follow low-income students to the public school of their choice.
Again, this isn't even a question of sending tax dollars to private schools, which most Democrats and a fair number of libertarian-leaning Republicans oppose. Duncan labors under the widespread misapprehension, born of a career spent toiling in the government-school bureaucracy, that tax dollars are best distributed to institutions. Institutions are wise. Individuals are not. (Never mind individuals run those institutions.)
To change the way the federal government funds school districts would mean to deny special interests their due. But Duncan says Title I funding portability would be "devastating" to poor children—as if poor children and poor school districts are synonymous.
This is Arne Duncan's idea of school choice: My children can go to the finest schools I can afford. Your tax dollars must support schools the way we see fit. Your children must attend this third-rate neighborhood school. Your children may attend a charter school, as long as it conforms to the mandates we set. Your child must learn particular lessons in a particular way prescribed by the Common Core State Standards. Your child must take these Common Core tests. Your children must work for my children someday.
Some choice.