By Ashton Ellis
Thursday, October 06 2011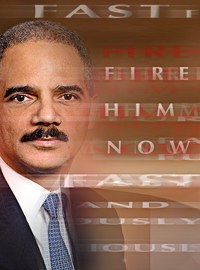 With the lies mounting, the American people are fast becoming aware of what Republicans in Congress have known for at least a decade: Eric Holder cannot tell the truth.
Congressional Republicans investigating Attorney General Eric Holder's failed leadership are moving too slow on President Barack Obama's chief enabler. After the publication this week of devastating emails revealing Holder lied to Congress about his knowledge of a botched gun-tracking program, they should skip asking the White House to appoint a special prosecutor and demand Holder be fired.
Consider the evidence. On May 3, 2011, Holder said under oath that he was "not sure of the exact date, but I probably heard about Fast and Furious for the first time over the last few weeks." By October 3, 2011, Holder's claim was undermined when CBS News publicized internal Department of Justice documents showing that Holder received briefings about the program as far back as July 5, 2010. Other memos indicate Holder was updated on the deliberate selling of guns to Mexican drug cartels in October and November of 2010.
Trying to turn the subject away from the attorney general's perjury, Holder's mouthpieces at Justice and the White House have taken to screaming at the CBS reporter who broke the story. In a deeply ironic and absurd response, the White House spokesman "cussed" at the reporter claiming that she lacked the kind of "reasonable" liberal bias expected by President Barack Obama of his friends in the mainstream media. As if reading from a list of approved house organs, the White House flak went on to cite the Washington Post, New York Times and Los Angeles Times as examples of "reasonable" outlets that agree with the liberal delusion that Fast and Furious is not a story worth pursuing.
What makes Holder's lie to Congress even more outrageous is that this is not the first time he's failed to tell the truth under oath. Andrew McCarthy of National Review Online recently detailed a damning chronology of Holder's fallacious statements regarding the infamous Marc Rich pardon. McCarthy shows that in testimony in 2001 and 2009, Holder misled Congress on how much he knew about Rich prior to assisting him with securing a pardon for crimes against the United States that earned a place on the FBI's Ten Most Wanted list. In both instances, Holder stated that "Mr. Rich's name was unfamiliar to me" prior to 1999. In fact, as the United States Attorney for the District of Columbia in 1995, Holder had settled a case against some of Rich's companies, publicly stating that Rich himself was still wanted by the U.S. government.
The rationale for each of these lies is preserving Holder's grasp on power. McCarthy notes that Holder's work to pardon Rich in 2000 was a way for then-Deputy Attorney General Holder to be first in line to succeed Janet Reno in a possible Gore Administration. When Barack Obama won the presidency in 2008, Holder's commitment to his career led him to repeat the same indefensible explanation regarding Rich to win the job he long coveted.
And yet, for as self-servingly deceptive as Holder has been, none of this would have been possible had Republicans in Congress challenged him on his record. Evidence of Holder's inability to speak honestly under oath was and is readily available in public documents. But cowed by whispers of racism for opposing the first black attorney general, many Republicans thought they had a deal when Holder privately assured them he would not pursue criminal allegations against Bush-era officials involved with the War on Terror. That promise lasted only as long as it took Holder to sign off on investigations into CIA interrogation tactics and other meritless probes into former Justice Department lawyers.
With the lies mounting, the American people are fast becoming aware of what Republicans in Congress have known for at least a decade: Eric Holder cannot tell the truth. There are now three known instances where Holder has lied under oath. If he were a private citizen, he would be in prison for perjury. Since he's a politician, he at least deserves to be fired. Failing that, Republicans should skip the special prosecutor request and move immediately toward impeachment.
If not now, when?