By Troy Senik
Thursday, January 26 2012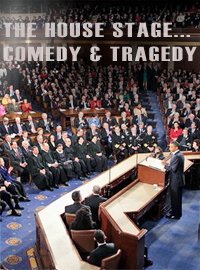 This was the leader of the free world using the chamber of the House of Representatives to stage the beginning of his reelection campaign.
Barack Obama had an open microphone and time to kill at Tuesday night's State of the Union address, a scenario only slightly less distressing than learning that a serial arsonist is on the loose. What resulted was grandiose even by the standards of this endlessly self-referential chief executive: 65 minutes of blather punctuated by 75 personal pronouns (yes, you read that right – the president referred to himself more than once per minute).
This was the leader of the free world using the chamber of the House of Representatives to stage the beginning of his reelection campaign. How did it play out? Well, let's just say that the president has maintained his audacity even while the American people have lost their hope. Here are just a few of the more egregious examples...
1. "On the day I took office, our auto industry was on the verge of collapse. Some even said we should let it die. With a million jobs at stake, I refused to let that happen. In exchange for help, we demanded responsibility. We got workers and automakers to settle their differences. We got the industry to retool and restructure. Today, General Motors is back on top as the world's number-one automaker. Chrysler has grown faster in the U.S. than any major car company. Ford is investing billions in U.S. plants and factories. And together, the entire industry added nearly 160,000 jobs. We bet on American workers. We bet on American ingenuity. And tonight, the American auto industry is back. What's happening in Detroit can happen in other industries."
About that: (A) The credit for the auto industry bailout (misbegotten as it was) doesn't belong to Obama. The process was announced by George W. Bush in December 2008, with the Obama Administration merely expanding upon it later. (B) Ford's investments may be heartening, but they don't have any business in this speech, as Ford was the only one of the big three automakers not to take a federal bailout (a fact the company touted in its television ads before the commercials were pulled after political pressure from the White House). (C) No prominent conservatives argued that "we should let [the auto industry] die." Rather, they argued that a conventional bankruptcy restructuring, which would allow the companies to keep functioning without putting taxpayer money on the line, was a preferable alternative. (D) No one apart from this president sees Detroit – which had 11.2 percent unemployment in November – as a viable model for the national economy.
2. "This country needs an all-out, all-of-the-above strategy that develops every available source of American energy. A strategy that's cleaner, cheaper, and full of new jobs."
Remind us to tell that to the 20,000 workers who would have been employed by the construction of the Keystone XL oil pipeline or the 230,000 who could find gainful employment, according to an IHS Global Insight study, if the administration allowed the permitting process for energy exploration in the Gulf Coast to keep pace with the region's capacious resources.
3. "Millions of Americans who work hard and play by the rules every day deserve a government and a financial system that do the same. It's time to apply the same rules from top to bottom. No bailouts, no handouts, and no copouts. An America built to last insists on responsibility from everybody."
Unless, of course you're a green energy firm, a labor union or General Electric – in which case the rules you play by will be mailed to you upon receipt of your campaign contributions.
4. "Right now, we're poised to spend nearly $1 trillion more on what was supposed to be a temporary tax break for the wealthiest 2 percent of Americans. Right now, because of loopholes and shelters in the tax code, a quarter of all millionaires pay lower tax rates than millions of middle-class households. Right now, Warren Buffett pays a lower tax rate than his secretary."
We're only spending $1 trillion in this instance if you define "spending" as "failing to take from someone the money they've earned." To understand how ludicrous this rationale is, consider the following: The same logic would lead you to conclude that we're "spending" nearly $1 billion a year by failing to tax the American Cancer Society at a 100 percent rate.
Also, this Warren Buffett nonsense has to stop. Buffett's tax rates are lower than his secretary's because he's being taxed on capital gains: the profits he's made from investments made with after-tax dollars. When Buffett originally made that money in the form of earned income, he paid a rate at least as high as his secretary (and probably higher, given the nature of the progressive income tax system). One simply cannot advocate for renewed economic growth in one breath and then decry the fact that there isn't a higher tax on job-creating investment in the next. This shouldn't be surprising coming from Obama, however. In a debate during the 2008 campaign, he said that he would favor raising the capital gains tax even if it resulted in a reduction in tax revenue – as a matter of "fairness."
5. "I'm a Democrat. But I believe what Republican Abraham Lincoln believed: That government should do for people only what they cannot do better by themselves, and no more."
Given the president's record, there are only two possible interpretations of this statement: (A) He's lying. (B) He thinks we're idiots.
There's no doubt that – even by the president's debased standards – this was a painful State of the Union. It did have one advantage over its predecessors, however. This one could be his last.