By Quin Hillyer
Thursday, June 21 2012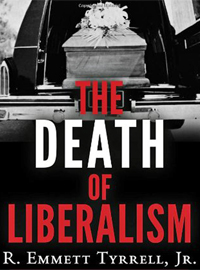 Conservatives are fighting the same Liberalism that somehow survived and recovered even from the trouncing Ronald Reagan administered to it, and which is now firmly entrenched in academia, establishment media and Hollywood.
Liberalism is dead. So says The American Spectator founder R. Emmett Tyrrell, Jr., who is invariably ahead of the curve in identifying macro-political trends. But is he correct this time?
His track record is excellent. Decades ago he identified the "Liberal Crack-Up" before conventional wisdom recognized how insane the left had become; but then, just when the punditocracy thought the political right was riding high in the wake of the first Gulf War, Tyrrell wrote The Conservative Crack-Up to warn, correctly, that not all was well. In the wake of the 2008 Obama victory, when some were pronouncing conservatism dead, Tyrrell was accurately outlining (and predicting) the Right's 2010 recovery from what was merely a bad hangover.
I was predisposed to trust his instincts, therefore, when he released his latest oeuvre cutting through what he calls the Kultursmog – "the pollution of our culture by politics, almost exclusively Liberal politics." Then again, as a Senior Editor of The American Spectator, I think it looks inherently suspect, even in another publication, to do a formal "review" of a book by a guy who lists me on his magazine's mast-head. So please consider this not as a review, but as a discussion of his main thesis, repeated eleventy-umpteen times in his new book, that Liberalism with a capital "L" is indeed kaput, deceased, a corpse.
Oh, where to begin? First, let's explain: Tyrrell insistently capitalizes the "L" so as to distinguish the modern abomination from the "classical liberalism" of James Madison and his contemporaries. He posits that this modern variety of statists grew out of, and fully believes in, the progressivism of people like Herbert Croly a full century ago – people who asserted (quoting Croly) "the fact that the average American individual is morally and intellectually inadequate to a serious and consistent conception of his responsibilities as a democrat."
Wow. What arrogance. Then again, when the mayor of New York tells citizens what they cannot drink in quantities larger than a pint, and when the president tells Americans what products they must buy whether or not they want them, that arrogance is frighteningly rampant among today's Liberals. It is an arrogance, the author argues, that has finally led its adherents into a death stumble their conceit won't let them recognize, as the American public rejects their prescriptions.
In his inimitable fashion, Tyrrell has great fun as he romps around with his thesis. This is no dry polemic, but an intellectual acrobatic act performed with a wink and a grin. As in: Ross Perot's 1992 campaign "was one of history's banana peels upon which the conventional wisdom slips." And: "I estimate that today there are more bird-watchers than Liberals in America, and possibly more nudists. If trends continue there will indubitably be more nude bird-watchers. Perhaps the day will come when nude bird-watchers and Liberals can hold joint maneuvers."
Amidst all his showmanship, meanwhile, Tyrrell lays out ample evidence for his assertions.
Among conservatives, therefore, it would take quite a spoilsport to throw cold water on Tyrrell's thesis. Forgive me, then, for bringing a bucket.
The problem is that my editor sees Liberals, utterly detached from reality, walking around like zombies, and he thinks they therefore are dead but just don't know it. Alas, I think he is mistaken. I think Liberals are very much alive – and that if given another painful spanking in November, they will wake up and counterattack with a Rahm Emanuel-like vengeance. I think conservatives are overconfident about the fall elections, weirdly so, and overconfident about what they can accomplish if they do indeed win big.
This is the same conservative movement, after all, that hasn't won a single nomination for president since Ronald Reagan left. It's the same conservative movement that lost its nerve after just two years of the Gingrich regency. It's the same movement that failed to stop the Bush-Hastert spending spree.
Moreover, conservatives are fighting the same Liberalism that somehow survived and recovered even from the trouncing Ronald Reagan administered to it, and which is now firmly entrenched in academia, establishment media and Hollywood. These people have a habit of rising from the grave to suck the lifeblood from new generations of Americans.
The problem is not with Tyrrell's analysis of Liberalism's tendency toward morbidity; Tyrrell is dead right – perspicaciously and amusingly so – about Liberalism's fallacies, idiocies and delusions both philosophical and political. Nonetheless, methinks Liberals won't die without large doses of garlic plus stakes through the heart. Conservatives are remarkably inept at conducting those rites.
Conservatives have an unfortunate tendency toward premature triumphalism, one which Tyrrell has correctly identified in the past. If conservatives win this fall's elections, they must treat those elections not as validation, but as a challenge to actually produce effective reforms – against an adversary that will refuse to stay in its grave.