By Troy Senik
Wednesday, August 01 2012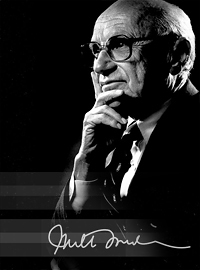 Milton Friedman's ideas sunk into the public consciousness so deeply that they've become conventional wisdom among supporters of the free market.
Earlier this week, we commemorated the centennial of the birth of Milton Friedman – the economist and public intellectual who probably did more than any other figure in the 20th century to popularize and render intelligible the ideas animating free-market economics.
The fact that Friedman nearly got to see the occasion – living until 2006, when he passed away at the age of 94 – is a testimony to his physical endurance. But as impressive as his longevity was, it pales in comparison to the durability of his ideas.
Friedman had a rare gift. Like William Shakespeare, whose poetic inventions would eventually become part of idiomatic English, Milton Friedman's ideas sunk into the public consciousness so deeply that they've become conventional wisdom among supporters of the free market. Here are 10 of his most relevant insights.
The Folly of 'Stimulus' Programs: When Friedman visited India in the 1960s, he was shown a canal project where thousands of workers were toiling away with shovels instead of more advanced earth-moving equipment. When he inquired about the inefficient methods, he was told that the canal was part of a jobs program that aimed to employ as many people as possible. His response: "Oh, I see. I thought you were trying to build a canal. If you really want to create jobs, then by all means give these men spoons, not shovels."

School Choice: Friedman virtually single-handedly popularized the notion of vouchers as a corrective for America's dysfunctional public schools. Though a professional economist, he was not susceptible to the dehumanizing mindset that sometimes dominates the dismal science. In fact, though he certainly marshaled market-based arguments, Friedman framed his case in explicitly humanitarian terms: "There is no respect in which inhabitants of a low-income neighborhood are so disadvantaged as in the kind of schooling they can get for their children."

The Failure of Welfare: Friedman was quick to point out how much welfare spending was lost to the "leaky bucket" phenomenon – the tendency of social spending to be absorbed by the government providing it rather than its intended recipients: "Suppose I divide the total amount of money spent on these [welfare] programs by the number of people labeled poor... If that [money] were really going to the poor, they'd be among the rich."

The Case for the Flat Tax: Friedman was one of the principal advocates for moving to a flat tax system, whereby every dollar of income would be taxed at the same rate, no matter the taxpayer's annual earnings. While he appreciated the economic efficiency involved, Friedman – always attuned to political reality – said, "If you can get a flat tax with no exemptions or deductions … its main advantage would not be the greater equity of a flat tax or less interference in private incentives. It would be to end this business of changing the whole tax system every few years and keeping prosperous these hordes of tax lawyers."

The Destructive Quality of Minimum Wage Laws: In recent years, liberals have used conservative opposition to minimum wage laws to paint the right as heartless and unconcerned with the plight of the working poor. Friedman, however, knew better, understanding that the minimum wage creates artificial unemployment, particularly for young minorities: ""We regard the minimum wage as one of the most, if not the most, anti-black laws on the statute books."

On Regulation: Friedman instinctively understood the law of unintended consequences as it related to public policy: "I think the government solution to a problem is usually as bad as the problem and very often makes the problem worse."

The Hopelessness of Seeking Perfect Politicians: While Friedman was known for his economic insight, he was an acute and sober student of political dynamics as well. In this age of statism run wild, conservatives should take heed of this admonition: "I do not believe that the solution to our problem is simply to elect the right people. The important thing is to establish a political climate of opinion which will make it politically profitable for the wrong people to do the right thing. Unless it is politically profitable for the wrong people to do the right thing, the right people will not do the right thing either, or if they try, they will shortly be out of office." This should be the guiding credo of every Tea Party member in America.

On the Failures of Class Warfare: Friedman didn't deny the allure of equality – but he did think that redistributionists had the formula backwards: "A society that puts equality before freedom will get neither. A society that puts freedom before equality will get a high degree of both."

The Need for Political Pragmatism: Milton Friedman's understanding of the golden mean between political idealism and political realism was as thoughtfully constructed as they come. When asked by Reason magazine in 1995 where he differed with the ardent libertarian activist Murray Rothbard, he responded, "The difference between me and people like Murray Rothbard is that, though I want to know what my ideal is, I think I also have to be willing to discuss changes that are less than ideal so long as they point me in that direction. So while I'd like to abolish the Fed, I've written many pages on how the Fed, if it does exist, should be run."

Legacies: Only one quote of Friedman's cited here deserves slight modification. In 2007, he said, "The true test of any scholar's work is not what his contemporaries say, but what happens to his work in the next 25 or 50 years."
In Friedman's case, that's only partially true. The events of the next half-century may, in some way, be a test of his work. But in a more meaningful sense, the extent to which his ideas are embraced will be a test of the nation and its commitment to the principles of freedom Milton Friedman represented.