By Quin Hillyer
Wednesday, September 05 2012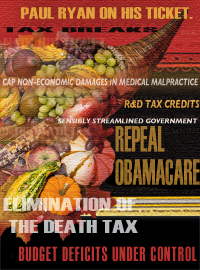 All in all, the Romney campaign is far from devoid of policy substance...
Good policy is good politics.
While policy wonkishness rarely wins major elections, it is true that voters in tough times sometimes do want a sense, backed by at least some details, of how a candidate proposes to change things. For whatever reason, Republican presidential nominee Mitt Romney has gone a bit light on the policy front in most of his speeches. If one looks at his web site, however, one gets a sense of a proposed cornucopia of intelligent policy reforms, especially in the area of health care.
If Romney succeeds in effecting a repeal of ObamaCare, for instance, he would replace it not with the status quo ante but instead with an impressive list of improvements. Some of them have long been on conservative wish lists, but never implemented: Allow health insurance purchases across state lines; provide tax breaks for individuals as well as businesses for insurance purchases; cap non-economic damages in medical malpractice lawsuits; promote insurance purchasing pools for individuals and small businesses, and expand the availability and uses of Health Savings Accounts. Others sound good but await further fleshing out: "Ensure flexibility to help the uninsured, including public-private partnerships, exchanges, and subsidies," and "Ensure flexibility to help the chronically ill, including high-risk pools, reinsurance, and risk adjustment."
Still others go hand in hand with old stand-bys: Along with medical malpractice damage caps, for instance, Romney would reduce the detrimental effects of torts by using "innovation grants to explore non-litigation alternatives to dispute resolution." Along with new insurance options across state lines and through purchasing pools, he would "encourage 'Consumer Reports'-type ratings of alternative insurance plans." All together, the Romney plans would almost certainly expand choices, bring future costs down, and ensure that the vast majority of those currently uninsured who actually want insurance are able to get it.
Now let's move to taxes. As the RATE Coalition pointed out on Wednesday, American competitiveness against the rest of the world has fallen for the fourth consecutive year – largely as a result of the U.S. suffering from the developed world's highest corporate income taxes while Barack Obama does nothing to lower them. In that light, the Romney promises to cut the top rate from 35 percent to 25 percent while making permanent the research-and-development tax credit are at least small steps in the right direction, although perhaps not as bold a plan as one would like. Business competitiveness also would be helped through the back door, as it were, by Romney's pledge to "eliminate taxes for taxpayers with [adjusted gross incomes] below $200,000 on interest, dividends, and capital gains."
Romney also would make an across-the-board 20 percent cut in all individual marginal rates, making up the revenue loss by unspecified eliminations of various high-income deductions and shelters. Elimination of the death tax and the alternative minimum tax would provide significant boosts to the economy.
On getting the horrid budget deficits under control, Romney of course gains instant credibility just by having Paul Ryan on his ticket. But in some ways he would go farther than Ryan himself has proposed. What are particularly encouraging are Romney's pledges to "send Congress a bill on Day One that cuts non-security discretionary spending by 5 percent across the board" and to "pass the House Republican Budget proposal, rolling back President Obama's government expansion by capping non-security discretionary spending below 2008 levels."
(One can pine, by the way, for even further cuts, all the way down to inflation-adjusted levels that were perfectly okay with Bill Clinton in the year 2000 – in other words, hardly "heartless" – but even going back to 2008 would be a significant beginning achievement.)
On other subjects, Romney hits all the right conservative buttons – hardly an inconsiderable virtue, because even the standard basket of commonsense conservative policies contains plenty of fuel for a revitalized economy and sensibly streamlined government – but nothing jumps off the web page as being particularly innovative. It does look encouraging, however, to see the pledge to "impose a regulatory cap of zero dollars on all federal agencies," although I'm not sure exactly what that means. Romney also would require that no "major" new regulation go into effect without congressional approval – a step that long has been needed.
A conservative reformer who wanted to aggressively use policy "wedges" to dig up stray votes doubtless could do some things Romney hasn't. A few pointed remarks about overbearing "consumer protection" rules, for instance, might gather in the votes of second-hand store owners, collectors of various, uh, collectibles (toy soldiers, for instance), and enthusiasts of various activities such as motor-scootering.
Yet, all in all, the Romney campaign is far from devoid of policy substance, at least in its official publications. Supporters can only wish it used that substance to somewhat better advantage.