By Quin Hillyer
Thursday, September 27 2012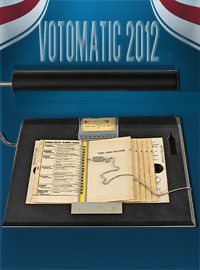 Vote fraud is widespread, and election outcomes are changed – elections are stolen – because of it.
If this election is a close one, it could well be stolen by what would otherwise be the losing side.
Those weren't the exact words uttered in a program last Friday at the Heritage Foundation by co-authors of an important new book, but that's one practical message an attentive listener would take away from the event.
The authors are John Fund, longtime journalist for the Wall Street Journal, The American Spectator and National Review; and Hans von Spakovsky, a Senior Legal Fellow at Heritage and former member of the Federal Election Commission. Their new book is Who's Counting? How Fraudsters and Bureaucrats Put Your Vote at Risk. Their message is (to crib from the dust jacket) that "voter fraud in American elections is a well-documented reality… [and] public confidence in the integrity of elections is at an all-time low" – but that the problems can be fixed with commonsense reforms.
Fund told the Heritage audience that he first became interested in the subject when he "witnessed voter fraud with my own eyes" years ago in a California state assembly race. Why didn't he report it to the authorities? Because the fraud was carried out by the authorities.
Yet, as Fund explained, the media says, "There is no voter fraud."
Just a few weeks ago, a congressional candidate in Maryland withdrew from the ballot after it was discovered that she had repeatedly voted simultaneously in two states in the same elections.
No matter: "There is no voter fraud."
In Iowa just last week, three non-citizens went to jail for having voted. But "there is no voter fraud." In Arkansas the week before, a Democratic state legislator (who "won" his race by just eight votes), a city council member and a police official were convicted on 45 counts. Still, say the cognoscenti, "There is no voter fraud."
Poppycock. The examples go on and on. Vote fraud is widespread, and election outcomes are changed – elections are stolen – because of it.
"My position is clear," Fund said. "I want to make it easy to vote, and hard to cheat."
Von Spakovsky, meanwhile, devastatingly refuted the leftist arguments against laws requiring voters to show identification at the polls. Critics say the laws make it too difficult to vote, especially for minorities. Yet, as von Spakovsky explained, when voter-ID laws went into effect in Indiana and Georgia for the 2008 elections – after federal judges noted that plaintiffs could not produce a single witness who would be unable to vote because of the new law – minority turnout increased by far more in those states than it did elsewhere in the country.
The reality, von Spakovsky explained, is that it is the corruption of fraud, not ID laws, that deters voting. Consider: After a series of 11 election-fraud convictions in Greene County, Alabama last decade, minority turnout went up. As one elderly black woman explained, she cast a ballot for the first time in years because "her vote was finally going to count."
About Greene County and nearby counties of Hale and Perry in Alabama, Von Spakovsky cited the former Democratic U.S. Representative from the area, Artur Davis, who has become an outspoken supporter of voter-ID laws. In an Oct. 17, 2011 column for the Montgomery advertiser, Davis wrote: "The truth is that the most aggressive contemporary voter suppression in the African American community, at least in Alabama, is the wholesale manufacture of ballots, at the polls and absentee." And: "Voting the names of the dead, and the nonexistent, and the too-mentally-impaired to function, cancels out the votes of citizens who are exercising their rights – that's suppression by any light. If you doubt it exists, I don't; I've heard the peddlers of these ballots brag about it, I've been asked to provide the funds for it, and I am confident it has changed at least a few close local election results."
Likewise, later in the forum, Fund noted that even liberal MSNBC fulminator Chris Matthews admitted this just last year: "People call up, see if you voted or you're not going to vote. Then, all of a sudden, somebody does come and vote for you. This is an old strategy in big city politics…. I know all about it in North Philly. It's what went on. And I believe it still goes on."
The good news, at least for honest people, comes from what Fund said former U.N. ambassador and Martin Luther King associate Andrew Young told him: "This doesn't have to be a polarizing issue."
Many solutions are available, and are recounted in the book Who's Counting? One (of many) I really like: State election officials should use the employer "E-Verify" system to confirm citizenship of new voting registrants.
Fail to take these and other simple steps, the authors wrote, "accelerates our drift toward banana-republic elections."