By Ashton Ellis
Thursday, January 03 2013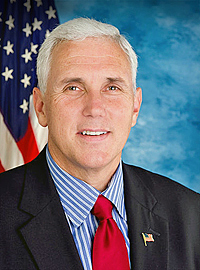 After twelve years in Congress as a consistent conservative, Mike Pence will try to implement his ideas as a state chief executive.
"Washington DC does not have a revenue problem, it has a spending problem." With those words Representative Mike Pence (R-IN) voted against the New Year's Day fiscal cliff deal that raised tax rates but failed to cut federal spending. As he heads back home to become Governor of Indiana, Pence leaves Washington the way he may one day return to it – as a consistent conservative ready to lead.
Like most Republicans, Pence has a strong record against spending increases pushed by President Barack Obama. But unlike many of his colleagues, Pence spent the entirety of the George W. Bush Administration resisting politically-motivated budget busters.
Pence's conservative credentials were on display early during his first term in office. In 2001, President George W. Bush wanted to make good on his promise at major education reform, and negotiated the No Child Left Behind Act with Senator Edward Kennedy (D-MA). Hailed at the time as a bipartisan breakthrough, the measure was also an unfunded mandate, which the freshman Pence opposed. Since its passage, the law has become a common irritant among educators and policymakers, in large part because it increases compliance costs without providing the money to pay for them. NCLB passed, but not before establishing Pence as someone willing to buck his party, and president, for principle.
Two years later, Pence again made headlines. With his presidential re-election bid approaching, Bush convinced a majority of the Republicans in Congress to support his prescription drug benefit for seniors. Creating the new entitlement was supposed to curry favor with elderly voters, wooing them away from Democrats. The AARP gave its blessing. Not Pence. In order to get his vote the new entitlement would need to be means-tested. When Republican leaders balked, Pence voted not to charge the nation's credit card.
Pence followed the same formula when it came to the Troubled Asset Relief Program, or TARP, in late 2008. Even though Republicans lost control of Congress in 2006 thanks in large part to the party's reckless spending sprees under Bush, then-House Speaker Nancy Pelosi (D-CA) and Bush Treasury Secretary Henry Paulson goaded many self-professed fiscal conservatives into bailing out banks that were "too big to fail." Pence led the charge to defeat TARP, winning the first battle, but losing the second.
Pence's opposition wasn't able to overcome the bipartisan liberal-moderate coalition that seemingly always finds an excuse to ramp up spending. As in the Bush years, Pence was on the losing side of votes against Barack Obama's stimulus bill and Obamacare. But consistency paid off. After the Tea Party-fueled Republican landslide in 2010, his consistent support of fiscally conservative principles earned him the chairmanship of the House Republican Study Committee, the chamber's largest caucus and also the most conservative. From that position, Pence was able to reach a larger audience, refining his communication skills as a former radio talk show host.
Early in 2011, Pence was encouraged by many conservatives to seek the Republican presidential nomination. His steadfast commitment to spending restraint and reputation as a full spectrum conservative on military and social issues make him an attractive figure to all parts of the GOP. Just as important, his unique blend of friendliness and firmness in selling his rock-ribbed conservatism could make him the new voice for a movement in need of a winning spokesman.
As if to road test his viability beyond a congressional district, Pence ran for and won Indiana's governorship in 2012. He framed his campaign around improving jobs and education, and appears poised to cut state income taxes, upgrade infrastructure like I-69 and emphasize vocational careers to Hoosier high school students. A committed social conservative, Pence has promised to require state agencies to create Family Impact Statements to analyze the effects of regulations on Indiana families.
After twelve years in Congress as a consistent conservative, Mike Pence will try to implement his ideas as a state chief executive. By the time the 2016 presidential race rolls around, Pence could be in a position to return to Washington...from a more visible and accomplished leadership perch.