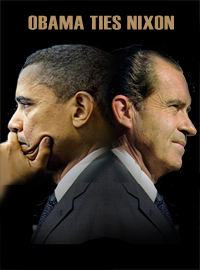 Obama's policies have brought record malaise, not record growth.
In 2008, Barack Obama immodestly cited Ronald Reagan as the type of "transformative" president he intended to become. "Ronald Reagan," he said, "changed the trajectory of America in a way that Richard Nixon did not, that Bill Clinton did not."
Bold words, but what's equally notable is that Obama highlighted Nixon as a comparatively futile president. Today, Obama ties Nixon for the lowest public approval at this point in a presidency in Gallup's recorded history.
In fact, even that comparison doesn't capture the full degree of Obama's presidential futility, since Nixon enjoyed a 57% to 34% approval/disapproval rating as late as April 1973. Obama, in contrast, hasn't seen that level of approval since five short months into his tenure. At that point in Nixon's presidency, Watergate revelations suddenly escalated into a public scandal, sending his approval over the figurative cliff.
So that's the company in which Obama finds himself. His policies have failed so badly that he's as unpopular as the man disgraced by Watergate.
For purposes of comparison, the history of scientific polling reveals that this point in a presidency typically remains something of a honeymoon. Harry Truman enjoyed a 57% to 27% approval/disapproval rating, Dwight Eisenhower's ratio was 65% to 22% and Lyndon Johnson also enjoyed a 65% to 22% differential. Nixon, as referenced above, faced a 44% to 45% deficit, whereas Ronald Reagan – Obama's professed model – enjoyed 63% public approval versus just 28% disapproval. Bill Clinton stood at 58% to 34%, and George W. Bush was above water at 49% to 48% even after his mismanaged Social Security reform effort.
For this dubious predicament, Obama has only his own policies to blame. As the shadows grow longer on his tenure, the consequences of his choices emerge ever more clearly.
Here's one alarming illustration from just this week. According to a new Pew survey of 38,000 people across 39 nations, more people say China either has replaced or will replace America as the world's leading superpower. Five years ago, Obama could make bold claims and breezily scapegoat his predecessor for whatever difficulties America faced abroad. Today, he cannot displace Syria's tinpot dictator, Iran ignores his supplications, Vladimir Putin brazenly ignores him, European leaders learn that he has spied on them, Afghans anticipate his languid retreat and our closest Pacific allies no longer feel secure under our military umbrella.
Here at home, an equally futile legacy has emerged to explain Obama's record low esteem.
More than four years have passed since the last recession ended and the current "recovery" began. But over those 15 fiscal quarters, gross domestic product (GDP) growth has averaged just 2%, an unprecedented low. That is less than half of the 4.1% average for the first 15 quarters of previous recoveries since record keeping began. Meanwhile, Obama's policies have inflicted four consecutive deficits exceeding $1 trillion, whereas the largest deficit prior to his presidency was less than half that at $450 billion.
Accordingly, Obama's policy of record spending and record deficits have only resulted in record economic under-performance.
American households have fared no better. Four years into the nominal recovery, median household income not only remains below pre-recession levels, but also below the level of June 2009 when the recession officially ended. As summarized by The Wall Street Journal, American families continue to suffer in an unprecedented manner:
"Despite the rejoicing over last year's big drop in unemployment, the 3.3% growth in disposable income was the lowest since such records began in 1959, excluding the 2009 swoon. Stripping out December's surge in dividends and bonuses ahead of January's tax increases, income rose by a little less than 3% in 2012. This year is on track to be even slower.
"Over the past five years through March, disposable personal income has risen 10.5% in total. That is the worst pace on record, reflecting not just a nasty recession but a lackluster recovery." "
Obama's policies have brought record malaise, not record growth. Revelations of IRS abuse, ObamaCare's unpopularity and disintegration, domestic surveillance, the Benghazi coverup and targeting of journalists have only inflamed public angst further.
Given that accumulating record of failure and abuse, it comes as no surprise that Obama suffers a historically low level of public approval. The question now is whether he corrects course and salvages some legacy of success while there's still time.