By Troy Senik
Thursday, July 25 2013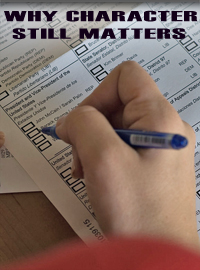 [D]espite the protestations of a post-modern age, character still matters for politicians.
In economics, they call it the principal-agent problem. When someone else is entrusted with carrying out a task for you – say an employee, a financial advisor, or even a doctor – how do you get him to act in your best interest rather than his?
The more complicated the responsibility, the more difficult it is to monitor the behavior. In a small workplace, for instance, it's generally not that hard. If an employee isn't discharging their duty, discipline him. If the behavior continues, you can fire him. What if it's a company with multiple locations, however, and only one manager? You can imagine how, with his time and energy split between several different locations, it would become harder for the employer to keep tabs on the employees.
What does all of this have to do with politics? Well, the principal-agent problem is particularly acute when it comes to elected officials. They are, after all, our employees (though they often forget it). Our ability to monitor how they do their job, however, is extremely circumscribed. For the most part, the only mechanism we have to judge their performance in office is their public remarks and their voting records, two factors often calibrated to deceive.
There's also the issue of accessibility. Sure, you may be able to drive down and see a local official, but the consequences of their work tend to be marginal. The more powerful the office, the greater the distance at which the public is held. And because more powerful offices are the result of larger electorates, who's to say that your representative really cares what you think?
Do either of the U.S. Senators in my home state of California (population over 38 million) really care what Troy Senik thinks about the job they're doing? Even if they did, they'd know there's some slack in the rope. They're only on the ballot once every six years – and even then they're judged on the totality of their work. Enforcing discipline for isolated incidents of wayward behavior is prohibitive to the point of near impossibility.
Why is this important? Because it's a reminder that casting a ballot for any individual is, to some degree, a matter of faith. To the extent possible, that should be informed faith. And that's why, despite the protestations of a post-modern age, character still matters for politicians.
Look at the spate of miscreants in the news recently. There's Anthony Weiner, the Congressman who tweeted the untweetable and now hopes to be the next Mayor of New York City – despite the fact that he admits he continued the behavior even after it cost him his House seat. There's Eliot Spitzer, the former New York Governor who undid his career by patronizing prostitutes and is now attempting a political rehabilitation with a run for the low-wattage office of New York City Comptroller. There's Mark Sanford, the former South Carolina Governor who went missing from his post for a transcontinental tryst yet managed to find himself restored to membership in the U.S. House of Representatives. There's Bob Filner, the San Diego Mayor who's currently facing calls for his resignation in the wake of lurid tales of sexual harassment toward female staffers.
In our overlawyered world, even those who dismiss the notion that personal character is important will concede the fact that each of these men committed their sins within the confines of their official station. In Spitzer's case, he even faced the prospect of being charged with a federal crime. But our revulsion shouldn't hinge on such technicalities.
It's true enough that America is a forgiving nation and that there is nothing that prevents Weiner, Spitzer, Sanford or Filner from removing whatever black marks may have stained their respective souls. Indeed, a basic sense of humanity compels us to hope for that outcome. But forgiveness need not be coextensive with a second chance – particularly when the object in question is political power. As our most criminally underquoted president, Grover Cleveland, often noted, "a public office is a public trust."
We can't hope to map the full moral terrain of men like those listed above. But we can draw some conclusions from their behavior. We can assume that their pledge to defend the Constitution should be taken with a grain of salt given their casual disregard for their marriage vows (Filner, to be fair, is not married, though his engagement was recently broken off as a result of the harassment allegations). We can also note that they lack the ability to delay or deny gratification – a personality trait that is the hallmark of maturity. Such impulse control would knock many a candidate out of contention for even the most rudimentary job in the private sector. Is it an irrelevant consideration for people who want to run a city, a state or (as was likely the ultimate ambition of Spitzer) a country?
Sure, these men may deserve second chances as human beings – but not necessarily as the people's representatives. America is still a nation where elected offices are few relative to the sprawling population. Certainly we can cull from among those masses a handful of individuals who can do the job without embarrassing themselves, their families and their constituents. If not, representative government may no longer be worth the candle.