By Troy Senik
Thursday, October 16 2014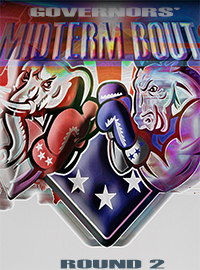 There are three notable governor's races in the South: two featuring endangered Republican incumbents and a third where the GOP may wrest an open seat from Democratic hands.
In this final installment of the series providing analysis of this year's midterm elections, we turn to the governor's races in the South and the Northeast (last week's installment looked at the executive races in the West and Midwest — and an earlier four-part series considered the state of the U.S. Senate races). Here's what to look for in each region.

The South
There are three notable governor's races in the South: two featuring endangered Republican incumbents and a third where the GOP may wrest an open seat from Democratic hands.
As I noted in the article that addressed the tight Senate race in Georgia, the Peach State is somewhat puzzling to political observers because it has undergone a demographic shift that should be moving it towards Democrats, yet still seems resolutely Republican. The fact that the governor's race there is also extremely tight may be a sign that the needle is starting to move. Incumbent Republican Nathan Deal has a lead within the margin of error if you take the average of recent polls, but two polls taken within the last week show him tied with his Democratic challenger, State Senator Jason Carter (the grandson of former president Jimmy Carter).
Deal's tenure hasn't been without hiccups: he received part of the blame for the disastrous government response to a freak snowstorm in Atlanta earlier this year and his administration has been dogged by allegations that it tried to quash an ethics investigation into the governor. While Carter is attempting to capitalize on those facts, he's not without his own liabilities: Georgia is still a state with conservative sensibilities and Carter's callowness (he's just 39 and only four years into his political career) is in sharp contrast to the 72-year-old Deal, whose electoral track record stretches back nearly 35 years. This feels like a race that Republicans can pull out, but the fact that it's this close does not bode well for the GOP's future in the state.
There's a similarly tense race in Florida, where Republican incumbent Rick Scott is running neck-and-neck with former Governor Charlie Crist. Crist has undergone a remarkable political transformation, going in four years from a Republican candidate for the state's U.S. Senate nomination to the Democratic nominee to be its chief executive.
Scott and Crist are a study in contrasts. Scott, a former health care executive and the founder of the anti-Obamacare group Conservatives for Patients' Rights, narrowly won the office in 2010 as a Tea Party candidate with no prior electoral experience. Crist, by contrast, is a professional politician par excellence, having served as Florida's Attorney General and Governor before flaming out in the 2010 Senate race, when he lost the Republican nomination to Marco Rubio and proceeded to run an embarrassing general election campaign as an independent.
The two men also have contrasting liabilities. Scott has looked every bit the political novice during his tenure, managing to alienate both left and right by turns (his decision to expand Medicaid under Obamacare, for instance, earned him the denunciation of Red State's Erick Erickson, one of the few prominent conservatives who backed him in the 2010 GOP primary). For Crist, however, the problem may be that he's too slick. Voters are understandably wary of his lickety-split transformation from Republican to Democrat and that could prove to be a liability at the polls. At present, the Florida race is polling as a dead heat. Don't expect any clarity on this race until the ballots are counted.
The one other race that merits mention in the South is in Arkansas, where centrist Democrat Mike Beebe is term-limited. The dynamics at work in this race are similar to those at play in the state's Senate contest between incumbent Democrat Mark Pryor and GOP Congressman Tom Cotton: Arkansas is one of the last states in the South that, despite its conservative leanings, still elects Democrats (albeit centrist ones).
Just as Pryor's grip on his Senate seat seems to be loosening, however, it will be a surprise if Democrats are able to hold on to the Governor's mansion in Little Rock. The Republican nominee, former DEA Administrator and Congressman Asa Hutchinson (who previously lost as the GOP's gubernatorial candidate in 2006) has a steady, though modest, lead over Democratic Congressman Mike Ross. In the age of Obama, it's increasingly unlikely that a Democrat can pull this race out in conservative Arkansas. Look for Hutchinson to swing this traditional Democratic stronghold back to Republicans come election night.
There are three other governor's races in the South, none of which will provide much in the way of competition. Republican incumbents Bill Haslam in Tennessee, Robert Bentley in Alabama, and Nikki Haley in South Carolina are all expected to cruise to easy reelections.

The Northeast
Readers of the Senate series could be forgiven for expecting a lack of fireworks in the Northeast, a region where only the New Hampshire race between incumbent Democrat Jeanne Shaheen and Republican challenger Scott Brown holds any prospect for a party switch in the upper chamber. There's considerably more activity on the gubernatorial front, however, with Republicans and Democrats each in danger of losing the governor's office in two states.
The point of maximum danger for Republicans is in Pennsylvania, where it's now virtually a foregone conclusion that incumbent Tom Corbett will be knocked off by his Democratic challenger, Tom Wolf. Pennsylvania is not easy sledding for Republicans under the best of circumstances, but Corbett, who ran as a reformer but ended up raising taxes and losing a half-hearted fight against public-sector unions on paycheck protection quickly came to be regarded as inept (polling earlier this year showed him failing to command majority support even amongst Republicans). As a result, Wolf is in the driver's seat, with a lead usually measured well into the double-digits. Come election night, the GOP will almost certainly have to kiss the Keystone State's governorship goodbye.
Things are not nearly as dire in Maine — although its still far from certain that the Republican incumbent, Paul LePage, will be able to survive this race. LePage was always an unlikely figure to govern the Pine Tree State, a place that tends to prefer its Republicans cut from the centrist cloth of Senator Susan Collins or her former colleague Olympia Snowe. LePage, a Tea Party candidate, managed to win the 2010 race with only a little over 38% of the vote, an outcome attributable to the fact that he was competing in a three-way race.
That's the dynamic this year too, which is why LePage, whose favorability ratings are deep underwater, is still essentially tied with Democrat Mike Michaud while independent Eliot Cutler tends to poll in the mid-teens. LePage, whose bluntness leads to gaffes on a Bidenesque scale, rubs a lot of Maine voters the wrong way, but the three-way split may be just enough to give him a second term. This is another race that will likely be a toss-up right through election night.
While the GOP may fret over Pennsylvania and Maine, it can compensate with the pleasant surprise (the Northeast is, after all, the most liberal part of the country) of being competitive in both Massachusetts and Connecticut.
Massachusetts is the big surprise here. With incumbent Democrat Deval Patrick opting not to pursue a third term this year, it was widely assumed that the Democrat nominee, state Attorney General Martha Coakley, was a shoo-in as the next governor of this bluest of blue states. A funny thing happened on the way to inevitability, however: Coakley is now polling within the margin of error on her Republican challenger, Charlie Baker, a former health care executive who lost as the GOP's gubernatorial nominee in 2010 — and a few stray polls even give Baker a slight lead.
It has to be remembered that Coakley has a track record as a spectacularly bad candidate. She lost the special election to fill Ted Kennedy's Senate seat to Scott Brown in 2010 after a campaign full of remarkable gaffes (including an unintelligible — and, by Massachusetts standards, unforgivable — contention that former Boston Red Sox star Curt Schilling was a Yankees fan). Can she pull it out this time?
A betting man would still probably have to put his money on Coakley. The special senate election was sui generis in that it occurred at the height of the Obamacare backlash and the outcome was believed to be essential to shaping the bill's ultimate fate (a point underscored by the fact that Brown lost reelection in the more conventional 2012 race). Massachusetts is still one of the nation's most liberal states and that works to Coakley's advantage. A Baker upset isn't outside of the realm of possibility, but it remains the less likely outcome.
Unlike Massachusetts, Connecticut's race has looked competitive from the beginning. Incumbent Democrat Dan Malloy barely squeaked into office in 2010 with a margin of victory that was less than half a point. Malloy's tenure has been controversial too, with steep tax increases and a still underperforming economy. Malloy is in a rematch with his 2010 Republican opponent, Tom Foley, a businessman and former U.S. Ambassador to Ireland.
The polls show the race as a virtual dead heat. Much like Massachusetts, the Republican will have to overcome the state's default liberalism — but that's a slightly lighter lift in Connecticut, where a robust financial sector tempers more liberal social inclinations (in fact, Connecticut had Republican governors from 1995 to 2011). Malloy has to be reckoned an ever-so-slight favorite, but Foley probably has a slightly better chance at an upset than Baker in Massachusetts.
As for other races in the region, there are two open seats: in Maryland, where incumbent Democrat Martin O'Malley (almost certain to be a 2016 presidential candidate) is termed out and will be replaced by Democratic Lieutenant Governor Anthony Brown (who, with Deval Patrick's departure in Massachusetts, will become the only African-American governor in the country); and in Rhode Island, where Democratic incumbent Lincoln Chafee (who was elected as an independent — and was previously the most liberal member of the Republican caucus when he served in the U.S. Senate) has opted not to run again. Chafee is likely to be succeeded by Democratic State Treasurer Gina Raimondo, who has earned an unlikely fan base amongst conservatives for pushing for tough pension reform measures in The Ocean State. Finally, New Hampshire and Vermont — the only two states in the union that still force governors to seek reelection every two years — are both overwhelmingly likely to reelect their incumbent Democrats, Maggie Hassan in New Hampshire and Peter Shumlin in Vermont.
That's the breakdown on this year's governor's races, where the odds are a little worse for Republicans than in the Senate. Democrats may gain a couple of seats on net. Under the very best circumstances, Republicans probably break even or get one net gain. Still, the GOP will almost certainly retain a majority of governor's mansions into the next year, which gives them tremendous power over state policy and also helps to incubate future national leaders (as we'll likely learn when several Republican governors throw their hat into the presidential ring next year).