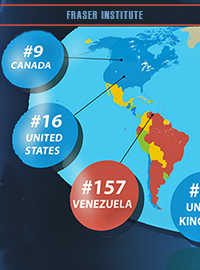 Whereas the U.S. ranked second worldwide in 2000, and still sixth in 2005, today we've fallen to 16th...
Presidential elections historically serve as inverse reactions to the outgoing occupant.
Even the 1988 election, notable because it remains the only time since the Truman-Dewey election of 1948 that a party retained the White House for a third consecutive term, saw George H. W. Bush promising a "kinder, gentler" course than his predecessor Ronald Reagan.
As the 2016 race accelerates, we can only hope that historical trend proves true once again. Because by metric after metric, the Obama years have been a disappointing, destructive, disastrous period.
Several new objective measures make that reality even more clear.
Consider first the Fraser Institute's annual "Economic Freedom of the World" report. Published each year since 1996, the index "measures the degree to which the policies and institutions of countries are supportive of economic freedom." It uses forty-two data points to summarize economic freedom of 157 nations in five overarching areas: (1) Size of government in terms of spending, taxes and enterprises; (2) Legal structure and security of property rights; (3) Access to sound money; (4) Freedom to trade internationally; and (5) Regulation of credit, labor and business.
Here's why the index is important: greater economic freedom means greater prosperity.
"Virtually without exception," it notes, "these studies have found that countries with institutions and policies more consistent with economic freedom have higher investment rates, more rapid economic growth, higher income levels, and a more rapid reduction in poverty rates." Nations ranked in the top quartile of economic freedom maintained per capita gross domestic product (GDP) of $38,601, whereas the bottom quartile maintained per capita GDP of just $6,986. Additionally, life expectancy among the top quartile of nations stands at 80.1 years, compared to just 63.1 years for the bottom quartile.
The good news is that economic freedom worldwide continues to increase. For the 102 nations continuously measured since 1980, the overall average economic freedom score increased from 5.31 in 1980 to 5.77 in 1990. Between 1990 and 2000, that average increased even more dramatically to 6.74, and between 2000 and 2010 the average rose again to 6.83. In the latest measure through the year 2013, the average has risen again to 6.86. Accordingly, the rest of the world continues to head in the right direction.
Unfortunately, the United States offers a depressingly different trend:
"The authors of the report, James Gwartney, Robert Lawson, and Joshual Hall, provide an overview of the report and discuss why economic freedom is important. They also analyze the decline of economic freedom in the United States and its potential consequences. They note that the 7.73 U.S. chainlinked score in 2013 was more than 0.9 units lower than the 2000 rating. This decline in economic freedom is more than three times greater than the average decline in the OECD. It could cut the U.S. historic growth rate of 3% by half. The decline in U.S. scores has been concentrated in Area 4: Freedom to Trade Internationally, Area 5: Regulation, and Area 2: Legal System and Protection of Property Rights, where there has been a particularly large and alarming decline."
Whereas the U.S. ranked second worldwide in 2000, and still sixth in 2005, today we've fallen to 16th, behind Hong Kong, Singapore, New Zealand, Switzerland, the United Arab Emirates, Mauritius, Jordan, Ireland, Canada, the United Kingdom, Australia, Georgia, Chile, Qatar and Taiwan.
It is therefore no mystery why under Barack Obama we have endured the worst cyclical "recovery" in our recorded history.
The last recession officially ended all the way back in June 2009, just five months after Obama entered the White House and well before any of his policies took effect. But instead of a typical recovery, the past six years have not seen a single one with economic growth above 3.3%, which is our post-World War II annual average. We also endured the longest stretch of unemployment above 8%, even though Obama promised in selling his "stimulus" spending package that we would not exceed that number at all.
We have also witnessed the worst deficits in our history, with four consecutive years above $1 trillion. Prior to Obama, the highest deficit we had ever witnessed was $450 billion. Regulation has reached unprecedented levels, taxes have increased and labor force participation has declined to levels not seen since the 1970s before women fully entered the workforce.
And this week, the U.S. Census Bureau released its annual report on income and poverty, presenting a grim on-the-ground reality. Median income for 2014 measured in at $53,657, which is fully 6.5% (or approximately $3,000) lower than in 2007. Never in our history has the U.S. suffered a decline in median income during a post-recession economic recovery. Never. The Census Bureau also reported that the official poverty rate for 2014 came in at 14.8%, which is unchanged for the fourth consecutive year and 2.3% higher than it was in 2007.
The Obama years have witnessed the highest levels of spending, regulation and intervention in history. At the same time, we have endured the worst cyclical recovery in history.
As the 2016 campaign approaches, Americans must therefore ask themselves whether that's coincidence or cause and effect, and act accordingly.