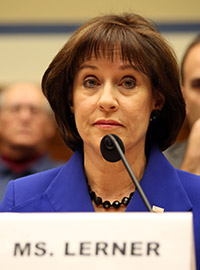 The IRS is among the most fearsome federal government organizations, and we cannot tolerate the slightest degree of abuse if we hope to maintain a functioning civil society.
File this under "Greatest Ironies in American Political History."
Disgraced former Internal Revenue Service (IRS) official Lois Lerner recently asked the presiding judge in a recently settled Tea Party lawsuit to seal her testimony to keep it secret from the public.
Readers will recall Ms. Lerner as the central figure in the 2014 scandal that targeted conservative and pro-Israel nonprofit organizations because of their philosophical beliefs. The resulting outrage was swift, intense and justified. Even Barack Obama condemned the behavior, before his administration circled its wagons, refused to prosecute her and joined the effort to sweep the entire ordeal under the rug.
When compelled to testify before Congress to answer for her transgressions, Lerner defiantly refused to answer any questions by invoking her Fifth Amendment privilege against self-incrimination. She ultimately obtained an early retirement, with a full pension paid by the same taxpaying American public whose rights she violated.
Groups whom Lerner and the IRS targeted subsequently sued, resulting in an enormous settlement payout.
Lerner and fellow defendants and her attorneys, however, now seek to seal her testimony forever and impede the American public from ever getting to the bottom of this scandal. According to their filing, "Public dissemination of their deposition testimony would expose them and their families to harassment and a credible risk of violence and physical harm." They further pleaded that Lerner and other defendants' families, children and other associates might be exposed to harm as well.
You don't say. That's exactly the sort of danger to which everyday Americans have been exposed for simply participating in the political process.
It would be outrageous for the judge to grant Ms. Lerner's motion, because the American public has a right to examine the entirety of evidence in this scandal, including her testimony. The IRS is among the most fearsome federal government organizations, and we cannot tolerate the slightest degree of abuse if we hope to maintain a functioning civil society.
Of course, Ms. Lerner's transgressions are hardly the only example of IRS abuse over the years and decades. Recently, the IRS settled another lawsuit filed by the National Organization for Marriage (NOM) after IRS officials leaked NOM's confidential donor information to a hostile organization named the Human Rights Campaign, which subsequently released it to the public. These and other episodes illustrate the degree to which IRS practices and officials threaten our First Amendment freedoms of speech, association and to petition government for redress of grievances.
Fortunately, Congress and the White House possess a perfect opportunity to prevent future IRS abuses and protect private American donors.
Specifically, lawmakers can eliminate what's known as the IRS "Schedule B" form containing sensitive identifiable information on donors to nonprofit organizations. That's the form by which NOM was targeted, as referenced above.
And this is an easy win for Congress on an issue that maintains not just consensus support among conservatives and libertarians, but unanimous support.
Last year, the House of Representatives passed legislation entitled the "Preventing IRS Abuse and Protecting Free Speech Act," sponsored by Representative Peter Roskam (R - Illinois). On the Senate side of Capitol Hill, Republican Senator Tim Scott of South Carolina introduced legislation under the same title. With the Obama Administration occupying the White House, it stood no chance of becoming law.
Today, however, there's no conceivable reason for the White House to decline signing it into law, or for Congress to shrink from speeding through a bill that already passed just one year ago.
Even the IRS acknowledges that Schedule B information is inapplicable to the legally permissible handling of 501(c) organization tax filings. Accordingly, eliminating the Schedule B mandate will only make tax compliance easier and help limit the ability of the IRS and others, including state officials with access to the information, to chill free speech and civic participation among the public. Indeed, the IRS's own Director of Exempt Organizations has supported eliminating the Schedule B form requirement.
There's simply no excuse for Congress not to act, which would only allow this threat of IRS or outside abuse to continue. Eliminating the Schedule B requirement will safeguard Americans' First Amendment rights, and constitute a victory for private citizens and organizations across the political spectrum against potentially abusive actors inside and outside of government. The time to act is now.