By Byron York
Wednesday, July 11 2018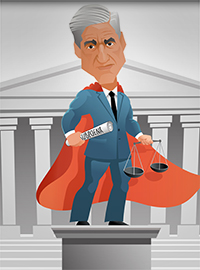 To those Trump opponents who had hoped Mueller would unveil evidence of Trump-Russia collusion involving Manafort, it was a sharp and stunning admission: There's no collusion in the case against Manafort.
It's often been observed that special counsel Robert Mueller, assigned to investigate alleged Trump-Russia collusion in the 2016 presidential campaign, has yet to charge anyone with a crime involving Trump-Russia collusion in the 2016 presidential campaign.
The biggest of Mueller's indictments, that of one-time Trump campaign chairman Paul Manafort, has no connection at all to collusion. And until a few days ago, it appeared to have no connection to Donald Trump, either.
Now, though, Mueller has revealed why he believes the Manafort prosecution is related to the 2016 Trump campaign. It's a small part, a very small part, of the overall charges against Manafort. And it has nothing to do with any actions by the candidate — now the president — himself.
Mueller's revelation came in an argument he is having with the Manafort defense over what subjects can and cannot be discussed in front of jurors in Manafort's upcoming trial. (Manafort is charged in both Virginia and the District of Columbia with various counts of bank fraud, tax evasion and failure to register as a representative of foreign interests; the Virginia trial is scheduled to begin later this month.)
Manafort doesn't want the jurors to hear about any theories of collusion between Trump and Russia. Beyond that, Manafort doesn't even want the jurors to hear about his connection with Donald Trump. Given the degree of anti-Trump feeling in the heavily Democratic District of Columbia and in northern Virginia — the Manafort filing dryly notes that jurors are "likely to have strong views about President Trump" — that's an understandable feeling.
"Evidence or argument relating to Mr. Manafort's work for then-candidate Trump's campaign in 2016 or the Special Counsel's investigation of the campaign's alleged collusion with the Russian government," the Manafort team wrote in a June 22 motion, "is wholly irrelevant to whether Mr. Manafort's personal income tax returns were false, whether he willfully failed to file reports of foreign accounts, and whether he conspired to commit, or committed, bank fraud."
Mueller's response was two-fold. On the issue of collusion, the special counsel, in a motion filed July 6, flatly said, "The government does not intend to present at trial evidence or argument concerning collusion with the Russian government and, accordingly does not oppose the defendant's motion in that respect."
To those Trump opponents who had hoped Mueller would unveil evidence of Trump-Russia collusion involving Manafort, it was a sharp and stunning admission: There's no collusion in the case against Manafort.
But Mueller did argue that the case has something to do with Trump. And this is it:
Most of the 32 counts against Manafort in the Virginia case concern alleged crimes that took place long before there was a Trump campaign. Some go back as far as 2006. But four of the counts involve a pair of loans Manafort took out between April 2016 and January 2017. For a few months during that time period, Manafort worked for the Trump campaign.
The loans totaled $16 million and came from a financial institution Mueller refers to as Lender D. According to Mueller, Manafort lied to get the loans, overstating his income and understating his debts.
Mueller says that some workers at Lender D knew there was a problem with Manafort's application, but that one top executive there, a man who wanted a place in the Trump campaign, granted the loan anyway. From the Mueller filing:
"The government intends to present evidence that although various Lender D employees identified serious issues with the defendant's loan application, the senior executive at Lender D interceded in the process and approved the loan. During the loan application process, the senior executive expressed interest in working on the Trump campaign, told the defendant about his interest, and eventually secured a position advising the Trump campaign. The senior executive later expressed an interest in serving in the administration of President Trump, but did not secure such a position."
The lending company and the senior executive are not identified in the indictment, but the loans appear to fit an episode reported in The New York Times involving a small bank in Chicago, the Federal Savings Bank, and its chief executive, Stephen Calk, who was named an economic adviser to the Trump campaign in August 2016 but did not join the administration.
In May, The Wall Street Journal reported that Mueller is investigating whether the loans were "made as part of a quid pro quo arrangement to secure Mr. Calk a job in Mr. Trump's administration." Calk has denied any such arrangement.
In any event, Mueller has not suggested that Donald Trump was involved in any of the actions outlined in the Manafort charges. The two Lender D loans are, apparently, the only connection between the Trump campaign and the broad array of criminal activity, some of it more than a decade old, alleged in the Manafort indictments. And Trump himself played no role in it.
Was a special counsel needed for that?
---
Byron York is chief political correspondent for The Washington Examiner.
COPYRIGHT 2018 BYRON YORK