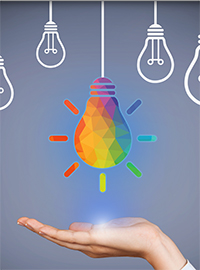 The simple fact is a direct relationship exists between our tradition of IP protection and our unrivaled success in innovation and prosperity.
We're still Number One.
For the seventh consecutive year since its debut, the United States again leads the world in protecting intellectual property (IP), according to the U.S. Chamber of Commerce's Global Innovation Policy Center (GIPC) 2019 International IP Index.
In fact, we actually improved our score over last year, which helps explain why our economy continues to thrive amid a broader global economic slowdown. And in a world marketplace that will only become more competitive, our improved standing offers an invaluable ongoing advantage.
Here's why.
Since America's founding, we've protected IP — patent, copyright, trademark and trade secrets — like no other nation before or since. That's not by accident, but by design. Our Founding Fathers deliberately inserted text protecting IP rights into Article I of the Constitution, which reads, "Congress shall have the Power … To promote the Progress of Science and useful Arts, by securing for limited Times to Authors and Inventors the exclusive Right to their respective Writings and Discoveries."
That reflected centuries of natural rights philosophy and English common law tradition.
"Our handiwork," philosopher John Locke noted, "becomes our property because our hands — and the energy, consciousness, and control that fuel their labor – are our property." And as James Madison explained in the Federalist Papers while advocating ratification of the Constitution, protecting IP respected the natural right of individuals to enjoy the fruits of their labors, while also serving the public good by encouraging innovation.
After all, insecurity over whether one's innovations will enjoy legal protection only makes potential innovators more reluctant to engage in productive activity. Conversely, the security that one's creations will enjoy legal protection promotes creative activity.
Experience has vindicated that belief. As Abraham Lincoln — himself a patent attorney — noted, America's IP protections "added the fuel of interest to the fire of genius in the discovery and production of new and useful things."
Ask yourself what nation, spanning the entirety of human history, even approaches America's record of patented invention, from the telephone to the airplane, from lifesaving pharmaceuticals like the polio vaccine to the internet? What society remotely rivals our copyrighted artistic influence, whether in the form of motion pictures, television programming or popular music? Whose trademarks stand recognized in the way that the Coca-Cola or Apple logos are instantly identified across the world?
The simple fact is a direct relationship exists between our tradition of IP protection and our unrivaled success in innovation and prosperity.
The GIPC's annual IP Index reflects that reality.
Each year, the Index measures 45 IP factors organized into 8 broad categories, including protections for patents, copyrights, trademarks, trade secrets, commercialization of IP assets, legal enforcement of IP rights, systemic efficiency and membership and ratification of international treaties.
In turn, the Index reveals the obvious correlation between nations' IP protections and their comparative inventiveness and prosperity. It's therefore no surprise that the U.S., U.K., Sweden, France and Germany populate the top five Index slots, while Ecuador, Pakistan, Egypt, Algeria and Venezuela constitute the bottom five nations measured.
The Index also reveals that IP-protective nations are twice as likely to produce and export knowledge-intensive products, 53% more likely to employ high-skilled and high-paid workers, 53% more likely to experience increased R&D activity and 39% more likely to attract foreign investments. They produce 500 more high-value inventions per million population and they're 30% more likely to attract venture capital and private equity funds, among other critical advantages.
And as it relates to the U.S., IP-intensive industries account for approximately 40% of total U.S. annual economic output and 45 million jobs — about 30% of total U.S. employment. Our IP industries alone account for more economic output than the entire economy of any other nation in the world except China's.
As the world economy only becomes increasingly knowledge-based with each passing year, our IP advantages over the rest of the world will only prove more and more critical.
In that vein, the Index notes the ways in which we've improved since the Trump Administration replaced the Obama Administration. For example, the new U.S-Mexico-Canada Agreement (USMCA), which replaces the North American Free Trade Agreement (NAFTA), strengthens IP safeguards across North America:
The agreement includes a number of provisions that lay the foundation for 21st century IP protection, including a 10-year term of regulatory data protection for biologics, more effective trade secrets protection, and stronger enforcement mechanisms against counterfeit goods, including those in-transit. As the U.S. looks to additional trade negotiations with the UK, Japan, and the EU, future agreements should address the areas where the USMCA falls short of the Index standard on indicators covering secondary liability, statutory damages obligations, and requirements for injunctive-style relief.
Just as importantly, the U.S. moved from 12th to 2nd place worldwide in patent protection under recent Trump Administration policies, which we at CFIF advocated:
While the United States previously ranked 12th in patents due to ongoing unpredictability around the validity of patents, the U.S. is now tied for 2nd place alongside a number of EU countries and Japan. The improvement is a result of U.S. Patent and Trademark Office (USPTO) reforms, which should help to reduce unpredictability in the patent opposition system in the U.S.
But we're not invincible, and work remains to be done while a friendly regulatory environment exists. For instance, Congressional proposals for compulsory licensing as a pharmaceutical cost-containment policy poses a grave threat to our world-leading pharmaceutical sector, as does ongoing uncertainty over patentability for high-tech innovations. Additionally, we must target online piracy more effectively to finally counter that destructive and persistent threat to American commerce.
Nevertheless, Americans should take justifiable pride in our legacy of IP protection.
Throughout our existence, we've protected IP like no other nation, and as a result remain unrivaled as the most innovative, prosperous and powerful nation in history. Let's hope we maintain that status, and continue to lead the GIPC's IP Index for many years to come.