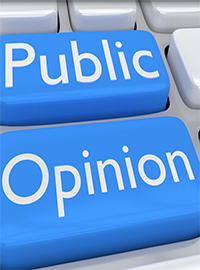 Meanwhile, a new USA Today/Suffolk University poll released this week shows President Trump now leading every one of his leading Democratic rivals.
Well, that whole impeachment offensive hasn't turned out like they'd hoped or expected, has it?
For the first time since Real Clear Politics (RCP) began compiling its daily average on the topic, public opinion surveys now show that more Americans oppose impeachment of President Trump and removal from office than support it.
That's a sudden collapse over the course of just one week, as the cumulative average of polls last week showed a three percentage point lead in favor of impeachment and removal. When RCP began aggregating impeachment surveys back on September 30, the margin in favor of impeachment and removal stood at five percentage points.
But now the floor has quickly collapsed for impeachment supporters, and in just one week support has gone from a substantive lead to underwater.
Apparently, sunlight has once again proven a disinfectant. Namely, exposure via televised House hearings to the merits of the debate and the forces behind impeachment, as well as an Inspector General's report revealing malfeasance by government agents investigating the Trump campaign in 2016, have sharply turned Americans against the impeachment effort rather than in support.
Perhaps Americans finally got a closer look and determined that there was no "there" there.
But that's not the end of the bad news for the political left.
Perhaps even more remarkably, Gallup announced this week that President Trump's approval rating has substantially increased since impeachment proceedings began, while its own measure of support for impeachment has plummeted:
President Donald Trump's job approval rating has inched up again and is now at 45%, marking his third consecutive increase. The president's ratings have increased six percentage points since the House of Representatives opened an impeachment inquiry against him in the fall… Americans remain split on whether to impeach and remove Trump from office, but the percentage who support these legislative actions has dipped slightly each time Gallup has polled on the matter since October. Currently, 46% support impeachment and removal, down six percentage points from the first reading after House Speaker Nancy Pelosi announced the impeachment inquiry. Meanwhile, 51% oppose impeachment and removal – up five percentage points over the same period.
Ouch. That's an eleven-point swing in the short period of time since Pelosi's decision to pursue impeachment.
Meanwhile, a new USA Today/Suffolk University poll released this week shows President Trump now leading every one of his leading Democratic rivals:
President Donald Trump, the first modern president to face impeachment during his first term in the White House, now leads his top Democratic rivals in his bid for a second, a new USA Today/Suffolk University poll finds.
The national survey, taken as the House of Representatives planned an impeachment vote and the Senate a Trial, showed Trump defeating former Vice President Joe Biden by 3 percentage points, Vermont Sen. Bernie Sanders by 5 points, and Massachusetts Sen. Elizabeth Warren by 8 points. In a hypothetical head-to-head contest, Trump also led South Bent, Indiana, Mayor Pete Buttigieg by 10 points and former New York City Mayor Michael Bloomberg by 9.
The past week brought similar terrible news for the political left from across the Atlantic in Britain, America's closest ally.
Despite over three years of lectures and scolding from self-appointed superiors in media and government, British voters resoundingly reconfirmed their support for "Brexit" departure from the European Union. Whereas media consensus had predicted a close election, Conservative leader and Trump ally Boris Johnson achieved his party's widest election victory since Margaret Thatcher in 1987 on his promise to finish the task.
British politicians had dragged their feet for three years since the original Brexit vote in 2016, hoping to exhaust public will and achieve a reversal via bureaucratic gamesmanship. But voters were having none of it, and reaffirmed that they meant what they said the first time, elitist opinion be damned.
Just as the original Brexit revolution in June 2016 previewed Trump's surprise election five months later, domestic opinion polls referenced above suggest that Johnson's resounding victory may presage a similar result in Trump's own reelection effort.
Of course, continuing economic good news, new judicial confirmations and trade accords with China, Mexico and Canada provide independent possible reasons for Trump's recent surge.
Nevertheless, the sudden and significant turns in public opinion polling indicate that Nancy Pelosi's impeachment effort may have provided the best early Christmas gift that Donald Trump could've wished for.