By Ashton Ellis
Wednesday, March 24 2010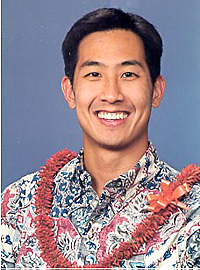 The key to Djou's economic outlook starts with a question: 'Does this idea expand the economy?' If it does, he's for it.
Every Republican candidate running for a Democrat-held seat this election cycle is claiming to be the next Scott Brown. While others might look the part, Hawaii's Charles Djou appears to be the genuine article. The Republican Djou is running in a special election scheduled for May 22nd to replace Neil Abercrombie (D-HI), a ten-term incumbent stepping down to run for governor.
Like Brown, the 39-year-old Djou is an energetic candidate pushing a message of fiscal responsibility and government accountability. While winning Hawaii's first congressional district race would give the GOP a chance to represent President Barack Obama's old neighborhood – it would also send to Congress a tested fiscal conservative with a track record for rooting out government corruption.
As a graduate of the Wharton School at the University of Pennsylvania, and the University of Southern California's law school, it's probably safe to assume that Djou understands the importance of enabling good economic policy through law. When asked about his stand on government spending in an interview with CFIF, Djou made it clear that during his time as a state representative and Honolulu City Councilman (his current position) he "never voted for a budget that increased spending by more than inflation, plus population growth." Running for Congress, he supports a balanced budget amendment to the United States Constitution, and a moratorium on earmarks.
The key to Djou's economic outlook starts with a question: "Does this idea expand the economy?" If it does, he's for it. Djou is passionate about economic expansion because Hawaii's tourism industry thrives when Americans have disposable income. According to Djou, the Hawaiian hotel industry needs to average 80-85% room occupancy to be healthy, 70% to stay in business. Currently, hotels are averaging 60% of rooms rented. Little wonder that the Obama stimulus bill has had no effect because "government projects do not fill hotel rooms."
For Djou, the solution to Hawaii's occupancy problem is as close as the nearest tax cut proposal. When the Bush tax cuts went into effect after the September 11th terrorist attacks, millions of Americans had more disposable income. Many of them chose to spend that money in Hawaii. The government doesn't need to convince people to vacation in Maui. It just needs to let them keep their money, and then get out of the way.
Djou even sees the environment through an economic lens. "People don't come to Hawaii for our casinos or amusement parks – we don't have any. They come for our state's natural beauty." If Hawaii fails to protect its natural resources, Djou says, it will lose mainland American dollars to Costa Rica and the Caribbean. Thus, it is imperative for the Aloha State to mix economic growth with prudential environmental policies.
As a Congressman, Djou would also bring a Pacific Rim perspective to foreign affairs. When it comes to priorities, his bluntness reflects his experience as an Army JAG reservist. "North Korea poses a greater threat to America than Iran because of its ability to launch a missile that can reach our shores. Right now, Kim Jong-Il has 20 rockets with a range that can strike Hawaii. We need to get tougher on North Korea." Djou supports isolating North Korea by immediately cutting off all foreign aid to it, and demanding its government submit to the six-party talk structure. Simply put, North Korea should not be treated like an equal until it starts acting like one.
When asked about relations with China, Djou's tone changes. As the grandson of a man who fled Mao's Red Army in 1949, Djou has a more nuanced view of the People's Republic than one might suspect. He distinguishes sharply between the Communist government and citizenry. Djou believes the average Chinese citizen does not have a hostile view of America, and that more economic cooperation with China will ease any future military and economic problems with the United States. As expected, Djou thinks the best way to reverse the debtor-creditor relationship between America and China is to stop the spending that creates the debt China buys.
Though he begins most campaign days at 4 a.m., and has already amassed a campaign war chest equal to the combined tally of his two main Democratic rivals, Djou still finds time to act as a one-man accountability czar on the Honolulu City Council. His first target was the city Liquor Commission, where bribery convictions were being handed out like drinks at happy hour. Djou successfully pushed for an audit of the agency that ultimately led to the removal of the Commission Administrator and Chief Investigator. Now, Djou is calling for the immediate resignation of a fellow council member recently censured for abusing his expense account.
Djou is betting that his reputation for fiscal responsibility and political integrity will even the odds in a traditionally Democratic district. His race is now considered a toss-up. The unusual election process might also help. In order to save money, the Hawaiian government decreed this race to be decided by mail-in ballots only; the candidate with a simple plurality wins. Since his Democratic rivals are waging a blood feud, and Republicans routinely poll between 30-35%, Djou believes he has an excellent chance to win when all the ballots are counted.
If that happens, in one of the next early tests of congressional balance, Charles Djou will have something else in common with Scott Brown: showing that every Democratic seat in Congress is in play. With Republicans looking to regain the majority in both houses this November, May 22nd can't get here fast enough.