By Byron York
Wednesday, February 01 2023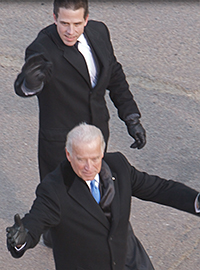 But now some Republicans worry that Hunter Biden might have been the recipient of classified information, which he then used to advance his foreign business interests while his father was vice president.
Republicans have long said the Hunter Biden laptop scandal is really a Joe Biden story. Now, it looks like the Joe Biden classified documents scandal is also a Hunter Biden story. Two Biden scandals are merging into one.
The convergence point is President Biden's house in Wilmington, Delaware. The public learned in the last few weeks that Biden stored a number of classified documents there, both in his garage – famously next to his vintage Corvette – and in his personal library.
How many documents? Biden will not say. His personal lawyer, Bob Bauer, released a statement saying that after a search of the house, Justice Department lawyers took "six items consisting of documents with classification markings and surrounding materials." The problem is, no one knows what an "item" is. Is it a single piece of paper with classification markings? Or is it a box of papers, perhaps hundreds of pages, some of which are marked classified? If you look at how DOJ described the results of the Trump Mar-a-Lago search, you'll see it used the word "item" to describe boxes of documents. So there's no way to be certain how many documents Biden allegedly mishandled.
In any event, the documents were in the house. And then we learned that also in the house at times over the years was Hunter Biden, the president's formerly drug-addicted son. And of course we know that Hunter Biden spent years cultivating relationships with shady foreign actors. Plus, he was at times addicted to crack and was, to say the least, unreliable when it came to information security. You might recall that he forgot about a whole laptop he once left for repair.
That is reason enough for further investigation, given the undisputed presence of classified documents in the Wilmington house. But now some Republicans worry that Hunter Biden might have been the recipient of classified information, which he then used to advance his foreign business interests while his father was vice president.
At the center of the new questions is an April 13, 2014, email – found on the laptop, of course – from Hunter Biden to business partner (and later convicted fraudster) Devon Archer. The email was sent a few months after Hunter Biden was discharged from the Naval Reserve for cocaine use. It was an analysis of the political and business outlook in Ukraine, where both Biden and Archer were trying to secure cushy positions, for at least $50,000 per month, on the board of the corruption-plagued energy company Burisma. The email was unusually long and unusually detailed for a Hunter Biden missive. It showed a depth of knowledge and inside information about Ukraine that seems unlikely Hunter Biden would possess.
Miranda Devine, author of the book "Laptop From Hell," has posted screenshots of the email. Biden began by saying he had done "some research." He went into the Ukrainian presidential race, Russian activities and intentions, the future of Ukrainian energy exploration, IMF loan guarantees, the possible role of Kazakhstan, the future of pipelines, European Union policy, the activities of various oligarchs, corporate structure and much, much more. Biden also mentioned his father's then-upcoming visit to Ukraine: "The announcement of my guy's upcoming travels should be characterized as part of our advice and thinking, but what he will say and do is out of our hands," Biden wrote. "In other words, it could be a really good thing or it could end up creating too great an expectation. We need to temper expectations regarding that visit."
Those sentences alone showed that Hunter Biden's business was all about Joe Biden. But Republican Sen. Ron Johnson is concerned that it showed more than that. "I've traveled overseas, and you get what they call scene setters from the State Department," Johnson told Fox Business' Maria Bartiromo. "It reads like one of those scene setters, a highly detailed information in terms of Ukraine."
Putting the memo in the context of what Hunter Biden was doing at the time, Johnson said, "It's obvious that Hunter Biden is selling access to information. And does that have anything to do with some of the classified documents that then-Vice President Biden was squirreling away in his residence? I don't know, but it looks incredibly suspicious."
Republican Sen. Ted Cruz is also concerned. "Hunter Biden is not an expert on Ukraine," he told Bartiromo. "He's not an expert on Eastern Europe. He's not an expert on Russia. But that email did help him get on the board of Burisma. ... It showed a level of expertise, not coming from him, but he was getting it from somewhere. That's clearly from some sort of briefing. We don't know whether it was a classified briefing or not. ... This email is unusual in the Hunter Biden emails. There's a level of scholarship and erudition that ... doesn't appear in the other emails he's sending. The obvious question is, what was he cutting and pasting from? What was his source? And it raises the natural inference that Hunter Biden had direct access to these classified documents."
A few years after the 2014 email, of course, Hunter Biden hit a low point, becoming addicted to crack, consorting with a parade of prostitutes, throwing money away, and desperately looking for ways to get more cash. Many of those ways, of course, involved trading on his father's name with disreputable foreign contacts. Some of that time, Hunter Biden was living in the Wilmington house with the classified documents.
It should be said that Johnson and Cruz are engaging in some conjecture about what might have happened with Hunter Biden and classified information. But there is certainly reason to investigate the convergence of the Hunter Biden laptop scandal and the Joe Biden classified documents scandal. And if the Justice Department does not do it, the Republican-controlled House of Representatives will.
---
Byron York is chief political correspondent for The Washington Examiner.
COPYRIGHT 2023 BYRON YORK