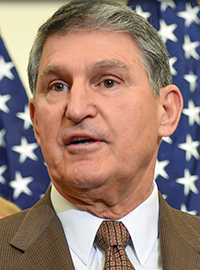 If Biden were to lose due to a Manchin third-party candidacy, however, he would only have himself to blame.
Joe Biden publicly humiliated Senator Joe Manchin (D – West Virginia) last year through his negotiating duplicity, imperiling Manchin's 2024 reelection viability in the process.
As an alienated Manchin openly considers an independent presidential campaign, he may exact revenge by dooming Biden's own reelection prospects.
To understand the nature and appeal of Manchin's opportunity, recall last year's so-called "Inflation Reduction Act" (IRA) negotiations and aftermath.
For years, Manchin had cultivated an identity as a moderate, ascending to the Senate after categorically renouncing "any" tax increases during economic recessions. On that basis, he steadfastly opposed Biden's massive "Build Back Better" proposal in December 2021, saying, "I can't vote for it."
Seven months later, however, Manchin inexplicably reversed course and agreed to support Biden's IRA, which will actually amplify baseline inflation through at least this year.
In addition to violating Manchin's pledge by raising taxes by $327 billion during what was an economic recession, the IRA infamously boosted Internal Revenue Service (IRS) funding by $80 billion. That's fully six times the IRS's annual $13 billion budget, and will allow it to double its current workforce by adding 87,000 new enforcers. Among other toxic provisions, the bill also exposed a Manchin flip-flop by deepening indefensible electric vehicle (EV) subsidies for the wealthy, and introduced dangerous new drug price controls that will stifle innovation and result in hundreds fewer new lifesaving medicines over just the upcoming decade.
Manchin's reluctant support for Biden's IRA was coaxed through promises of moderating energy reforms. Soon thereafter, however, Manchin realized that he'd been duped.
First, Manchin's attempt to pass permitting reform in Chuck Schumer's Senate failed to gain sufficient traction. Then, Biden betrayed Manchin's trust by promising to shut down America's coal industry, in which West Virginia plays a prominent role. "We're going to be shutting these plants down all across America and having wind and solar," Biden promised at a November 2022 rally, "also providing tax credit to help families buy energy-efficient appliances."
Manchin labeled Biden's comments "offensive and disgusting," demanding a public apology.
That same month, Biden promised "no more drilling" for gas at another rally. More recently, Biden enraged Manchin by vetoing a bipartisan bill overruling a Labor Department rule promoting "environmental, social and governance" (ESG) investing in large retirement plans.
Today, Manchin trails Republican challenger Jim Justice by an astonishing 54% to 32% margin in his Senate reelection race.
A Senate seat isn't Manchin's only potential pursuit, however. In an interview with The Messenger, Manchin openly boasts of his presidential "options":
"First of all, you can see how divided the country is. … People are upset with both President Biden for not bringing the country together … and also with Donald Trump for being a tremendous divider," Manchin said in an exclusive interview with The Messenger Friday. "When you look at that, people are just naturally saying, is there something else? Is there something better?"
Is that "something better" a President Joe Manchin?
"It has a lot of options. Let's put it that way. A lot of options," Manchin said. "I have a lot of gas in the tank still left."
To fully understand the peril that creates for Biden's potential reelection, remember that he won the White House in 2020 on the basis of 44,000 votes in three states – Georgia (12,000), Arizona (11,000) and Wisconsin (21,000). With Biden's approval deeply underwater since his bungled Afghanistan withdrawal six months into his presidency, he has no margin for error.
If Biden were to lose due to a Manchin third-party candidacy, however, he would only have himself to blame.
Biden ran as a unifying moderate, but has governed as a radical leftist on almost every contemporary issue. Similarly, he secured Manchin's vote for the IRA by feigning a "compromise" to the center, only to abandon those promises in favor of his radical left base.
One of the enduring political mysteries of our time is how Biden has somehow maintained an image of a moderate straight-shooter, when in reality he's a dishonest radical. Recall, as one example, how his first of many presidential runs in 1988 imploded after his plagiarism was exposed. And since that time, Biden's performance record is one of duplicity and radical policies, in addition to one of incoherence and incompetence.
Accordingly, a moderate challenge would be poetically just. Biden invited Manchin's wrath with his behavior, and can't fairly complain if it ends up costing him the job to which he tenuously clings.