By Ashton Ellis
Wednesday, June 23 2010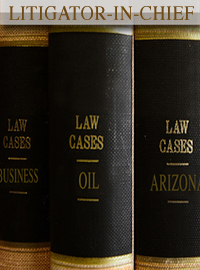 Like most people confronted with new challenges, this president is falling back on what he knows. But America doesn't need a Litigator-in-Chief; it needs a leader who knows how to do his job.
If one were to focus exclusively on the Obama Administration's responses to America's rapidly deteriorating Gulf shores and Mexican border, the conclusion would be inescapable: the only way to regain control of either is to file a lawsuit.
Too bad oil wells and drug cartels won't play along.
On Tuesday of this week, a federal district judge in New Orleans granted a group of oil rig companies a preliminary injunction suspending enforcement of the Department of Interior's six-month moratorium on deepwater drilling. Within hours, Interior Secretary Ken Salazar declared his intent to reinstate the moratorium as soon as next week; this time with more detailed reasons attempting to overcome the judge's finding that the previous version was "arbitrary and capricious."
For its part, the White House vowed to appeal the ruling to the Fifth Circuit Court of Appeals.
But while the lawyers litigate, another 60,000 barrels of crude oil gush daily into the Gulf of Mexico, the equivalent of an Exxon Valdez disaster every 96 hours.
Soon the Department of Justice will open up another front in the Obama Administration's war on sanity. Several news outlets confirm that at some point next week Attorney General Eric "I-haven't-read-the-bill-but-I-know-I-hate-it" Holder will file a lawsuit against Arizona's tough new illegal immigration law, SB 1070. Since the state law is nothing more than a mirror image of federal statutes, the only plausible explanation for challenging it is to increase voter turnout among liberal open-borders advocates for the November midterm elections.
Once again, the Obama predilection to substitute litigation for leadership displays a potentially lethal disregard for the situation on the ground.
Earlier this week Pinal County Sheriff Paul Babeu confirmed that the Obama Administration posted signs in three Arizona counties warning American citizens that their safety could not be guaranteed due to the high level of drug smuggling activity. According to Babeu, armed cartel patrols are 80 miles deep into the Grand Canyon State, effectively redrawing the nation's border to accommodate their incursion.
And like most thugs, the Mexican drug lords grow more assertive with every new provocation that goes unchallenged.
After a drug bust by off-duty officers outside Nogales, AZ, the city's police department received a warning from the cartels through informants: stop policing when off-duty, or risk assassination by snipers.
Faced with these national security crises, a reasonable person would conclude that defining victory means expelling these foreign paramilitary groups and capping the broken oil well as soon as humanly possible. Instead, American citizens are subjected to a governing philosophy better suited for a liberal public interest law firm.
From the moment President Obama became engaged in the Gulf Oil Spill disaster he began to frame the situation as though the highest priority is assigning liability. Thus, he appointed another "panel of experts" to investigate the causes of the rig explosion, extracted a $20 billion fraud-attracting escrow fund from British Petroleum and unilaterally stopped all deepwater oil drilling in the Gulf under the pretense of heading off another accident. While these actions may delight environmental activists and Democratic trial lawyers, none of them plugs the ruptured pipe, cleans one ounce of contaminated water or saves a single endangered creature.
The same approach is being applied to Arizona. Governor Jan Brewer and other Arizona-based lawmakers have maintained that SB 1070 is designed to address much more than a migrant worker's immigration status. As reading the text of the bill makes clear, giving law enforcement officers the ability to question people who engage in reasonably suspicious behavior is primarily aimed at cracking down on human trafficking and drug smuggling.
Viewed in the light most favorable to the president, perhaps these responses prove the truth of the criticism that his lack of executive experience renders him unable to devise a comprehensive solution to America's besieged borders and shorelines. Like most people confronted with new challenges, this president is falling back on what he knows. But America doesn't need a Litigator-in-Chief; it needs a leader who knows how to do his job.