By Ashton Ellis
Thursday, October 14 2010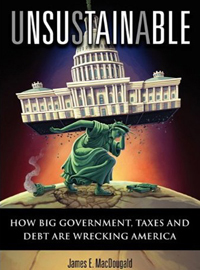 A successful businessman and financial planner, MacDougald noticed a recurring theme at the beginning of the Great Recession. Private sector jobs were vanishing while public sector employees were enjoying the best of times.
If you've been looking for hard numbers to support the argument that the American public sector is putting the nation's finances on an unsustainable path, Jim MacDougald of The Free Enterprise Nation is here to help.
A successful businessman who ran an employee benefits company, MacDougald noticed a recurring theme at the beginning of the Great Recession. Private sector jobs were vanishing while public sector employees were enjoying the best of times. A Florida resident, MacDougald was shocked to read about taxpayers' generosity towards state workers. The combination of job security, early retirement and hefty pensions are unfathomable for MacDougald's private sector clients. To civil servants, they are entitlements.
But MacDougald was interested in more than being angry. "I hired two MBAs fresh out of school to research public employee compensation throughout the nation. What they gave me was stunning." Week after week, MacDougald's researchers filled his inbox with data points. There are two million federal employees; 20 million non-federal employees (including K-12 public school teachers). When all levels of government are combined, the total number of public entities is 89,000. Supposedly, these are governed by the nation's 510,000 elected officials.
MacDougald's research staff now stands at 18. During its development, it confirmed what many limited government conservatives suspect: Government grows under both Republicans and Democrats. "When (then-President) George W. Bush entered office in 2001, public sector workers made 60% more than private sector workers," says MacDougald. "When he left office in 2009, federal employees made 100% more. Even though in Florida we've had a decade of Republican dominance, public employees have enjoyed consistent growth in their compensation packages."
Early on, MacDougald's researchers uncovered a wealth of information about each state's disastrous public finances. Visitors to www.thefreeenterprisenation.org can use the search tab on the site's homepage to find information about public expenditures for every state in the nation. For example, there are 14 pages of facts and links for Maine; 10 pages for Idaho.
MacDougald is quick to point out that it is a mistake to assume that only "blue states" like California are in troubled fiscal waters. "I've got research that shows Texas is in a dangerous long-term budget situation," a fact confirmed by the multi-billion dollar deficit the state's legislature will have to plug in next year's session. "This is truly a national problem that affects every taxpayer in every state."
So, are there more examples of the kind of public employee corruption similar to the Bell, CA, scandal where top city workers were making double their salary in benefits? "Hopefully, Bell is an aberration because of the criminality involved. But it is important for people to realize that there is a systemic problem with the way public employees are compensated," cautions MacDougald.
In his book Unsustainable, MacDougald analyzes the magnitude of the problem in depressing detail. "It was not a fun book to write, but towards the end I lay out some commonsense solutions to make the process work." The centerpiece is a "Taxpayer Disclosure Bill of Rights" that would require every level of government "to provide full and fair financial disclosure" of its expenses. In MacDougald's opinion, taxpayers have the right to know the type and cost of benefits provided to public employees.
Public entities should also be made to comply with the same accounting and budget practices required of the private sector. That means no more hiding the true cost of taxpayer-funded programs like Social Security and Medicare. According to MacDougald, "federal budget writers do not count Social Security and Medicare payments as promises or guarantees. That allows them to say those payments don't count as debt and therefore don't have to be reported."
MacDougald puts that budgetary sleight-of-hand into perspective. "The feds say our current national debt is $13.5 trillion, plus another $1.3 trillion from this year's budget, the latter being almost equal to our gross national product. In reality, our entire national debt is $120 trillion in unfunded liabilities, with $106 trillion coming from Social Security and Medicare."
In thinking about the future, MacDougald reasons that public sector finances must be guided by prudence. "We can do good things for people, but we have to think smartly about making it sustainable. There is no logical reason that working for the government for a certain number of years entitles a person to make a certain level of money for the rest of their life, retirement included."
Indeed.