By Ashton Ellis
Tuesday, December 07 2010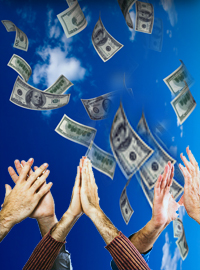 The politics of Pigford should make anyone squeamish. As the BigGovernment report documents, more than one presidential election cycle has been influenced by the degree to which Democratic candidates demonstrated fealty to the covert reparations scheme.
Happy Reparations Day, America!  Tucked away in news reports about the "grand bargain" on extending the Bush era tax cuts while prolonging unemployment benefits is this week's presidential signing of the Pigford II settlement.  Totaling $1.25 billion in taxpayer money, the December 8 ceremony is shaping up to be a case study in how to use tax dollars to fund reparations.   
Reporting by BigGovernment.com's Gary Hewson, Peter Schweizer and Andrew Breitbart adds another level of depth to the Pigford I & II class action settlements being fraudulently administered by the United States Department of Agriculture (USDA).  As discussed by CFIF back in September, the Pigford lawsuits – though originally based on seemingly valid claims of discrimination against black farmers – almost immediately turned into a get-rich-quick scam for trial lawyers and non-farming claimants. 
The politics of Pigford should make anyone squeamish.  As the BigGovernment report documents, more than one presidential election cycle has been influenced by the degree to which Democratic candidates demonstrated fealty to the covert reparations scheme. 
It began in March 2000 when Dr. Ridgely Muhammad, Vice President of the Black Farmers and Agriculturalists Association (BFAA), told USDA Assistant Secretary for Administration Paul Fiddick about the stakes involved in Pigford.  According to information gleaned from Muhammad's website and a newsletter dated March 3, 2000, BigGovernment reports Muhammad recalling making this statement to Fiddick: "[I] asked him to listen very carefully and deliver a message to [USDA Secretary] Dan Glickman for Al Gore.  'Since you can just listen, then pass this on.  If Dan Glickman ain't cleaned up this mess with the Black farmers, that is give them their money, then he can tell Al Gore that he will not be president of these United States.  See you next Monday and bring Dan with you.'" 
Democratic presidential candidate Al Gore got the message, and the Clinton-Gore USDA accelerated its payment program to Pigford claimants.  In the political rush to shore up support with rural black voters, USDA administrators turned their focus towards processing and approving paperwork – not policing the integrity of claims. 
Trial lawyers soon got wind of the policy shift, and started flooding USDA offices with cut-and-paste claim forms with only the name and addresses changed.  Several USDA employees interviewed by BigGovernment confirmed that the department's emphasis was on making claims successful; not guarding taxpayer dollars. 
Because the original consent decree awarding damages to black farmers set a time limit on filing a claim, the Pigford money train threatened to come to an end by the mid-2000s.  That's when then-Senator Barack Obama (D-IL) was alerted that reopening the Pigford settlement could be the key to overcoming then-Senator Hillary Clinton's (D-NY) substantial lead among Southern black voters. 
In a letter dated February 3, 2008, BFAA founder and President Gary Grant made a tantalizing offer to the junior senator from Illinois: Support funding a new round of the Pigford settlement in exchange for political and financial support during the 2008 presidential campaign.  Grant's sign-off is an unmistakable pay-to-play proposal: "…to my knowledge, the last presidential candidate who came through northeastern North Carolina with a message of 'hope' was not disappointed in the reception that he found both in numbers and dollars.  We could, and still can, have people to stand by you in the same manner."
If election results are any indication, Grant delivered on his promise.  So too did the National Black Farmers Association in 12 states during both the Democratic primary and general election.  After Obama pushed Pigford II's $1.25 billion funding through the Senate, his approval ratings among Southern black voters skyrocketed.  By the time primary votes were cast, a senator with only 171 black farmers in his state could boast huge wins in the Deep South based largely on his leadership on making more money available to Pigford claimants. 
The authors of the BigGovernment report make clear that their research indicates discrimination against black farmers by USDA did happen, and needs to be compensated.  However, the waste, fraud and abuse characterizing the Pigford settlements make it equally crystalline that many of those actually harmed are losing out to crafty trial lawyers and savvy claimants who never farmed, but know how to game the system.  In fact, during the Clinton-Gore era many black farmers lost their land in USDA foreclosure actions while the department was cutting checks to urban claimants and government workers who filed false paperwork. 
Their example is proving instructive.  At the end of the BigGovernment report the authors note a chilling development taking shape on the eve of President Obama's signing of the Pigford II appropriation.  Other minority groups claiming to represent female, Hispanic and Native American farmers are now trying to stretch the Pigford logic to include compensation for their alleged discrimination.  Since these claims are even more tenuous than black farmers, supporters are emphasizing their similarity to the policy goal of Pigford: reparations for past wrongs. 
The federal government has already offered $1.3 billion to Hispanic and female farmers to settle their claims, but they are resisting because black farmers got $2.15 billion.  Since there are more Hispanic farmers than black farmers in America, one of the plaintiffs representing a Hispanic group says the $1.3 billion amounts to a slap in the face because the individual payout would be less.  Like the claimants in Pigford, paying the right people doesn't matter nearly as much as the right to get paid. 
Get ready to celebrate a new annual holiday from reality, America!  National Reparations Day promises to be the taxpayer gift that keeps on reminding us just how different we are.