By Ashton Ellis
Thursday, March 24 2011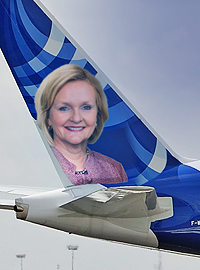 Going forward, [Sen. McCaskill's] reputation as a government watchdog is in shambles, as is any authority to hold others accountable for wasting taxpayer money.
With Senator Claire McCaskill's (D-MO) tax fraud scandal morphing from an $88,000 "oversight" into a $300,000 debacle, it's worth considering how much her hypocrisy is really corruption.
By now you've probably heard that the Missouri GOP uncovered a startling revelation from McCaskill's financial disclosure files. According to the group's ethics complaint, since she became a senator in 2006 McCaskill "has spent at least $75,990 of taxpayer funds to pay for 89 flights aboard a private corporate plane of Timesaver, LLC… a company that she co-owns with her husband."
Moreover, "[i]n 2007, Senator McCaskill reported Timesaver LLC as providing her with income from 'rent' of between $50,001 and $100,000." In its complaint, the Missouri GOP reminds the Senate Ethics Committee that the "Senate Ethics Manual makes clear that [Senate] Rule 37 exists to prohibit activities 'which could represent a conflict of interest or the appearance of a conflict of interest.'" (emphasis in original).
So at best, McCaskill certainly appears to be engaging in a conflict of interest by profiting from taxpayer reimbursements for flights she took aboard a plane she owned. Initially, McCaskill claimed that only one of the 89 flights was for a purely political purpose, a violation of the U.S. Treasury's reimbursement policy. However, McCaskill sent Treasury a refund check for all the identified flights.
To her supporters, McCaskill's move brilliantly deflated the rising suspicion that she was trying to cover up a bigger problem. To everyone else, it was an invitation to dig deeper.
Within days, McCaskill volunteered that she failed to pay Missouri taxes on the plane for four years, amounting to almost $300,000. That debt has no also been repaid, and the plane is for sale on Craigslist.
So what's next for McCaskill? Going forward, her reputation as a government watchdog is in shambles, as is any authority to hold others accountable for wasting taxpayer money.
Politically, the Missouri GOP is taking out newspaper ads calling for McCaskill to release all of her financial records. The National Republican Senatorial Committee is blasting her for past campaigns when she targeted wasteful airline travel as a reason to oust her opponent.
Liberal commentators are working feverishly to convince themselves that McCaskill's failure to comply with state and federal law will be a minor issue for Missouri voters by Election Day 2012.
Hogwash. One of the key elements of McCaskill's political appeal has been her mantra about exacting stiff penalties for abuse of trust. As Missouri's state auditor she repeatedly castigated other politicians for practices that pale in scale to her own. As Senator, McCaskill introduced legislation that would fire automatically any federal employee who was seriously delinquent in paying taxes. The liberal dream that Missouri voters – and the state GOP – will find a tax fraud approaching $400,000 uninteresting over time is a fantasy.
With all this hypocrisy on public display, it's worth considering how far back McCaskill's "tax problem" can be traced. Andrew Breitbart's Big Government website posted a 9-page document detailing the multiple liens incurred by McCaskill and her first husband, David Exposito, for – get this – failure to pay debts. In one case, a car dealership owned by Exposito (but in McCaskill's name) owed $1 million to General Motors Acceptance Corp. (GMAC).
Between her 1995 divorce from Exposito and her 2006 Senate victory, McCaskill married John Shepherd, a St. Louis real estate developer who's made millions owning "affordable housing" projects funded by the government.
With the media and her political opposition sensing more corrupt business practices in McCaskill's orbit, don't be surprised if soon a scandal erupts over Shepherd's housing contracts or landlord status.
If it does, expect next to nothing coming from Missouri's former watchdog-in-chief. She'll be too busy cutting checks.