By Ashton Ellis
Thursday, September 27 2012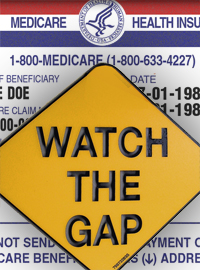 AARP's total payout under ObamaCare is a cool $2.8 billion.
Faced with a choice between saving seniors money or reaping a $2.8 billion windfall, AARP traded the best interests of its 40 million members for a massive payout under ObamaCare.
The moment of truth came over how to reform Medicare.
For years, AARP, formerly known as the American Association of Retired People, argued that seniors were being squeezed by Medicare's gaps in coverage, forcing many to pay for private supplemental insurance (Medigap).
Two solutions were obvious. The first was to create Medicare Advantage, a more comprehensive private insurance plan than traditional Medicare's fee-for-service model. The other was to reform Medigap by trading lower premiums for higher deductibles. Medicare Advantage was created in the 1970s. In 2009, the stars seemed aligned to reform Medigap as part of the Patient Protection and Affordable Care Act (aka ObamaCare).
The savings to seniors from reforming Medigap are real. According to an analysis by the Kaiser Family Foundation, current Medigap purchasers would save an average of $415 per year if the program had lower premiums and higher deductibles. Bipartisan support was so congealed on this issue that an early version of ObamaCare included Medigap reform.
That is, until AARP changed its tune because of a business model that put the group in a direct conflict-of-interest with the very people it claims to serve.
According to an investigation by House Ways and Means Committee members, by the time ObamaCare rolled around, AARP was receiving 46 percent of its revenues from endorsing private insurance plans marketed to Medicare-eligible seniors. To compare, less than 20 percent of the group's revenues come from membership dues.
AARP endorses plans that cover Medicare Advantage, Medigap and Medicare Part D (prescription drug purchases).
By far, AARP's most lucrative endorsement deal involves United Health Group, which sells AARP-branded Medicare Advantage and Medigap plans to eligible seniors. From 2007 to 2009, the most recent time period available to congressional investigators, United increased its royalty payments from $284 million to $427 million.
The spike in fees was driven mostly by jumps in Medigap enrollment. Under their Medigap endorsement contract, United agrees to give 4.95 percent of each monthly premium payment to AARP. By contrast, their Medicare Advantage agreement pays only a flat fee for AARP's endorsement, regardless of the number of enrollees. This arrangement means that AARP has a financial incentive to grow its Medigap pool while keeping its Medicare Advantage numbers static.
So when an early version of ObamaCare proposed to reform Medigap by dropping the price, it meant that AARP would lose hundreds of millions of dollars in royalty fees. In response, AARP successfully lobbied the Obama White House and congressional Democrats to strike the Medigap reform language. A separate analysis by staff to Senator Jim DeMint (R-SC) estimates that AARP's anti-reform effort saved the group $1.8 billion over the next ten years.
But AARP leadership didn't stop there. By supporting ObamaCare and its cuts to Medicare Advantage, AARP is in line to inherit millions of former Medicare Advantage policyholders who will become Medigap eligible. This could mean an additional $1 billion in profits over the next decade. Thus, AARP's total payout under ObamaCare is a cool $2.8 billion.
Not that the Obama Administration seems to mind handing one of its political allies a massive windfall at the expense of seniors.
Kathleen Sebelius, Secretary of Health and Human Services, praised AARP at its recent conference as being the "gold standard" for "accurate information," even though a senior AARP executive sent an email to White House officials in the fall of 2009, saying, "we will try to keep a little space between us" on health care because AARP's "polling shows we are more influential when we are seen as independent, so we want to reinforce that positioning…The larger issue is how best to serve the cause."
For AARP leadership, their cause is no longer serving seniors.