By Quin Hillyer
Wednesday, January 16 2013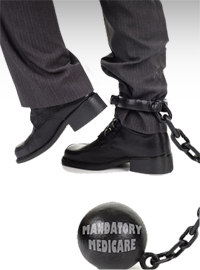 When ordinary Americans find they have no choice in health care once they reach age 65, they are likely to be severely frustrated, if not enraged.
In a hugely disappointing end to a long-running legal battle, the Supreme Court refused to consider whether a federal agency can enforce a burdensome new policy, invented out of thin air, without even going through a formal regulatory process. But the overall policy fight should not be over. Instead, it should be shifted, with great fanfare, to the political arena.
The issue, about which I've written many times, involves a bureaucratic sleight of hand by which:
The feds… insist that anybody who voluntary turns down Medicare hospital benefits (even while still paying full Medicare taxes) must be denied the Social Security benefits which they have earned through a lifetime of work – and, worse, must pay back any SS payments they already have received. The POMS was issued without benefit of formal rulemaking, without public comment or review. It cites no specific legislative authority for tying the two sets of benefits together, nor does it offer a reasoned explanation for doing so.
The plaintiffs want to keep their private insurance, but will not be allowed to do so if they receive Medicare. The feds say they cannot refuse those public benefits: The government argues that a law saying a citizen shall be "entitled" to Medicare benefits effectively means that he should be "required" to accept them. This, of course, is nonsense. Hence the lawsuit.
In one of the most inane and willfully mendacious rulings I have ever read, two of three judges on a panel of the D.C. Circuit Court of Appeals had ruled in favor of the government, against the plaintiffs who merely want to save their own freedom and the taxpayers' money. In light of a powerful dissenting opinion by Judge Karen LeCraft Henderson, it would have made good sense for the Supreme Court to weigh in on the dispute. Its refusal to hear the appeal is baffling.
But the fight against injustice and idiotic policy must continue. There is no good policy reason for Congress not to step in to right the wrong – and every good political advantage in doing so.
Back in 2008, Republican U.S. Rep. Sam Johnson of Texas introduced a bill to correct this bureaucratic abuse. It would allow seniors to opt out of Medicare hospital benefits, allow doctors to enter into private contracts for such care and allow seniors to continue building their Health Savings Accounts. This is an eminently sensible bill, and it should prove quite popular if congressional supporters put even a tiny amount of political effort into explaining it. Congress ought to resurrect this bill and pass it forthwith.
As Johnson said when he first introduced the bill, with reference to the famous billionaire investor, "If Warren Buffett wants to pay for his own medical care, I say we should let him."
Basic fairness demands such a bill. Wise management of the public fisc demands it. And, considering the procedural abuses that created the awful policy at issue, the cause of the due process of representative democracy demands it as well. Nobody ought to be coerced into accepting "benefits" they don't want, especially when the public never was allowed to weigh in on the policy to begin with.
Politically, this should be a slam dunk. When ordinary Americans find they have no choice in health care once they reach age 65, they are likely to be severely frustrated, if not enraged. They will approve such a policy change. And, considering the logical parallels between the current dumb policy and the "individual mandate" in ObamaCare, any congressmen who push Sam Johnson's bill will also be taking another tacit swipe at, even if not a direct assault on, the most unpopular feature of the president's disastrous health-care law.
Conservatives in Congress right now seem to floundering around politically. The Johnson bill gives them a chance to regain at least a small offensive. They should pass it forthwith.