By Ashton Ellis
Wednesday, May 15 2013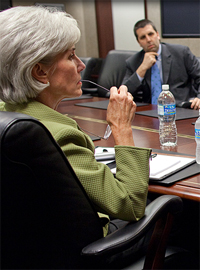 Sebelius's form of crony capitalism is already paying dividends.
With the revelation that HHS Secretary Kathleen Sebelius is soliciting health industry executives for millions of dollars in donations to promote ObamaCare, the distinction between coercion and crony capitalism is now almost erased.
The coercion inherent in Sebelius's strategy is clear.
Reports in the Washington Post and The New York Times cite health industry sources saying that Sebelius gave strong indications that every firm contacted is expected to contribute a predetermined amount. For example, a donation of $1 million was suggested to one small firm, with larger businesses asked for millions more.
Since many of the entities contacted by Sebelius are also ones she regulates under ObamaCare, it is feared that refusal to pay her price could result in lost business from HHS, or discriminatory policies that hamper a firm's ability to compete in the HHS-defined market.
Either way, Sebelius's request to contribute is an offer no one can afford to refuse easily.
When news broke last Friday that Sebelius, contrary to previous public statements, has been secretly fundraising, her Health and Human Services communications shop went into full spin mode.
"HHS spokesman Jason Young [said] that a special section in the Public Health Service Act allows the secretary to support and encourage others to support nonprofit groups working to provide health information and conduct other public-health activities," reported the Washington Post.
How convenient then that Kind Kathleen, in her "encouraging others to support" role, already knew where her government-initiated donations could do the most good – a nonprofit advocacy group led by a Democratic operative.
Anne Filipic is the president of Enroll America, a 501(c)(3) nonprofit founded for the purpose of getting as many Americans as possible to participate in ObamaCare's state-based health insurance exchanges when the initial enrollment period begins October 1, 2013.
Prior to joining Enroll America, Filipic worked as a staff member on the 2008 Obama presidential campaign, as an HHS assistant to Sebelius and finally as the Deputy Director of White House Public Engagement.
Whatever Filipic learned about health policy during her job-hopping through the executive branch, it's clear that she was hired to run Enroll America as an extension of the Obama campaign.
"What I envision first is a lot of data and analytics, using a lot of the micro-targeting that has taken off in recent years. There's some potential to do what electoral campaigns do: Find people who wouldn't be motivated to take action and inspire them in a way that they do," Filipic said in an interview shortly after coming to Enroll America.
Using electoral campaign-style tactics, it's not hard to see Enroll America's strategy as leading from engagement to enrollment to enrichment of its sponsors.
Unless the vast majority of America's estimated 30 million uninsured enroll, ObamaCare's insurance exchanges will collapse under the weight of burdensome premiums due to risk-heavy applicant pools.
If, however, most of the target audience does participate, ObamaCare can limp along with its maze of mandates, subsidies and exemptions while businesses benefit from a captive group of consumers; all made possible by a never-ending flow of money and power between HHS, members of the private health industry and non-profit community organizers like Enroll America.
Sebelius's form of crony capitalism is already paying dividends.
Thanks to her lobbying, H&R Block has pledged $500,000 to Enroll America for the coming campaign. Unlike those resisting the pay-to-play scheme, the tax preparation firm told the New York Times that it stands to benefit from helping millions of low- and middle-income Americans file for subsidies with the IRS. Why not chip in half a million dollars to make sure a new revenue stream gets promoted to millions of future customers?
With her strategy to fund Enroll America through private health industry donations, Sebelius has managed to make coercive government look like a savvy business investment.
It's a corruption of both the private and public sectors that cannot be allowed to stand.