By Ashton Ellis
Wednesday, December 18 2013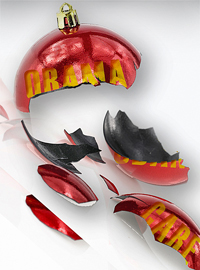 After a disastrous end to 2013, Democrats will spend all of 2014 trying to preserve ObamaCare and their hold on power by co-opting Republicans into embracing the law. They should be ignored at every turn.
With the federal budget now officially a non-issue until 2015, 2014 – in particular the midterm elections that will animate it – is shaping up to be the year Republicans finally give voters an ObamaCare alternative.
That is, unless Democrats succeed in convincing a minority of GOP members to help fix the broken health care law.
The electoral consequences of ObamaCare's disruption of the health insurance market look grisly for Democrats. Prior to the law's passage, 85 percent of Americans had health insurance. On January 1, 2014, thanks to millions of canceled policies and a faulty federal website, the number of Americans without health insurance is likely to be lower.
And this after the Obama administration has doled out over $1 billion on websites, navigators and marketing – not to mention further spending in the form of federal subsidies to certain exchange users. Thus, the immediate net result of the Obama Democrats' signature domestic policy is spending enormous sums of money to cover less people.
That's not much of an 'affordable care' act.
Another factor keeping Democrats up at night is the looming expiration of two key ObamaCare delays. Because of the problems afflicting Healthcare.gov – the federal insurance exchange for purchasing individual and family plans – the Department of Health and Human Services delayed the launch of a parallel exchange for small businesses.
This exchange, known by the acronym SHOP, is slated to come online in January. Like Healthcare.gov, SHOP facilitates subsidies for certain small businesses to offset the increased price of insurance. But also like its federal cousin, the arrival of SHOP will serve as a rude awakening for millions more Americans who are likely to encounter firsthand ObamaCare's "pay more, get less" effect.
And then there is the employer mandate. Rather than enact the law as written and treat all purchasers of private insurance the same, the Obama administration delayed enforcement of the employer mandate for a year. This confined ObamaCare's disruption of coverage to the relatively smaller individual market, which includes an estimated 20 million people compared to 157 million workers covered through their employers.
But the ploy was shortsighted. Whatever Democrats gain politically from harming only those in the individual market will be forgotten once insurers start notifying large employers about premium spikes and canceled plans. That's because the date for implementing the employer mandate is October 1, 2014, roughly one month before the midterm elections. That gives employers and their workers plenty of time to become enraged about ObamaCare's "pay more, get less" effect.
Sensing catastrophe, Democrats are gearing up to co-opt Republicans in an effort to fix ObamaCare. The plan relies on certain members of the GOP caucus being squeamish about standing by while the glitch-prone health law wrecks havoc on businesses and families nationwide.
As it becomes clear that tens of millions of workers will lose access to plans, doctors and hospitals they like – and pay more for the privilege – Democrats in D.C. will demand that Republicans help them string together a series of fixes that saves ObamaCare from itself. If successful, the scheme would also give Democrats the ability to claim that the law is too entrenched to repeal, citing new-found bipartisan support to make it work. It's the classic divide-and-conquer strategy.
Republicans should resist the temptation to tinker at all costs. ObamaCare is broken and is completely the fault of its drafters and supporters. The law was passed without any Republican support, and its implementation has occurred – or been delayed – without any consultation with Congress.
Because of this, the Obama administration and its Democratic allies in Congress own this law and all the problems it has spawned. For any Republican to think now, after four years of ramrod, in-your-face tactics, that ObamaCare's supporters are interested in anything other than GOP window dressing is the first step towards an act of political malpractice.
It would be a far better use of time and resources for Republicans to unite behind an alternative to ObamaCare that gives the American people an answer to the question, "What Would the GOP Do?"
Though other good ideas exist, the best vehicle to build support behind now is H.R. 3121. The bill, introduced by Representative Phil Roe (R-TN) and co-sponsored by 116 House Republicans, is the work of the Republican Study Committee.
At 182 pages, it's about one-tenth the size of ObamaCare's legislative text. More importantly, it puts in one place some of the most widely shared principles among conservatives on health care reform. First and foremost it completely repeals ObamaCare. It then allows people to buy health insurance across state lines; caps medical malpractice awards; creates high risk pools to cover those with preexisting conditions and addresses the unfair tax treatment on insurance not purchased through an employer.
Thoughtful people can disagree about some or all of the specific policy prescriptions. Indeed, disagreement over particulars is exactly the reason a comprehensive Republican alternative to ObamaCare that had more than a few votes took so long to emerge. Debate is constructive when it tries to apply first principles. For conservatives, that means ultimately orienting health care reform around the individual consumer in ways that make insurance more portable and affordable. By repealing ObamaCare's centralized system and eliminating barriers to access, H.R. 3121 goes a long way toward honoring conservative principles.
It's true that not everyone has signed on. Roe's bill still lacks the support of 115 House Republicans, including virtually all of the leadership team. But a critical threshold has been met since the bill does command a majority of House Republicans. It's time for leadership and the grassroots to find common ground. Unified support of H.R. 3121 would go a long way toward putting the focus back where it belongs, which is getting more conservative reformers elected to Congress so that Congress will enact more conservative reforms.
After a disastrous end to 2013, Democrats will spend all of 2014 trying to preserve ObamaCare and their hold on power by co-opting Republicans into embracing the law. They should be ignored at every turn. It's time for the GOP to put differences aside and settle on H.R. 3121 as the alternative they can sell to the American people ahead of next year's midterms. If elections have consequences, then Republicans in Congress should make sure that 2014 ends with a resounding vote to repeal and replace ObamaCare.