By Betsy McCaughey
Wednesday, April 25 2018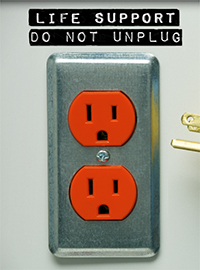 Hospitals claim ending life support is in the child's 'best interest.' Don't believe it.
Who decides whether your sick child lives or dies? You or the hospital? On Monday, the parents of 23-month-old Alfie Evans, who has extensive brain damage, were told their son's life would be terminated by hospital staff. That night, the hospital turned off his ventilator. The hospital decreed "once all external signs of life have ceased," doctors would confirm "that death has occurred." Many hours have passed, and Alfie clings tenuously to life.
To avert this crisis, Alfie's parents tried appealing to British courts, but judges ruled on April 20 that "the hospital must be free to do what has been determined to be in Alfie's best interests." Determined by whom? Not his parents, who wanted to maintain life support. "He isn't suffering, he isn't in pain, he isn't diagnosed," his father explains. "It's a straight up execution."
Alfie isn't the first child sentenced to die by a British hospital. Last year it happened to 11-month-old Charlie Gard, and more recently to a toddler named Isaiah Haastrup. Can it happen in the U.S.? You bet. It depends on what state you live in.
Texas law gives life-and-death powers to hospitals, never mind what families want. In most states, including New York, families are likely to win if they go to court to stop a hospital from pulling the plug. Unfortunately, they don't know that and get steamrolled by hospital staff. Later they may regret they didn't hold out for more time with their child or for a rare, unexpected improvement.
Pope Francis offered to take in Alfie at a facility in Rome that treats many brain-damaged children, and air ambulances stood by. The British hospital, backed up by the courts, opposed the transfer, even while denying him life support. The hospital is dooming him to die.
Sounds like what happens in Texas. In 2005, a court gave a Houston hospital the go-ahead to turn off the ventilator keeping baby Sun Hudson alive, over the mother's objections. In 2017, again with a court's OK, another Texas hospital cut off life support from 46-year-old Chris Dunn, who was awake and communicative, but descending into organ failure because of pancreatic cancer. His mother pleaded with the judges that the hospital was "trying to play God." But Texas law gives hospitals that power.
George Pickering's adult son was on life support in a Texas hospital. Doctors declared him brain dead, but Pickering felt his son squeeze his hand to communicate, and was convinced he could recover. When the hospital started to cut off life support, the father holed up in his son's room with a handgun to stop the process. "They were moving too fast," he said. He was arrested and jailed, but when he got out, his son had recovered — a rare outcome.
In other states, laws favor parents willing to go to court. Jahi McMath, a teenager, was declared brain dead by a California hospital ready to stop life support. But Jahi's mother won the right to take her daughter home, where she is still living four years later on a ventilator.
Hospitals claim ending life support is in the child's "best interest." Don't believe it. Oxford University ethics professor Julian Savulescu says there are few conditions painful enough to contemplate ending a child's life. He cites epidermolysis bullosa, where a baby's skin peels off relentlessly, causing extreme, unrelenting pain, infection and death within a year. But Charlie Gard, Alfie Evans, Jahi McMath and the other children denied care weren't in pain.
Cost is why many hospitals pull the plug, says Savulescu. They should be honest about it. Instead, hospitals stick to their phony argument about protecting the child's "best interests."
They refuse to say more, hiding behind claims they're protecting patient privacy. As if it's OK to end a child's life but not to publicly disclose the child's condition.
Hospitals need to back off their authoritarian "we know best" posture. And show respect for parents.
---
Betsy McCaughey is a senior fellow at the London Center for Policy Research and a former lieutenant governor of New York State.
COPYRIGHT 2018 CREATORS.COM