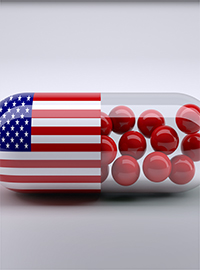 Price controls have failed in every nation that has imposed them, and with every product or service subjected to them. As both the U.N. and Trump Administration noted, healthcare and pharmaceuticals are no exception.
Pssst… Want to turn American healthcare into the equivalent of this week's Iowa Democratic caucus fiasco?
Just import foreign drug price controls to the United States, and voila.
The same types of people who couldn't manage to introduce a new app in a caucus involving a few thousand people on a single night in a single state expect us to trust them to control healthcare with metronomic precision for 330 million people? Mark me skeptical.
For his part, President Trump offered reassurance in his State of the Union speech this week when he said, "To those watching at home tonight, I want you to know we will never let socialism destroy American healthcare."
Unfortunately, too many people in Washington, including some within the Department of Health and Human Services (HHS), hope to take American healthcare in just that direction.
At issue is a misguided proposal to impose what's known as an International Pricing Index (IPI) for U.S. pharmaceuticals administered under Medicare Part B. Translation: Import foreign price controls into the U.S. healthcare system by changing Medicare Part B's reimbursement rate to reflect price controls set by 14 foreign governments.
That would upend our current system, which calculates reimbursement prices from what's known as the Average Sales Price (ASP) in U.S. markets, and which has actually resulted in a 0.8% decrease in the cost of the 50 most popular Medicare Part B drugs sold. That ASP method fairly reflects the discounts already negotiated between hospitals, healthcare plans and payers.
In contrast, foreign governments whose price control schemes the IPI proposal would import don't negotiate, and instead dictate prices while threatening to violate patent rights and employing a "take it or leave it" approach. As a consequence, those nations enjoy far fewer new lifesaving and life-improving drugs than American consumers living in a more market-oriented system.
Specifically, 96% of new cancer drugs developed between 2011 and 2018 were made available to American consumers. Meanwhile, only 56% of those drugs became available in the Canda, 50% in Japan and just 11% in Greece, as just three examples. Patients in nations imposing drug price controls simply don't receive access to new pharmaceuticals as quickly as Americans, if they ever receive them at all. And that's precisely why America outpaces those nations on cancer survival rates.
Even the United Nations, that most bureaucratically sclerotic and globalist entity, has acknowledged the destructive effects of drug price controls. Its World Health Organization (WHO) highlighted the cause-and-effect relationship between price controls and reduced pharmaceutical innovation and availability:
Every time one country demands a lower price, it leads to lower price reference used by other countries. Such price controls, combined with the threat of market lockout or intellectual property infringement, prevent drug companies from charging market rates for their products, while delaying the availability of new cures to patients living in countries implementing those policies.
Similarly, the Trump Administration itself has highlighted the destructive effect that importing foreign price controls would inflict upon American innovation. In February 2018, the Council of Economic Advisors stated that, "If the United States had adopted the centralized drug pricing policy in other developed nations twenty years ago, then the world may not have highly valuable treatments for diseases that required significant investment."
That reflects the deregulatory and free market logic on which the Trump Administration has achieved such great success over the past three years.
As Trump stated in his State of the Union, our economy is stronger than it has ever been, as a direct result of reversing the Obama Administration's agenda of more regulation, greater government bureaucracy and higher taxes. Today, the U.S. economy continues to reach unprecedented heights while the rest of the world stagnates. China, Europe, Canada and Mexico have recently reported sluggish growth, whereas conditions here in America continue to improve.
That's the direct result of the Trump Administration's fidelity to free market principles.
Alarmingly, however, the IPI proposal would flatly contravene that market-based agenda in favor of top-down, heavy-handed, bureaucratic rule and price controls. Price controls have failed in every nation that has imposed them, and with every product or service subjected to them. As both the U.N. and Trump Administration noted, healthcare and pharmaceuticals are no exception.
Accordingly, the Trump Administration and Congress should reject the IPI drug price control proposal, lest American healthcare join the long record of price control failures in every place and every time they've been tried.