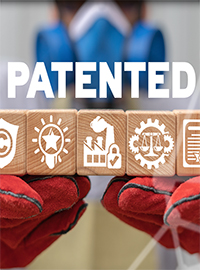 At this moment of coronavirus pandemic crisis and compressed timeline to defeat it, we must accelerate patent incentives, not diminish them.
To better appreciate the towering leadership role that America's pharmaceutical sector plays in the world, consider the following comparison metric.
In World War II, America earned the label "Arsenal of Democracy" by rapidly and massively mobilizing to lead the Allied victory through sheer scale of armament production and innovation. Over our four-year involvement, the United States manufactured approximately half of all planes, ships, vehicles and other armaments produced by the major combatants – as much as the rest of them combined.
That remains an astonishing ratio. But believe it or not, America's global role in producing lifesaving pharmaceuticals actually dwarfs even that disparity.
Specifically, as America and the world face a new different threat today, the United States pharmaceutical industry accounts for fully two-thirds of all new drugs introduced worldwide. All of Europe, with its higher combined population than the United States, accounts for just 24.8%, while Japan accounts for just 10.7%.
It's therefore unsurprising that as we desperately seek a treatment or cure for coronavirus on a compressed timeline, America's private pharmaceutical innovators are already leading the way.
For example, Pfizer Inc. announced that its experimental vaccine could be ready for emergency use as soon as this fall, following an accelerated testing calendar that began this week. Moderna Inc. similarly announced recently that its own vaccine will soon enter the second stage of human testing, and Johnson & Johnson announced that it has accelerated the typical vaccine development timeline in order to commence human testing as early as September, with wider emergency availability by early 2021.
Just last week, to widespread publicity including from the White House, American biopharmaceutical company Gilead Sciences received Food and Drug Administration (FDA) authorization to use the drug remdesivir to treat coronavirus patients.
To understand why the U.S. pharmaceutical sector continues to lead the world in offering hope against scourges like today's coronavirus pandemic, look no further than our legacy of patent protections, according to Gilead directors John Cogan and George Shultz in a Wall Street Journal commentary entitled "Remdesivir Affirms the American Way":
Patent protection provides drug companies with additional incentives over and above those normally provided by the market to undertake the necessary risks. The incentives come from governmental protection of intellectual property and the associated ability temporarily to charge prices above marginal cost of production.
Throughout America's history, we've protected patent and other intellectual property rights like no other nation, which maximizes both fairness and societal utility.
Additionally, federal policies encouraging public/private cooperation have also played a vital role.
This year, for instance, we celebrate the 40th anniversary of the bipartisan Bayh-Dole Act of 1980, which The Economist magazine labeled, "possibly the most inspired piece of legislation to be enacted in America over the past half-century." Among other improvements, Bayh-Dole extended patent rights to universities and non-profit research groups receiving federal funds to assist their research, as highlighted by Information Technology and Innovation Foundation (ITIF) Vice President Stephen Ezell:
Prior to the Bayh-Dole Act, when the federal government retained ownership of the innovations it funded, very few were ever commercially produced. Only 390 patents were awarded to universities in the year the act was passed. But in 2017, that number had increased to nearly 7,500. In fact, more than 100,000 patents have been issued to U.S. universities or nonprofit research institutes between 1996 and 2017, resulting in more than 420,000 inventions and 13,000 startup companies formed.
In sad commentary on our current political state, however, some Congressional liberals seek to limit, rather than strengthen, patent rights for pharmaceutical innovators, including those working furiously to perfect vaccines, diagnostics, therapies and cures for coronavirus. The straightforward lesson of American history and our ongoing medical supremacy is that stronger patent rights lead to more innovation, and wiser voices in Congress must flatly reject that dangerous proposal.
At this moment of coronavirus pandemic crisis and compressed timeline to defeat it, we must accelerate patent incentives, not diminish them. Stronger patent rights and freer markets are already paying off and offer our best hope, as long as Congress doesn't tragically disrupt what's working.