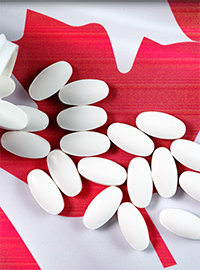 [A]llowing importation of pharmaceuticals from Canada with last week's FDA and HHS finalization isn't just numerically and logistically futile. It's also potentially deadly.
With its population of just 38 million, Canada is little more than one-tenth the size of the United States at 330 million.
In fact, Canada has 1 million fewer residents than California alone.
Accordingly, the strangely persistent myth that importing drugs from Canada would substantively lower costs or otherwise improve American healthcare fails on the level of simple mathematics.
Worse than that arithmetical illogic, however, drug importation also introduces a sudden risk of dangerous or even deadly counterfeits entering the U.S.
Ignoring those realities, last week the Trump Administration's Food and Drug Administration (FDA) and Department of Health and Human Services (HHS) finalized a plan allowing states to begin importing drugs from Canada.
Returning to mathematics for a moment, Canada's small size and comparatively tiny pharmaceutical market – it accounts for 2% of global pharmaceutical consumption versus 45% in the U.S. – means it simply doesn't possess the scale to impact U.S. drug prices or availability. The Canadian Pharmacists Association (CPhA) warned last year that Canada's market couldn't handle a sudden onslaught of American purchases, and that if even 40% of current Canadian prescriptions were redirected toward U.S. consumers, its national supply would expire in 118 short days. No wonder Canadian government officials understandably oppose this proposal.
Indeed, Trump Administration officials share those views.
A year ago, HHS Secretary Alex Azar dismissed the importation idea as a "gimmick," saying, "the last thing we need is open borders for unsafe drugs." Former FDA Commissioner Scott Gottlieb echoed that opinion, saying, "That scheme would have added so much cost to the imported drugs, they wouldn't be much cheaper than drugs sold insider our closed American system." The Congressional Budget Office (CBO) also concurred, finding that importation would have negligible to no impact on U.S. prices.
Exacerbating matters, a significant majority of the costliest drugs in U.S. markets remain ineligible for importation. That includes 42 of the 50 top Medicare Part B drugs – 84% - and 31 of the top 50 Medicare Part D pharmaceuticals, or 62%.
Here's another problem, which we have repeatedly highlighted: A majority of new lifesaving and life-improving new drugs available to U.S. consumers aren't available at all in Canada due to their socialized price control system and weaker patent protections. The numbers almost defy credulity. Of 290 new drugs introduced globally between 2011 and 2019, 90% were available in the U.S. By comparison, in Canada that number was just 44%. Accordingly, most new drugs aren't even available in Canada to import.
As referenced above, however, the greatest peril of the new drug importation plan is its potentially deadly threat to American consumers.
Today, America claims the safest pharmaceutical market in the world. According to FDA studies, however, an alarming 99.1% of all drugs that enter the U.S. via international mail contravene FDA safety standards. Even the United Nations World Health Organization (WHO) estimates that 10% of all worldwide medicines are counterfeit, meaning that there's no assurance whatsoever of their safety.
The problem with Canadian importation specifically is that Canada permits importation of drugs from other countries, including Third-World nations, which in turn would now be able to enter the U.S. via the Canadian conduit. Given the much larger U.S. consumer market, that vulnerability would naturally present a sudden new target for counterfeiters worldwide. As healthcare expert Sally Pipes noted, "In 2005, an investigation conducted by the FDA found that 85% of drugs from online pharmacies labeled as 'Canadian' actually came from 27 different countries."
It's for precisely those reasons that FDA Commissioners from the years 2002 through 2016 took the remarkable step of writing an open letter to Congress, in which they highlighted how drug importation, "could lead to a host of unintended consequences and undesirable effects, including serious harm stemming from the use of adulterated, substandard or counterfeit drugs." Current FDA Commissioner Stephen Hahn has similarly sounded the alarm that, "Consumers and physicians purchasing medicines cannot be assured the products they are receiving are legitimate, safe or effective if they are obtained from outside of the FDA-regulated pharmaceutical supply chain."
Accordingly, allowing importation of pharmaceuticals from Canada with last week's FDA and HHS finalization isn't just numerically and logistically futile. It's also potentially deadly.
Hopefully, the Trump Administration will demonstrate the wisdom of reversing course before that peril comes to fruition.