By Ashton Ellis
Thursday, April 08 2010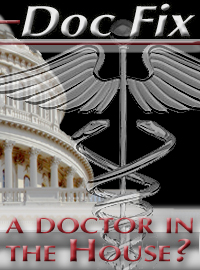 If Republicans do oust Nancy Pelosi from the Speaker's chair this November, it will be in large part because there are several new doctors in the House.
With elements of ObamaCare going into effect before the November mid-terms, voters in at least 31 congressional districts will have the opportunity to send someone to Congress who can offer an expert's critique: a local doctor. After years of fighting reduced Medicare payments with an annually passed bill known as the "doc fix," these medical professionals are poised to help the GOP set the record straight on government-directed health care.
First, a little context. Every year, the federal government promises to cut wasteful spending to balance its books. The problem comes when cuts to "wasteful" spending shred payments to providers like doctors treating Medicare patients. The doctors already know that they won't be compensated fully for the care they give to Medicare enrollees. It's the law. But they have reason to expect that treating government-insured patients won't put them out of business.
Enter the "doc fix." In order to stave off statutorily mandated reductions in Medicare payments to help balance the budget, the medical profession must lobby Congress for an annual delay. While the move is necessary to ensure that doctors continue to treat Medicare patients, the result is an ever increasing growth in the deficit.
Then along came ObamaCare. In order to prop up Democratic claims that the bill is deficit neutral, the legislation does not include the "doc fix" provision that will block the planned 21% cut in compensation. Everyone expects the "doc fix" to pass as separate legislation. But since the Congressional Budget Office can only score the bill it's given, the $58 billion in deficit spending that will occur when the "doc fix" goes into effect wasn't counted, allowing Democrats to claim fiscal responsibility.
There's more. ObamaCare also gives the Health and Human Services Secretary the power to set insurance premium rates and the ability to require certain types of coverage. Though technically insurance companies are still private, the reality of ObamaCare makes them sub-agents of the government. With bureaucrats in Washington telling insurance bureaucrats how to handle claims, it won't take long before someone decides one of these levels is duplicative. Care to guess which gets eliminated?
The doctors lining up to challenge the federal government's takeover of health care include veteran legislator Andy Harris of Maryland and medical resident-turned-entrepreneur William (B.J.) Lawson of North Carolina. Harris is a U.S. Navy medical reservist serving his twelfth year as a state senator while Lawson heads a company he founded to provide a patient's medical records quickly and securely to an attending physician's smartphone or Blackberry.
Like other small business owners, Lawson's drive to meet a need in the marketplace ran into several roadblocks in the shape of investors demanding high rates of returns to "beat inflation," and the power of the Federal Reserve to freeze investment by meddling with interest rates. Overcoming those issues led Lawson to question other financial shibboleths like deficit spending, the perils of indebting ourselves to foreign creditors and the byzantine regulations that distort the health care industry.
"The American health care system works great... unless you're a patient or a doctor," says Lawson, noting that ObamaCare manages to do even more damage. "The health care reform legislation emphasizes the worst aspects of our current system by forcing us to spend more money on so-called 'insurance' that is really just a middleman between patients and providers. Doctors and patients don't want a third party in the room – we need health care freedom. We need more health care savings accounts, affordable catastrophic health care insurance, and providers who are free to compete based upon offering the best value to their patients."
Other notable doctor candidates include Chris Salvino in Arizona, Larry Bucshon in Indiana, and Nan Hayworth in New York. While there is no doctor-specific "Contract with America" uniting each candidate's campaign to the others, all of those running for Congress are motivated to stop the government from micromanaging the doctor-patient relationship, as well as the broader economy.
The national GOP is listening. According to National Republican Campaign Committee spokesman Paul Lindsay, "Not only do doctors have a built-in grassroots network of patients that is helpful to building a winning campaign, they have first-hand knowledge of the harmful effect that the Democrats' government healthcare takeover will cause. That kind of insight and background is important to Republicans as we continue to propose responsible reform of the healthcare system."
If Republicans do oust Nancy Pelosi from the Speaker's chair this November, it will be in large part because there are several new doctors in the House.