By Congressman Paul Ryan (R-WI)
Thursday, January 27 2011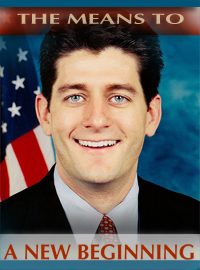 Wisconsinites understand that the federal government cannot create trillion-dollar, open-ended entitlements and save taxpayers money at the same time. In short, the law is a dangerous house of fiscal cards.
Last week, House Republicans kept a promise made in the recent election by voting to repeal the costly new health care law. Now it is time to keep another one – and put in place fiscally responsible, patient-centered reforms that seriously address the problems in our nation's health care system.
Since the health care bill became law, businesses, policy experts, and government actuaries have confirmed what we already knew: If fully implemented, the law would spend trillions of dollars that we don't have, raise taxes on families and businesses, and put the federal government in the center of individual health care decisions.
Wisconsinites understand that the federal government cannot create trillion-dollar, open-ended entitlements and save taxpayers money at the same time. In short, the law is a dangerous house of fiscal cards.
Instead of honestly accounting for the new spending, subsidies, and government agencies created by the law, those claiming it reduces deficits leave out the $115 billion needed to administer all its new programs. They also double-counted $500 billion as both budget cuts and future payments to Medicare and Social Security beneficiaries, and failed to include more than $200 billion needed to avert scheduled cuts to Medicare physicians. Only by resorting to these budgetary sleights of hand did the law's authors manage to conjure a projection from the non-partisan Congressional Budget Office (CBO) showing that the law will reduce our nation's mounting deficits.
When you take away the smoke and mirrors, a more realistic projection results in a $701 billion deficit increase over the next decade. In the ten years after the new entitlement is up and running, the law will add $2.6 trillion in new government spending. Proponents of this law cannot reconcile their manipulated deficit claims with the fact that the CBO has made clear that, double counting aside, the law will increase our national debt.
But repeal is not an end – it is a beginning. As Chairman of the House Budget Committee, I will work with my colleagues to provide vigorous oversight of this law – and shine a light on its costly consequences. This past Wednesday, the Budget Committee welcomed Dennis Smith, Wisconsin's Secretary of Health and Human Services, and other health care experts who detailed the impact of the intrusive new law on American families and businesses.
Beyond Congressional action, the Constitution presents another hurdle this law must clear. The health care law – specifically its intrusive mandates – rests on dubious claims about the constitutional exercise of Federal power. The Founders of this nation created a Federal government of limited and enumerated powers, not of limitless ones. I stand with Wisconsin's Attorney General J.B. Van Hollen, as states pursue legal remedies and constitutional challenges to this law in the courts.
Beyond repeal, we must work to replace this costly mistake with consumer-driven reforms. Existing health care entitlement spending continues to drive our nation toward bankruptcy. The skyrocketing cost of health care continues to push coverage out of reach for many families. We are all seeing a greater portion of our paychecks taken up by increasing premiums. These are real problems that need to be addressed in our nation's health care system, and repealing this law is a critical first step.
Putting patients first – contributing a defined amount to their health security and making doctors and hospitals compete for their business – would put the focus in health care on quality, cost, efficiency, and patient satisfaction, just as it is in almost every other business.
By taking this approach, we can simultaneously strengthen programs that guarantee a safety net for those with lower income and for seniors – but only if we change the architecture of federal health programs in a manner that drives costs down, instead of letting open-ended government subsidies drive them up.
Until then, we simply cannot afford to tinker around the edges of the fundamentally flawed health care law. Full repeal is a critical advancement towards true health care reform. I look forward to advancing real health care reforms, drawing upon the wisdom of the residents of Southern Wisconsin that I serve.
U.S. Rep. Paul Ryan (R-Wis.) represents the 1st Congressional District. He is chairman of the House Budget Committee. A version of this piece was originally published in the Milwaukee Journal Sentinel on January 22, 2011.