By Ashton Ellis
Thursday, October 11 2012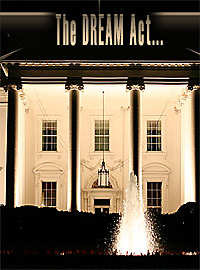 Once again, the constitutional law professor-turned-president is betraying his preference for interpreting the Constitution in a manner inconsistent with its text.
When President Barack Obama ordered immigration officials this summer to implement DREAM Act policies despite Congress' objection, he did more than make an end-run around the legislative branch. He violated the Constitution by breaching his duty to "take care that the laws be faithfully executed."
So say law professors Robert Delahunty and John Yoo in a working paper posted on SSRN. In it, Delahunty and Yoo argue that President Obama's decision to "defer action" on deportation proceedings against illegal immigrants brought to the United States as children fails to respect the constitutional limitations on presidential power.
The DREAM Act would give legal status to an estimated 800,000 to 1.76 million illegal immigrants currently in the United States. To qualify, illegal immigrants must have arrived when they were 15 or younger, have lived in America for at least five years, have good moral character, are not removable under specified grounds, have graduated from high school or obtained a GED and attend college or serve in the military for two years.
Versions of the DREAM Act were brought up in Congress in 2006, 2007, 2009, 2010 and 2011, but in each instance the bill failed to receive the support necessary to become law.
By contrast, over the same time period Congress has passed the REAL ID Act (2005), the Secure Fence Act (2006) and rejected attempts to grant amnesty to the 11.5 million illegal immigrants estimated to be in the country. With this history in mind, it is clear that American citizens, speaking through their elected representatives, want more enforcement to combat illegal immigration, not less.
Nonetheless, on June 15 President Obama announced that Immigration and Customs Enforcement (ICE), the federal agency tasked with policing illegal immigration inside the United States, would "defer action" on precisely the illegal immigrant population intended to benefit from the DREAM Act. The deferred action status is renewable every two years and also comes with a work authorization permit.
The result is striking. Even though Congress has rejected the DREAM Act repeatedly in favor of more stringent immigration laws, President Obama is refusing to enforce the law as written. Instead, through his deferred action program, the president is effectively repealing and replacing current law by implementing the benefits of the DREAM Act through executive fiat.
In addition, President Obama's deferred action program violates one of his key duties under the Constitution, according to professors Delahunty and Yoo. In Article II, Section 3, the Take Care Clause states that the president "shall take Care that the laws be faithfully executed." This applies to the president and his subordinates.
The oath of office prescribed by the Constitution echoes this duty. It requires every president to say, "I do solemnly swear (or affirm) that I will faithfully execute the office of President of the United States, and will to the best of my ability, preserve, protect and defend the Constitution of the United States." Delahunty and Yoo note that "the phrase, 'to the best of my ability' qualifies only the duty to preserve, protect and defend the Constitution; the duty to 'faithfully execute' the Presidential Office, like the duty to take care that the laws are faithfully executed, is unqualified."
So while a president may rely on prudence to preserve, protect and defend the Constitution, he must, in Delahunty and Yoo's phrasing, "enforce all constitutionally valid Acts of Congress in all situations and cases."
Since President Obama has never said – and presumably doesn't believe – that the current immigration deportation laws are unconstitutional, he apparently believes that such laws are valid Acts of Congress. If so, he has a constitutional duty to enforce them, regardless of whether he thinks them good policies.
To date, President Obama has given only one excuse for violating his duty: insufficient funds from Congress. Two days after the June 15 non-enforcement announcement, the President published an op-ed in Time magazine arguing that "in the absence of any action from Congress to fix our broken immigration system, what [Obama's policy] has taken steps to do is focus immigration enforcement resources in the right places."
That doesn't pass the laugh test for Delahunty and Yoo. The Obama Administration has never said how much it will save taxpayers by not enforcing immigration laws on the DREAM Act cohort. It has also failed to explain how categorizing this group as low priority will make ICE effective in other enforcement areas.
This is probably because all indications point to deferred action adding expenses to ICE's operating budget rather than taking away. In August, the Wall Street Journal reported that ICE plans to hire more than 1,400 full-time workers, in addition to independent contractors, to process deferred action applications. Further, the President's decision to extend work authorization permits also increases the paperwork and monitoring load, since up to 1.76 million new beneficiaries will come on the rolls.
Once again, the constitutional law professor-turned-president is betraying his preference for interpreting the Constitution in a manner inconsistent with its text. Rather than "take care that the laws be faithfully executed," he's taking care of a constituency to garner votes.