By Ashton Ellis
Wednesday, February 25 2015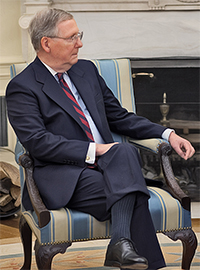 The problem for Senate Republican leadership is that it is becoming increasingly obvious that there was no advance planning for an entirely foreseeable outcome.
A ruling from a federal judge in Texas has put a temporary halt to President Barack Obama's amnesty program for as many as five million illegal immigrants. According to some Senate Republicans, it may be just enough cover to abandon legislative efforts challenging the assault on the rule of law.
"Most of us felt like the courts gave us a major victory," Senator Bob Corker (R-TN) told reporters for National Journal. "Sometimes it makes a lot of sense to bank victories and move ahead."
Corker was speaking in support of Majority Leader Mitch McConnell's (R-KY) new plan to abandon a House-passed bill to fund the Department of Homeland Security that contains prohibitions against implementing any of Obama's amnesty directives. Citing four failed attempts to overcome a filibuster threat of the House bill, McConnell announced on Tuesday that he would separate the funding language from the prohibitions, and allow the Senate to vote on each as standalone bills.
The move is deemed necessary by some Senate Republicans in order to avoid being blamed for a partial shutdown of the Department of Homeland Security. Back in the December lame duck session, Republican leaders convinced their rank-and-file members to vote for a short-term funding bill for DHS until the end of February. The move was said to allow the GOP to challenge Obama after it gained full control of Congress.
That strategy has now gone up in flames.
In its place, some Senate Republicans are urging members of their conference to support McConnell's "clean" funding bill for DHS so they can avoid the political fallout of being blamed for hobbling national security. To buttress their case, GOP Senate leadership is trying to argue that a federal court's recent ruling against Obama's amnesty program provides sufficient cover to abandon any more legislative challenges.
On Tuesday, Senate Majority Whip John Cornyn (R-TX) told Politico that the 26-state lawsuit against the amnesty directives is "really the superior way for us to challenge the president."
That is highly unlikely.
For starters, Judge Andrew Hanen's order is only a temporary injunction disallowing federal agencies from implementing Obama's amnesty. Though Hanen isn't likely to indulge the Obama administration's request for a stay of his order that would allow implementation to proceed while the case goes up on appeal, the injunction will only be in place until the Fifth Circuit Court of Appeals issues a ruling. Since parties on both sides are asking for expedited review, the order could be set aside in a matter of weeks.
And what then? If Congress approves a funding bill for DHS through the end of the fiscal year there will no longer be any occasion to pressure Obama or the federal immigration bureaucracy he directs to cease and desist from granting deportation waivers and work permits to as many as five million illegal immigrants.
The problem for Senate Republican leadership is that it is becoming increasingly obvious that there was no advance planning for an entirely foreseeable outcome. Namely, that with only 54 senators the GOP lacks the 60 votes necessary to overcome a Democrat filibuster of the kind that has made it impossible to vote directly on the House's bill. When Senate Republican leadership decided to retain the filibuster in its rules package, it had to know that minority Democrats would not make it easy for the GOP to highlight President Obama's decision to replace current immigration law with his preferred policies.
Judge Hanen's temporary injunction is welcome support for the rule of law, but it is hardly a sufficient substitute for explicit legislative language that definitively prohibits President Obama's unlawful power grab.
"Congress is the appropriate place to make laws about America's immigration policy," Senator John Barrasso (R-WY) said before the Democrats' latest successful filibuster. "The president cannot make a new law just because he doesn't like the laws made by Congress."
And Congress shouldn't punt its responsibility to hold the president accountable by making implementation decisions depend on unelected judges.