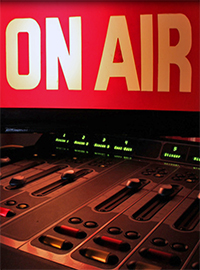 Beyond the sheer offensiveness of forcing Americans to pay for content that many find objectionable, NPR and PBS constitute a regressive tax of sorts, a corporate handout benefitting the wealthiest Americans.
Should American taxpayers, many of whom struggle to make ends meet, be forced to subsidize public broadcasting such as National Public Radio (NPR) and the Public Broadcasting Service (PBS)?
Anyone answering affirmatively should undertake the following thought exercise. Go to either NPR's or PBS's social media page, and compare the number of posts that could fairly be characterized as politically liberal as opposed to conservative or even centrist.
As a sampling from just one day this week, NPR ran several left-leaning headlines without a single one that could be characterized as right of center. It began just after midnight with "GAO Agrees to Review Cost of Trump's Trips to Mar-a-Lago," then proceeded to offer such gems as "Scientists Who Want to Study Climate Engineering Shun Trump," "Reality Check on Trump Calling for Bipartisanship on Healthcare" and "Hillary Clinton Faults Trump on Health Care and Lack of Women Appointees" throughout the remainder of that day.
For its part, PBS included a curious feature entitled "Is Socialism in the United States Having a Moment?"
That report opened by asserting that although "Donald Trump's rise to the presidency thrust far-right groups into the spotlight," on the other end of the political spectrum, "socialist organizations across the country are quietly experiencing a surge in popularity of their own, driven in part by Vermont Sen. Bernie Sanders' outsider campaign last year and a determination to thwart President Trump's policy agenda."
Note that they refrained from labeling such groups "far-left" as they so reflexively did the "far-right." And who'd have thought that with such popularity, Sanders couldn't even manage to win his own party's nomination, let alone capture the broader popular inertia that enabled Trump to win the White House?
Of course, NPR and PBS remain free to offer whatever headlines and features they prefer. But in an America so sharply divided between political left and right, why should entities with the term "Public" in their names be so grossly imbalanced?
More importantly, in this land of endless media options, unsustainable deficits and wasteful federal spending, why should taxpayers spanning the political spectrum be forced to subsidize them?
Beyond the sheer offensiveness of forcing Americans to pay for content that many find objectionable, NPR and PBS constitute a regressive tax of sorts, a corporate handout benefitting the wealthiest Americans.
Examine NPR's and PBS's demographic profiles, including their own promotional data that they trumpet to potential advertisers.
In what can only be described as an offensively tone-deaf profile from an organization pleading poverty and demanding continued taxpayer support, here's how NPR's official website describes its audience:
Across platforms, NPR reaches the nation's best and brightest. On air and online, the NPR audience is influential, affluent and curious. They are learning more and leading more. Connected to their local communities and tuned in to the latest public affairs and cultural conversations, the NPR audience embodies the thought and opinion leader.
- NPR listeners are 133% more likely to be top management and 148% more likely to be C-suite executives.
- NPR.org users are 43% more likely to earn $100,000+ in household income.
- NPR delivers affluent C-suite executives, business owners and top management across industries.
- NPR listeners are 88% more likely to be B2B decision makers involved in one or more purchase decisions valued at $1,000+.
- NPR.org users are 22% more likely to be chief officers, and 19% more likely to be owners/partners of their own business.
That audience profile then preens that, "NPR listeners are 66% more likely to spend $1,000+ on travel for foreign or domestic vacations in the past year." And savor this description under the heading "The Sustainability Champion":
- NPR listeners are 73% more likely to purchase natural/organic foods.
- 62% of NPR.org users recycle.
- NPR.org users are 254% more likely to play lacrosse, 72% more likely to play volleyball, and 53% more likely to play softball.
- The NPR audience eats healthy and naturally, exercises regularly and places a high premium on preserving the environment.
- NPR listeners are 333% more likely to participate in environmental groups or causes and are 176% more likely to drive a hybrid vehicle.
- 91% of NPR.org users sometimes or always look for ways to lead a healthier life.
Consider also a separate Pew Research Center study on PBS's audience. It found that 60% of PBS consumers describe themselves as "consistently liberal" or "mostly liberal," far outside the broader American bell curve.
There's nothing inherently wrong with those characteristics, but in what universe should the broader American public be subsidizing their listening and viewing preferences?
The good news is that the Trump Administration seeks to finally rectify this indefensible state of affairs. This month, it released a proposed federal budget that finally zeros out the $445 million in federal spending on PBS and NPR.
Leftist response was predictably unhinged, but the reality is that federal funding accounts for only 1% of NPR's revenues, and less than 7% of PBS's.
If their audiences are as affluent and as willing to spend as they claim to advertisers, then they should have no problem paying for what they consume, rather than asking the rest of us to continue sustaining their habit.