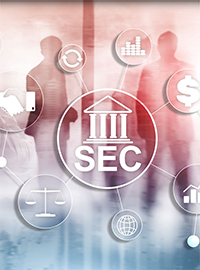 Requiring public companies to suddenly begin itemizing their own emissions and those of suppliers and customers, however, doesn't advance that underlying purpose. Rather, it represents a new make-work extravaganza for trial lawyers, bureaucrats and sue-happy activist plaintiffs.
It's getting uglier and uglier on all fronts for Joe Biden, but instead of correcting course he's doubling down.
Today, 68% of respondents hold the Biden Administration responsible for soaring gas prices (up from 63% in February), which an alarming 81% of Americans now consider a "serious problem" to their financial wellbeing. And in a new Gallup poll, just 38% approve of Biden's energy policy.
The Biden Administration naturally insists that it's not to blame, and denies that it's targeting domestic energy producers.
Its actions, however, betray the brazen dishonesty of that claim. While Biden bizarrely encourages more oil and gas production by murderous regimes in Iran and Venezuela, it remains hostile toward American energy producers capable of securing U.S. energy independence.
The latest illustration of the Biden Administration's antipathy toward U.S. energy, and of its fealty toward climate activists at the expense of working Americans, comes in the form of a new proposal from Biden's Securities and Exchange Commission (SEC).
As summarized by former SEC Director Meredith Cross, the proposal constitutes "the most extensive, comprehensive and complicated disclosure initiative in decades."
Just what our struggling economy needs – another "extensive, comprehensive and complicated" bureaucratic mandate from the federal government.
Under the SEC's 506-page proposal, which passed by a strictly partisan vote, all publicly traded companies would be required to meticulously itemize not only their own emissions and amounts of energy that they consume, but also those of suppliers and consumers down the line. It constitutes climate war through the back door, a scheme to regulate all public companies and suffocate energy production through sheer bureaucratic hassle, and Americans shouldn't allow it.
Commissioner Hester Pierce offered a blistering 6,300-word dissent, highlighting how (1) existing SEC regulations already cover material climate risks to companies; (2) the new rule would create new confusion about what constitutes "material" information; (3) it would lead to non-comparable, inconsistent and unreliable reports; (4) the SEC lacks legal authority to impose the proposed rule; (5) the SEC underestimates the costs of the proposal; and (6) the proposed rule would inflict great harm on investors, the U.S. economy and the SEC itself:
We are here laying the cornerstone of a new disclosure framework that will eventually rival our existing securities disclosure framework in magnitude and cost and probably outpace it in complexity. The building project upon which we are embarking will consume our attention and enrich many, as any massive building project does. The placard at the door of this hulking green structure will trumpet our revised mission: "protection of stakeholders, facilitating the growth of the climate-industrial complex, and fostering unfair, disorderly, and inefficient markets." This new edifice will cast a long shadow on investors, the economy, and this agency. Accordingly, I will vote no on laying the cornerstone.
She's completely correct. The SEC exists to protect investors' ability to make informed investment decisions. Companies traded publicly are therefore required to accurately disclose relevant data regarding their business fundamentals and corporate structures. That data enables potential investors to better understand those companies' business models, determine the state of their financial health and more accurately ascertain those companies' future prospects. That's why SEC reporting requirements already compel public companies to disclose "material" risks, which can include climate-related details in appropriate circumstances.
Requiring public companies to suddenly begin itemizing their own emissions and those of suppliers and customers, however, doesn't advance that underlying purpose. Rather, it represents a new make-work extravaganza for trial lawyers, bureaucrats and sue-happy activist plaintiffs.
The timing of the new proposal isn't coincidental, of course. It arrives in the wake of Biden's humiliating failure to advance his extremist "Green New Deal" agenda through the legislative process.
"This is a thinly veiled effort to have unelected financial regulators set climate and energy policy for America," Senator Pat Toomey (R – Pennsylvania) accurately noted. "Today's action hijacks the democratic process and disrespects the limited scope of authority that Congress gave to the SEC. Forcing publicly-traded companies to gather and report global warming data – almost none of which is material to the business's finances – extends far beyond the SEC's mission and expertise," he added.
Leftists constantly tell us that they seek to "save our democracy," but then act in the most anti-democratic manner imaginable. What they can't achieve through elected representatives who are accountable to voters, they instead attempt to ram through via unelected and unaccountable bureaucrats populating the federal leviathan in agencies like the SEC.
The proposed rule will only burden American businesses with higher compliance costs, venturing far beyond the SEC's proper role of protecting actual investors by requiring public disclosure of information material to investment decisions.
Meanwhile, the Biden Administration and its apologists will continue to deny responsibility for skyrocketing gas prices and claim to support energy production. But the American people are on to the fact that at every stop, they're actually choking it off and making matters worse through extremist proposals like this. They know whom to blame.